Product updates
Extraction service upgrade on April 10, 2022
March 11, 2022

New document extraction technology
We are introducing new data extraction technology. New technology helps us to speed up the data capture process and enhance the quality of extracted data. Most importantly – thanks to the self-learning ability, the accuracy of extracted data is increasing over time.
The new solution is automatically applied to all users.
Changes for customers using additional service ExactExtract
Handling emails with multiple purchase invoices
If an email sent to your Invoice Inbox contains multiple purchase invoices, a Draft will be created to Purchase Workspace view.
By opening the draft, all attachments in the email are displayed on the list.

Extraction of multiple invoices
If you want to extract all the documents as separate invoices, then you need to upload them to Envoice one by one.
Save invoices to your computer by clicking Download
Add an invoice to Envoice
The selected invoice is forwarded to extraction and the usual data capture process will follow.
Extraction of one invoice
Select desired invoice file
Click Confirm
The selected invoice is forwarded to extraction and all other files will be added as additional attachments to the selected purchase invoice.
To delete additional attachments, select the desired attachment from the tab and click Delete.
Handling of non-purchase invoices
If an email in Invoice Inbox contains an attachment of a file type supported by Envoice (see Supported File Types) but does not match the purchase invoice characteristics (eg delivery note, payment order confirmation, contract, etc.), it is automatically transferred to Drafts.
We try to identify as much data from the document as possible, and then the user can decide whether:
Complete the data and adds it as a purchase invoice
Deletes an unnecessary document
NB! Extraction fee applies to all documents that are processed by the Envoice operator.
Line item extraction
The description of the first line item on the purchase invoice will no longer be extracted. Instead, the line description is marked as "Service / Goods".
Notice! The change does not apply to users who have enabled a line item extraction service for this particular supplier.
Line item extraction service can be enabled from the Contact (supplier) profile:
Go to Settings – Contacts
Select the supplier to add the service
Select Yes from the "Extract line items for this supplier (fees apply)" dropdown
Click Save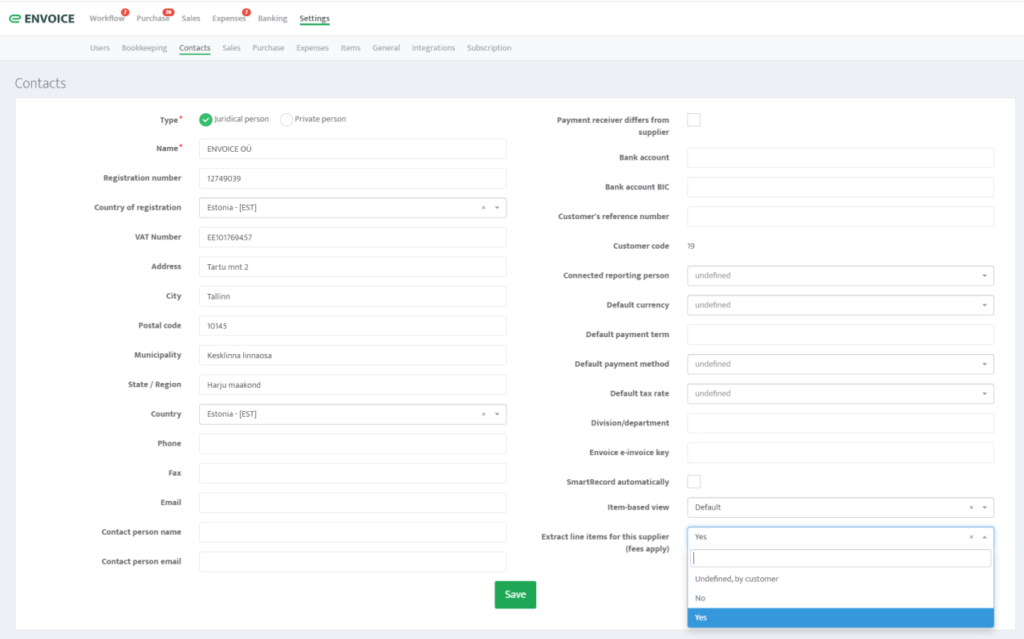 Payment method identification
New technology enables Envoice to extract debit or credit card as a payment method from invoices, as long as it's clearly identifiable on the document.
STAY ALWAYS TUNED
Subscribe to newsletter
STAY ALWAYS TUNED
Still not sure?
Don't spend time on manual work
Streamline processes
Automate your invoice flow
Integrate with the tools you rely on every day
Request demo