Accounting Software
Best Accounting Project Management Software
April 3, 2023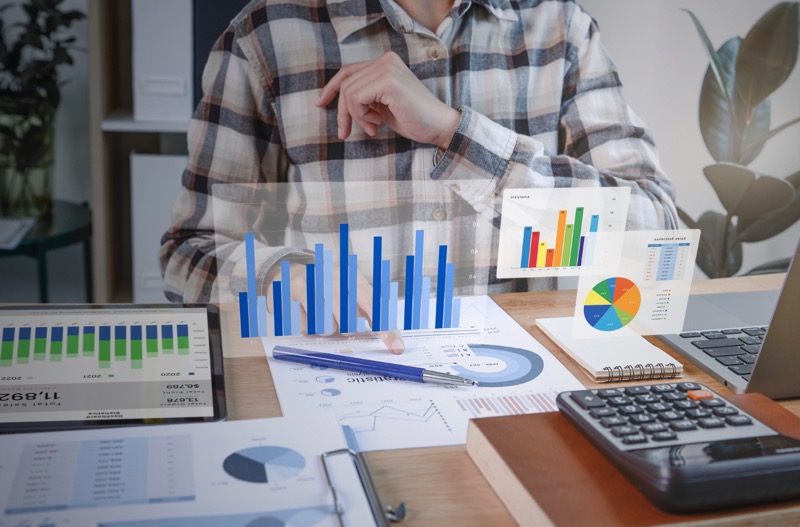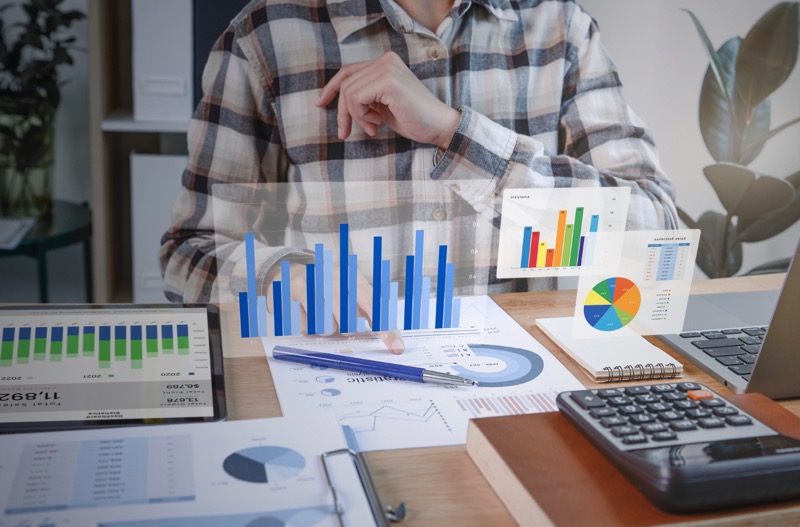 Source: Freepik
Finance and accounting teams, large or small, juggle numerous projects, tasks, plans, and people. 
They often find themselves flooded with piles of paperwork and bills. As such, having the right business tools can help them stay organized while planning and running projects in a way that's predictable, accurate, and profitable.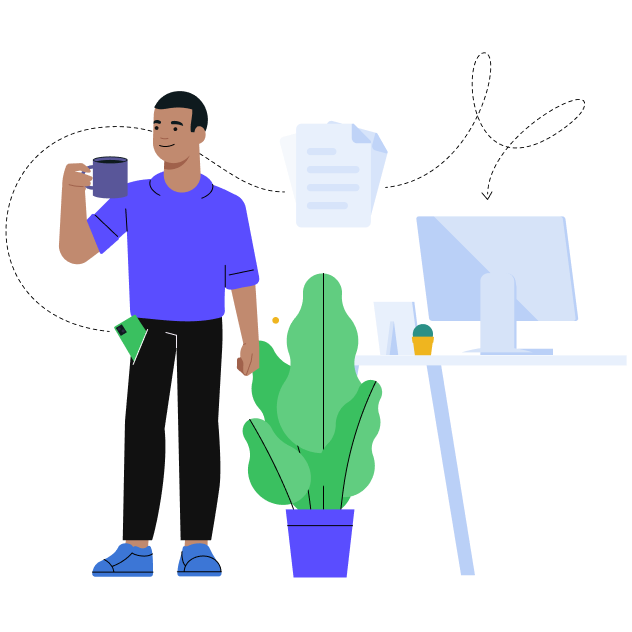 How to eliminate repetitive bookkeeping tasks?
Book a demo
and we will show you how
That's where accounting project management software come in. It's a must-have in your business's arsenal and a wise investment. 
However, the wrong tool may create more work for the accounting team instead of decreasing their load.
Fortunately, we listed below some of the best accounting project management software in the market today. Their features can simplify your daily work operations and massively overhaul business operations. 
Before that, here's a walkthrough of accounting project management and why it's important.
Project Management: What It Is and Why It's Important For Accountants
Project management in accounting goes beyond organizing files, completing tasks, and meeting deadlines.
It's a process where a project's cost, billing, and revenue are planned, analyzed, and monitored to meet the overall financial goals. In fact, most accounting engagements qualify as projects. [1]
Compared to traditional accounting, project management accounting breaks down the smallest parts of each project to see which parts of the project pipeline make money and which don't.
It is important for accountants for many reasons. For instance, it enables project managers to study financial details, whether small or big. It helps them track billable and non-billable hours. 
It keeps projects aligned with the original deliverables. Lastly, having a proper accounting project management plan helps you design more accurate estimates for future projects.
10 Best Accounting Project Management Tools
1. Envoice
Website: https://envoice.eu/en/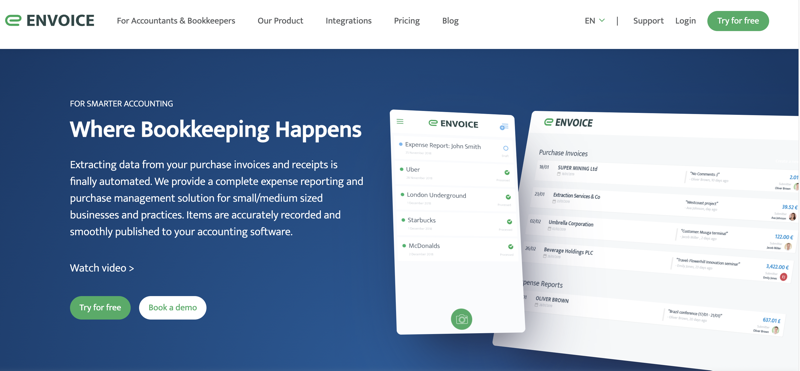 This is a complete pre-accounting solution for expense management, approvals, and data extraction. 
Suited for small to medium-sized businesses and accounting practices. You can use it to create sales invoices, scan data from invoices and receipts, and keep a complete record of all your expenses.
Let your accounting team get control over expenditures using approval workflows. It likewise provides insights for automating recurring tasks. Managers are notified by an automatic email upon receiving invoices or expense reports. That way, they can immediately approve expenses wherever they are.
It also allows suppliers to send email invoices directly to Envoice. So you won't have to archive or transfer attachments to your accounting software. All these accounting project management benefits decrease the processing time and bookkeeping costs.
Further, it has a very competitive subscription rate. The Essential pricing plan costs only €5 /month. It already includes 30 free documents monthly and these three essential features: SmartExtract, Travel and Expense Reports, and SmartRecord.
Best features: Billing and invoicing, expense tracking, and QuickBooks integration.
2. Basecamp
Website: https://basecamp.com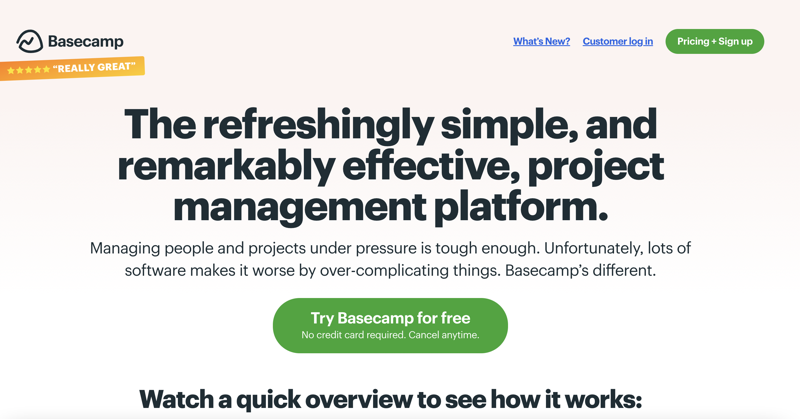 It is a one-stop shop for accounting tools for people working remotely. It helps teams, clients, and stakeholders stay connected wherever they are. 
Each Basecamp project has a message board where you can post announcements, progress updates, pitch ideas, and provide feedback. It generally keeps everyone in the loop on project progress.
You get 1GB of storage space for the Personal plan and 500GB for the Business plan. You can share and upload documents, spreadsheets, images, and documents organized into folders. This makes it easy for everyone to find important information.
Basecamp also helps create a clear schedule for everyone, removing confusion about task responsibilities. If other project management tool for accounting firms has per-user pricing, that's not the case for Basecamp. 
This makes it more affordable than other tools as your team size grows. You only pay a flat monthly fee, regardless of team size.
However, there's a limitations for accounting firms and professional services. That is a lack of client profiles.
Best features:  Task updates with automatic check-ins, Campfire (chatting feature), scheduling, and message board.
3. Nifty
Website: https://niftypm.com/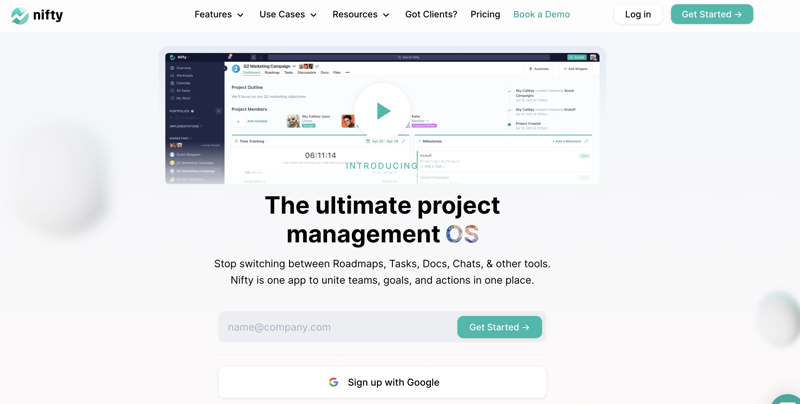 The word "nifty" means pleasing, good, and effective. True enough, this remote collaboration hub lives up to its name.
Nifty is a feature-packed project management app that lets you work on large-scale projects with team members. It allows you and your team to track time, organize tasks, manage documents, and more – all in one platform.
You can also enjoy workflow collaboration on the go with Nifty's iOS and Android apps. One of the best features of this platform is portfolio management. With portfolio overviews, upper management and project managers can see the overdue statutes, timeliness, and completed tasks.
It also has a time-tracking feature, making it easy to track task duration. The time tracking and reporting feature lets you know who's working on a certain project and for how long. 
Best features: Portfolio management, collaborative workspace, different user roles and permissions, team collaboration, multiple project views, and imports and integrations.
4. ProProfs Project
Website: https://www.proprofsproject.com/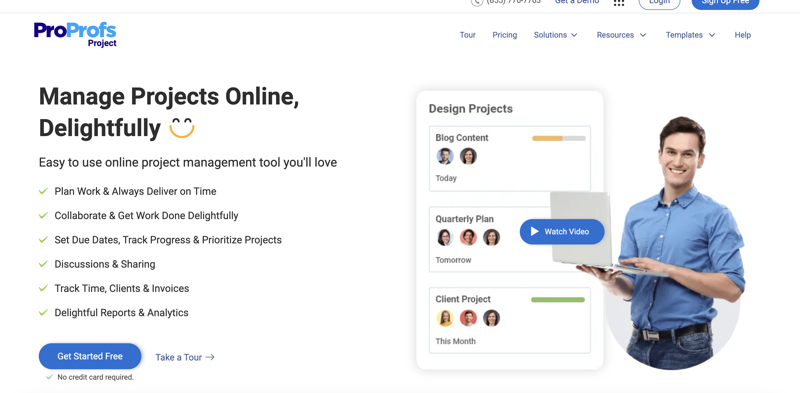 ProProfs Project is an online project management software that allows you to generate reports and analytics. Reports include the breakdown of tasks, a summary of your project status, and when they are due.
You can also share the reports with selected personnel and external stakeholders as you're provided a secure URL. It also has a complete payroll management, tax management, and bookkeeping solution. 
Most of all, its user-friendly interface allows you to handle tasks and financial information. You can easily keep finances on track and be notified of the team's progress with an interactive Kanban board, Gantt charts, list views, and a calendar built into the software.
A downside, though, is there's no option to set project milestones, and you can't set reminders for calendar events. Nevertheless, it's a solid accounting project management tool.
Best features: Easy to generate presentation-ready reports, timeline reports for each task, and Gantt chart.
5. Asana
Website: https://asana.com/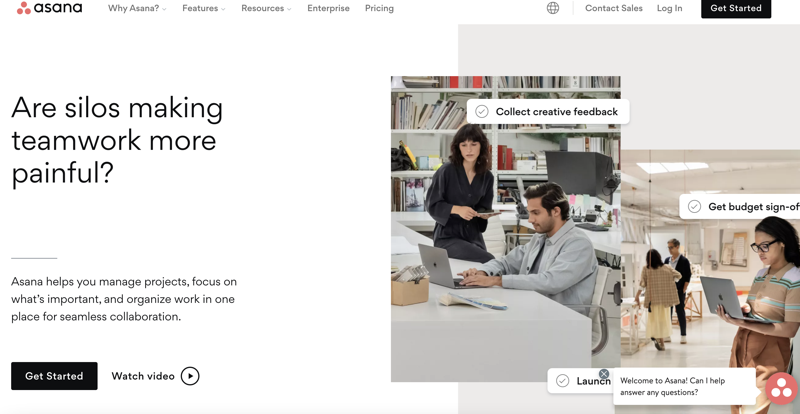 This cloud-based project management tool is ideal for accounting as it allows them to collaborate on projects through a digital environment.
Asana enables a project manager to create tasks that can be a part of a larger project. Then, the project manager can assign those tasks to certain team members and set a deadline for them.
Teams can collaborate on tasks by leaving comments for easy document sharing and communication. In fact, this tool shines in this area as Asana teams can eliminate email and use the in-app communication feature instead.
The platform's projects default to a list-based format, although they are viewable as boards or calendars. Milestones and dependencies can be easily defined, making scheduling and scoping a breeze. Overall, it is an ideal tool for project managers and accountants.
Best features: Workflow builder, a timeline where you can build a Gantt chart in minutes, and Kanban boards.
6. Jetpack Workflow
Website: https://jetpackworkflow.com/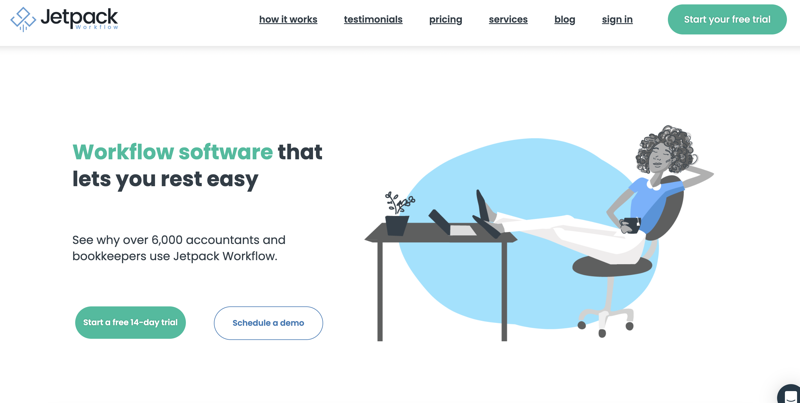 Jetpack Workflow is a practice management software and cloud-based workflow that helps accounting firms connect with clients and handle assigned more effectively. In fact, it emphasizes the importance of interactions between you and your clients.
Hence, it pairs client profiles with your team's work management. Then, you'll have customizable views (through sort options, searches, and filters) to ensure client deadlines won't fall through the cracks.
With it, you can search through different projects, reassign work as needed, monitor deadlines, and send daily summary emails to the right parties. To save time, you can also set recurring events for different clients whenever necessary.
Task dependencies in this project task management software also indicate what must be done before and after a task is completed. Finally, it integrates with Google Workspace, QuickBooks Online, and other apps. 
While it may have several features any accounting company would want, the price is slightly higher than other project management software in this list. Their basic pricing plan (Organize) costs $36 per user monthly, and Scale $39 per user monthly.
Best features: Work templates, automated deadline (custom scheduling functions), easy-to-import client information through a CSV file, and automated summary emails.
7. Zoho Projects
Website: https://www.zoho.com/projects/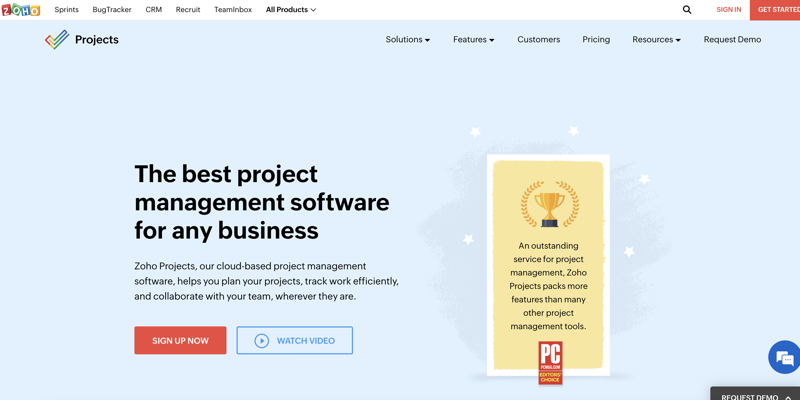 Zoho is a project management tool that allows you to plan, manage, and assign accounting tasks and resources. It likewise helps you to collaborate with your team.
Zoho Projects stores all data related to an accounting project. Milestones can be easily applied to help the team check project progress. These milestones have tasks and subtasks. You'll also be provided with a quick at-a-glance assessment of projects and their statuses.
It provides Gantt charts, helping teams track their task schedule and create a project plan.
This software lets you personalize your user experience on fields, layouts, statuses, and workflows.
Rather than just managing projects, this tool boasts a suite of features for the company. This includes process management, CRM, sales force automation, analytics, and predictive sales and intelligence. 
Best features: Gantt chart viewer, time tracking, task automation, subtasks, issue tracker module, graphics and reports, and task dependency (finish to start).
8. SmartTask
Website: https://www.smarttask.io/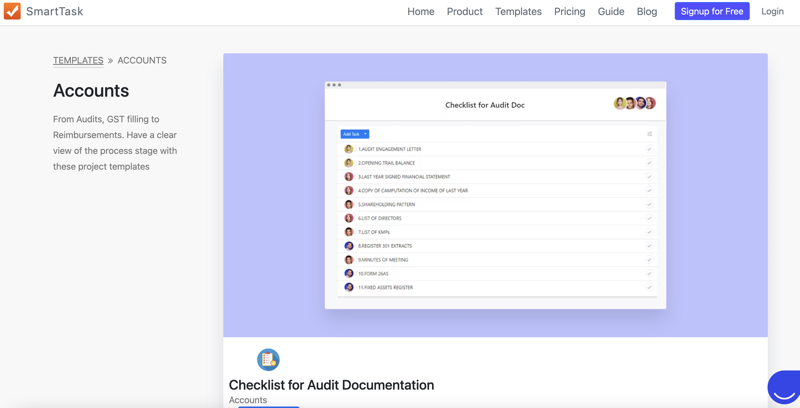 SmartTask is an accounting collaboration tool. It automates manual processes and manages workflows with customizable or pre-defined actions.
You can effortlessly create tasks and sort them by project, due date, priority, and assignee.  This allows you to track multiple projects with ease. 
It even comes with project templates, allowing you to create new plans hassle-free. You can then filter similar tasks in the project through task tags.
Through its portfolio view and project milestones features, you can overview all ongoing projects, their statuses, and predicted completion dates.
This management software for accountants also works seamlessly with Mailchimp, Google Calendar, and Dropbox to improve productivity. Just a caveat, SmartTask requires you to have Internet access all the time to use it, and it's not available on mobile phones.
Best features: An activity dashboard, chat/messaging, task dependencies, time tracking, and project management.
9. Monday.com
Website: https://monday.com/lp/projectmanagement/bundle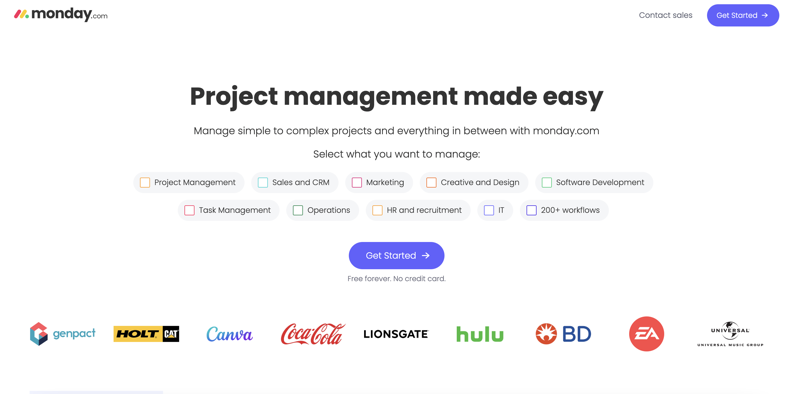 This scalable accounting firm project management tool helps improve collaboration and maintain team transparency. 
Formerly known as Dapulse, it works like a highly customized spreadsheet. Through it, everyone on the team logs the work they need to complete. Everyone can also update with status reports and other information. This way, you can ensure that you and your team move in the right direction.
You can analyze financial data in the dashboard, including revenue, taxes, expenses, debit, and credit. Further, the tool enables you to customize the dashboard easily to fit your team's and project's needs.
It has an attractive interface that's easy to use. The basic pricing plan starts at $39 per month with serious limitations.
So, we recommend you instead go for the Standard pricing plan. It starts at $49 per month, good for five people. You can invite outside guests to join the board. With that plan, you get the Map, Timeline, and Calendar views unavailable in the Basic plan.
Best features: Project management, marketing, sales and CRM, creating and design, and task management.
10. Workzone
Website: https://www.workzone.com/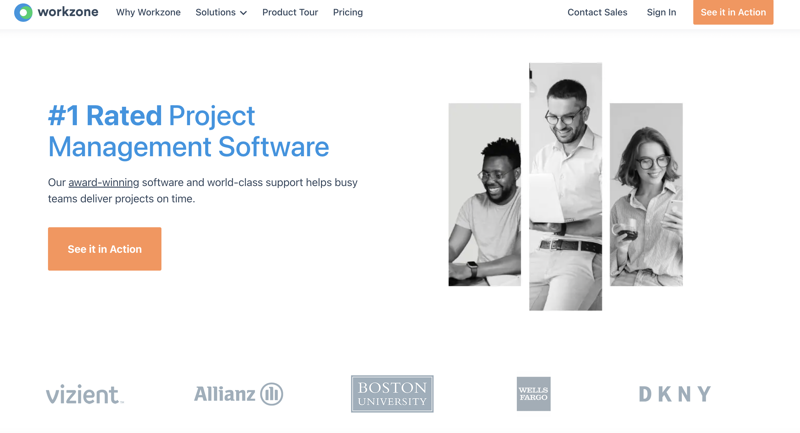 Last but not least on our list; is Workzone. It's a fantastic project management software that provides a summary view. Such allows you to check how your projects are progressing for different clients, departments, and campaigns.
It also excels in project management basics, including time management and scheduling. You start managing accounts using its project templates. If you prefer enhanced visibility into the team's progress, it also comes with a subtasks view.
Another great feature of this tool is you can allocate personalized to-do lists to certain members, establishing accountability and making it easy to manage multiple accounting projects simultaneously.
The downside is that invoicing several vendors is not always easy. 
Best features: Gantt charts, Kanban boards, and resource management capabilities.
How to Choose the Right Project Management Software for Accountants
Determine your needs and pain points the tool will solve. Listen to the team that will use the new software and knows what is lacking for better development of their work.

List available alternatives.

Set a budget for investment and check the prices. Remember that each software has various plans with several seats and different attributes.

Prioritize an all-in-one accounting solution as it is cost-effective in the long run.

Pick one with the necessary features to manage projects, from pipeline to payments.
Final Verdict: Which Accounting Project Management Tool is The Best?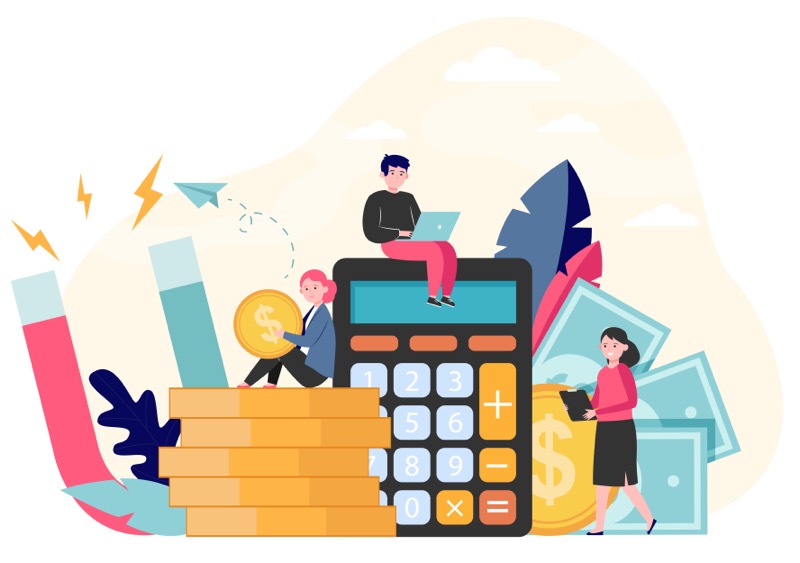 Freepik
Not to toot our horn, Envoice is the best accounting project management tool. Why?
It's a software designed with accountants and bookkeepers in mind. You'll have access to a complete expense reporting and purchase management solution to benefit your team and your small and medium-sized clients.
A huge plus is that accounting firms can conveniently streamline their workflow with QuickBooks, Xero, and SmartAccounts integration.
Still, the bottom line is you choose the project accounting software that works best for your team and can easily fit into your existing process. 
The good news is that most of the software we listed provides free trials or offers a free basic version for a limited period or amount of users. So, why not try a few to see what sticks for your team?
Set your team up for success in managing accounting projects. Try Envoice now for free.
Article resource:
STAY ALWAYS TUNED
Subscribe to newsletter
STAY ALWAYS TUNED
Still not sure?
Don't spend time on manual work
Streamline processes
Automate your invoice flow
Integrate with the tools you rely on every day
Request demo