Accounting Automation Software
10 Best Receipt Scanner Apps In 2023
April 1, 2023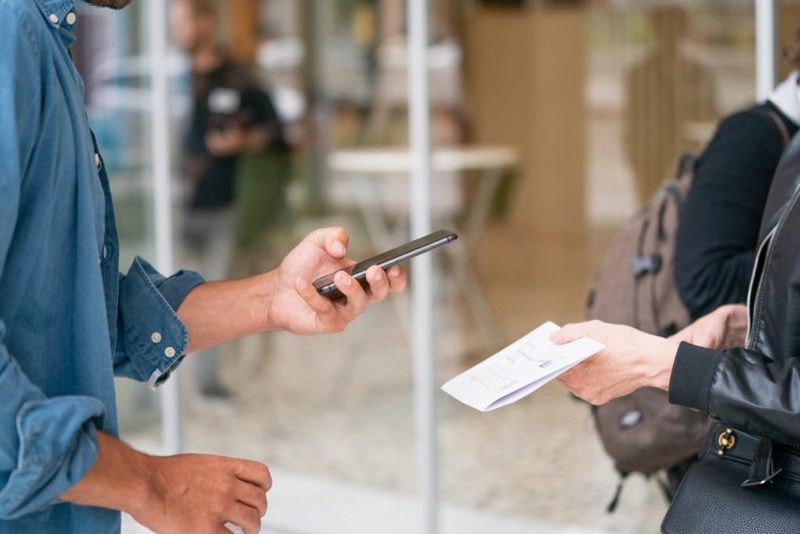 Source: Unsplash
In this article, we have created a  list of the top 10 best receipt scanner apps available today. And we discuss the features and benefits of each to help you decide which one is right for your needs.    
What is a Receipt Scanner App?
Scanning receipts is a great way to save time and money. It can help you keep track of your spending and help you stay on budget.
The app works by taking pictures of receipts and storing them in a digital format on your mobile phone or tablet. You can then use the app to access your receipts whenever you want.
They can track spending, create reports, and manage accounting tasks. The apps also make it easy for you to keep track of your finances without manually entering a bunch of data.
10 Best Receipt Scanners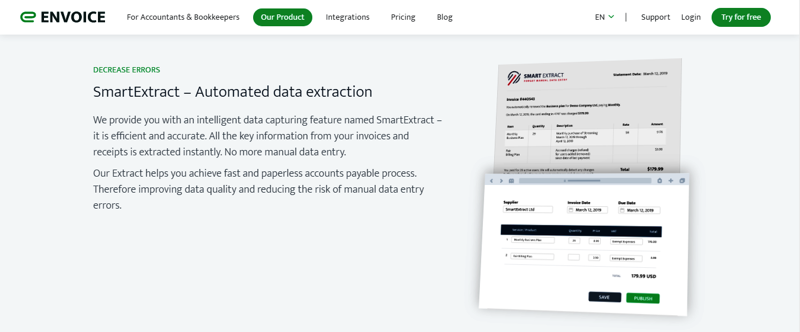 Envoice is cloud-based accounting software that allows you to digitize and upload receipts. It's an ideal solution for small businesses, governments, nonprofits, and bookkeepers who need to manage their clients' finances.
Features and Benefits:
SmartExtract

uses intelligent optical character recognition (OCR) to efficiently and accurately extract key information from your invoices and receipts.
This feature will help you achieve a more efficient paperless accounts payable process by eliminating the need to file paper receipts. This, in turn, saves you time as well as reduces data-quality issues that arise from manual entry errors.
ExactExtract

can also extract data and line items from your invoices and receipts. This feature gives you the confidence that 99.9% of your data extraction has been recognized and is accurate without requiring further review from you or your team members.

It also offers a collection feature that lets you gather documents by email, mobile app, or Dropbox. This allows your accounting team to manage and review all items digitally within a single platform.
Pricing:
Envoice offers a 14-day free trial with access to most features (and no credit card needed).
You can also request a demo with the Envoice team, where product experts will guide you through using their software.
Pricing then starts at €5 per month, which includes 30 free documents and €0.15 per additional document.
2. Expensify
Expensify is an expense tracking app that can help you automate your accounting process and save time.
It has unlimited credits to scan receipts, track mileage, and a next-day reimbursement guarantee. Expensify's additional features also include custom reports and invoice templates, which make it easy to prepare recurring invoices.
Features and Benefits:
Expensify receipt scanner lets you snap a photo of your receipt and SmartScan automatically captures all the details in an expense report.

The corporate card reconciliation feature allows you to confirm statement accounts and manage corporate spending.

It also features various expense reports for business use, making it simpler to keep track of staff expenses.
Pricing: 
Expensify offers a free version for up to 25 smart scans per month.
When you have an Expensify card, the price of a paid version with additional features starts at $5 per user per month.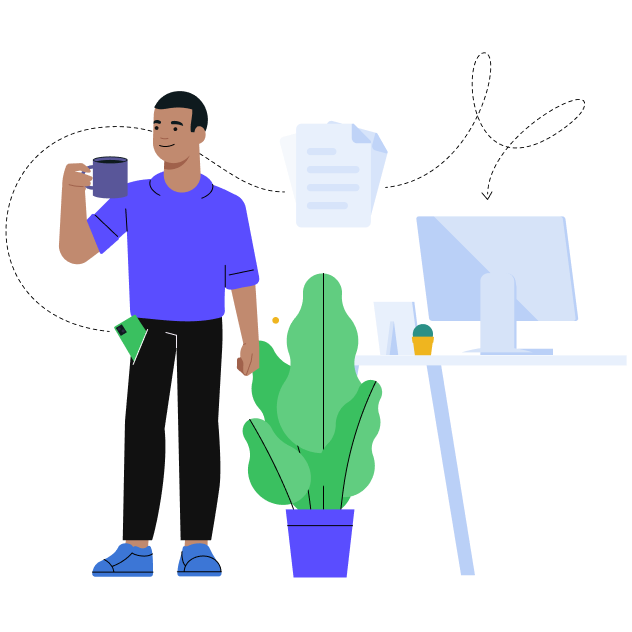 How to eliminate repetitive bookkeeping tasks?
Book a demo
and we will show you how
3. Shoeboxed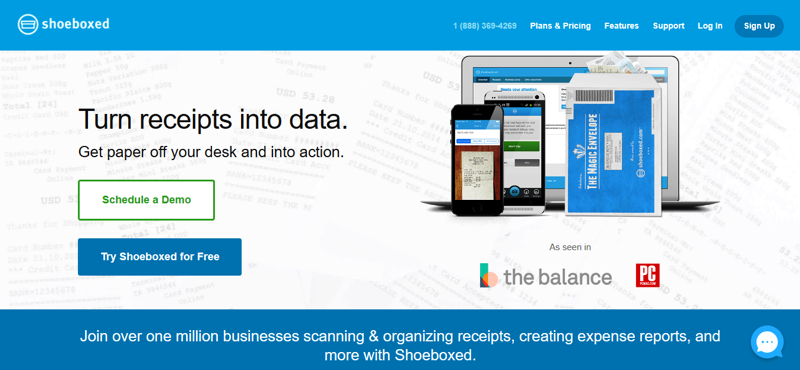 Shoeboxed features a mobile app for digitizing and uploading receipts. It also focuses on offering accurate mileage tracking using GPS. 
Users can import receipts from their email accounts by dragging and dropping scans from their desktops or using the app's Gmail plugin.
Features and Benefits:
Its receipt management feature combines precise scanning, optical character recognition, and human verification. This makes it simple and quick to digitize and save receipts in a single, safe location.

To ensure that you never lose another receipt in your inbox, Shoebox provides a Gmail plug-in that automatically imports receipts from Gmail.

Shoeboxed makes tax time easier by giving tips on how to save money during tax filing. In the case of an audit, both the Internal Revenue Service and the Canada Revenue Agency will accept digital receipts.

Shoeboxed has an independently owned and operated processing center in Durham, North Carolina, to ensure that all data is kept secure. And all their digital files are Secure Socket Layer (SSL) secured.
Pricing: 
Shoeboxed offers a free demo upon scheduling.
Pricing for individuals and freelancers starts at $23 per month, while the professional and business plans cost between $47 and $71 per month.
If you opt to be billed yearly, you'll receive a  20% discount.
Neat
Neat's new mobile app can scan files and receipts quickly, manage projects, and review essential documents while on the road. 
The program's interface allows you to categorize your spending by line item. This feature allows you to monitor how much of your budget is allocated toward certain expenses.
The digitized receipts and files may be quickly accessed from your phone or any internet-connected device.
Features and Benefits:
Neat has a receipt management feature that gives access to financial papers from anywhere at any time. You can scan files, take pictures with your smartphone, or upload files from your mobile device.

To avoid dealing with the clutter that huge piles of paper generate, the app includes a filter for searching documents. Instant keyword searches and document filtering are available for all scanned documents.

Using Neat's Automatic Accounting Reports feature, you can receive automated, real-time reports on your company's profit and loss statements, cash flow statements, balance sheets, and sales tax. This means that you'll be able to monitor your company's performance at any time and modify your strategy as necessary.
Pricing:
A 14-day free trial with full access to all of Neat's features. Pricing starts at $29 per month with discounts on yearly subscriptions.
5. Evernote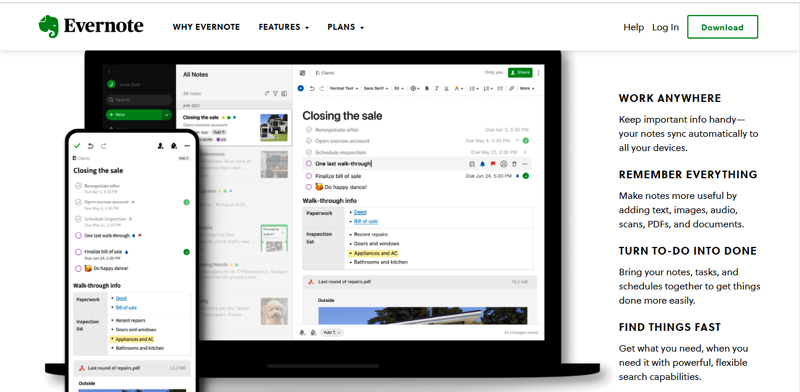 Evernote started as a note-taking program that facilitated the creation of documents and notes for users. Additionally, it offers several other services that let customers manage and scan receipts.
Evernote has become one of the most popular tools for organizing documents. It's an excellent receipt scanner and tracking tool for projects. The app has a clean interface and is easy to use.
Features and Benefits:
The app enables users to create tasks inside their notes and assign them to others. Due dates, flags, and reminders are included so that no important items will get overlooked.

Evernote Receipts offer the ability to scan and store vital documents whenever and wherever they are needed. You'll always have a copy of your essential documents, accessible anytime.

Evernote offers a variety of templates such as a project tracker, business plan, chore chart, habit tracker, and many more to help you get started with note-taking. These templates are easy to install and can be used for any purpose. 
Pricing: 
There is a free version, but with limited features only. If you need to use their add-on features, you can sign up for their monthly subscription. The Professional Plan starts at $9.99.
6. Abukai Expenses
All the tedious effort involved in generating reports—including entering data from receipts, classifying spending, and researching currency rates—is eliminated with ABUKAI Expenses.
Your receipts are automatically read by Abukai, who then converts them into an expenditure report.
Features and Benefits:
All corporate credit card transactions are automatically verified with the supplied receipts using the Automated Card Matching Option.

This application generates reports in multiple formats to an email address or allows you to manually upload multiple receipts through the user portal.
Pricing:
A free version is available for single business users with occasional expenses. 
For a comprehensive set of features, you would want to check the Standard Corporate package at $99 per year.
7. QuickBooks
QuickBooks is accounting software that provides an all-in-one solution for small businesses. It allows business owners to manage receipts and other finances, including profit management and bookkeeping.
QuickBooks is also highly customizable and compatible with many third-party applications, allowing users to integrate their business management software with other accounting software.
Features and Benefits:
With Quickbooks, you can take pictures of receipts, which the accounting software will then use to match them to the right expenses. With everything in one location, you can prepare for tax season and manage all of your proof of payments with ease.

With QuickBooks, you have unparalleled customer support with an extensive network of advisors.

Automatically generates financial statements, inventory reports, tax reports,  cash flow statements, and other customized reports using the Create Custom Reports function.

QuickBooks not only helps you keep track of your receipts but also offers complete bookkeeping services.

The bank feed integration feature in QuickBooks lets you connect your bank accounts to the application, and it will enable users to monitor any type of transaction without having to enter data manually.
Pricing:
You can test the product during a free 30-day trial, and if you decide to sign up, their most popular plan is Plus, at $42.5 a month.
8. Receipt Lens
For individuals managing personal expenses, Receipt Lens is the ideal receipt scanning tool.
It allows users to scan any receipt using their phone and save it in a specific folder on their device.
Features and Benefits:
Digitized receipts can be stored in a folder that your family or colleagues can access, making expense tracking and splitting easier.

You can easily create expense reports and then export all the attached receipts directly to your e-mail or accounting tools.

It also has an auto sync feature that lets you connect your mobile device with Receipt Lens on your laptop or computer so that any changes made in one place will reflect on the web and vice versa.
Pricing:
Monthly pricing for individual users starts at $29, and it offers a 7-day free trial.
9. Veryfi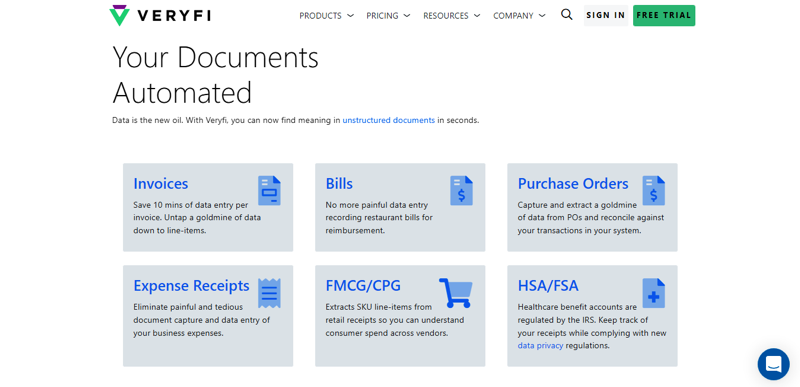 Veryfi is great for customers with sensitive information because it has advanced data privacy algorithms that ensure data remains secure and private. Users can also keep track of spending receipts, and the app has a free time tracking tool.
Features and Benefits:
Veryfi's receipt scanning feature ensures that users can securely capture, extract, categorize, and convert bills, invoices, receipts (

SKUs

), and W2s into standardized JSON, including Level 3 data using our OCR APIs and Mobile SDKs. (1)

It also has an intelligent document processing capability that eliminates the need for human intervention. In seconds, the AI-powered OCR technology gathers, extracts, and turns unstructured documents into structured data.

You may also use Veryfi to track business expenses and income from individual projects and clients with ease by generating detailed job costing reports. Manage all your clients' books from one centralized and secured Inbox vault.
Pricing:
It offers a 14-day free trial, and monthly plans begin at $500 per month with an extra $0.08 charge for each additional document.
10. Zoho Expense
Zoho Expense provides users with a single integrated system to transform their various company operations into a more interconnected and flexible organization. It can also collect employee receipts and transform them into expense reports for employers to review and certify.
Features and Benefits:
Zoho Expense provides an

SSL security feature

that provides a secure connection and safe application for managing smart receipts. (2)

It allows users to add colleagues and accountants to their organization so they may log time, examine reports, and manage their finances.

Zoho Expense also features a function that can benefit your company if you have employees who have business-related travels outside of the country or have multi-currency transactions. You can enter any foreign expenses you incur and have them automatically converted to the company's base currency.
Pricing:
The Premium plan starts at $5 per user per month with a minimum of 3 users. A free version is also available for small business owners or freelancers.
Benefits of Using a Receipt Scanner App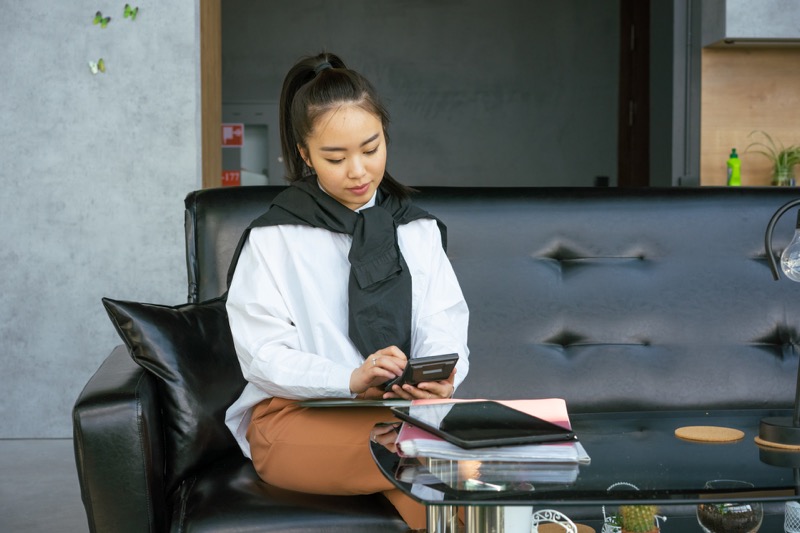 Source: pexels.com
Keeping track of receipts manually is time-consuming and expensive, but receipt scanning apps can save you both of those things. Here's why:
Convenience:

Scan your personal and business expenses on your phone or tablet. A receipt scanning app will allow you to archive all of your scanned smart receipts in one place so that they're easily accessible. This means that if someone asks for proof of an expense or purchase, all they have to do is open up the application.

Security

: Smart receipts are less likely to get misplaced or damaged than an actual folder somewhere in your office space.

Ease of Use

: A receipt scanner is easy to use, even for the technologically challenged. Anyone with a smartphone in your office can download the app from the Google Play Store or Apple Store, learn how to use it, and get started immediately.

Accuracy:

Scanning receipts can help reduce human error and ensure that all your expenses and other bank statements are accounted for and recorded correctly.
Takeaway
Choosing one receipt scanner app can be a difficult task. All the apps on our list are well-designed and easy to use, but they're all presented in slightly different ways.
To make sure that you are getting the best receipt scanner for your needs, here are some of the things that you should consider before making a purchase:
Is it capable of scanning high-resolution copies of all types of receipts?
Knowing what kind of receipts you will be scanning is important before deciding which app is right for your needs. Some apps can scan only paper documents, while others can read any type of paper receipt—thermal and standard printer paper. (3)
Is it secure?
If you're planning on storing sensitive information like credit card numbers or other personal data on your phone, make sure that the app has built-in security features.
No one should be able to access your information without your permission (and it should notify you when someone tries).
What types of devices does it work with?
Some receipt scanners work only on desktop computers, while others work exclusively with smartphones or tablets; others work across all three platforms (or more). If having access to different devices will be important for your business needs, then make sure the app has options for all three types!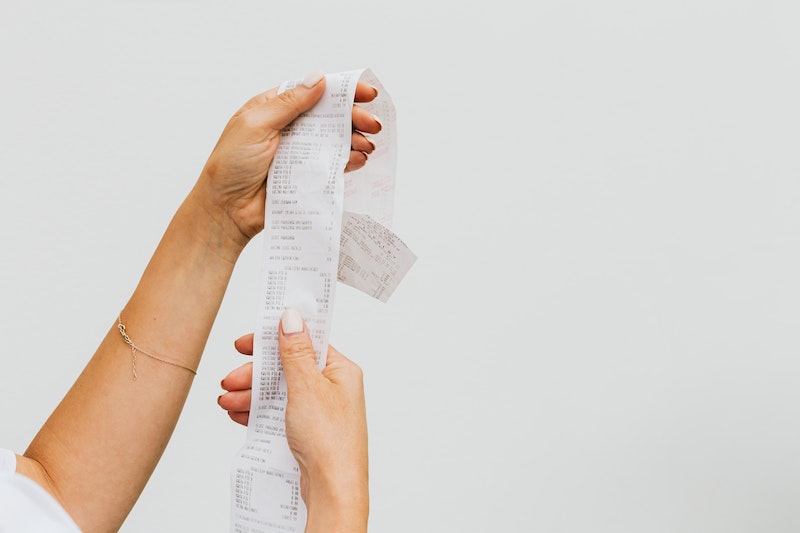 Source: Pexels.com
We hope you've found this list helpful as you search for the best fit for your personal or business needs! If you're still unsure, we encourage you to try ExactExtract for free and book a demonstration with Envoice experts to see how their receipt scanner works for your business!
Sources
1 – https://www.investopedia.com/terms/s/stock-keeping-unit-sku.asp
2 – https://www.cloudflare.com/en-gb/learning/ssl/what-is-ssl/
STAY ALWAYS TUNED
Subscribe to newsletter
STAY ALWAYS TUNED
Still not sure?
Don't spend time on manual work
Streamline processes
Automate your invoice flow
Integrate with the tools you rely on every day
Request demo