Accounting Automation Software
Best Accounting Data Entry Software –  A Comprehensive Review & Comparison
April 20, 2023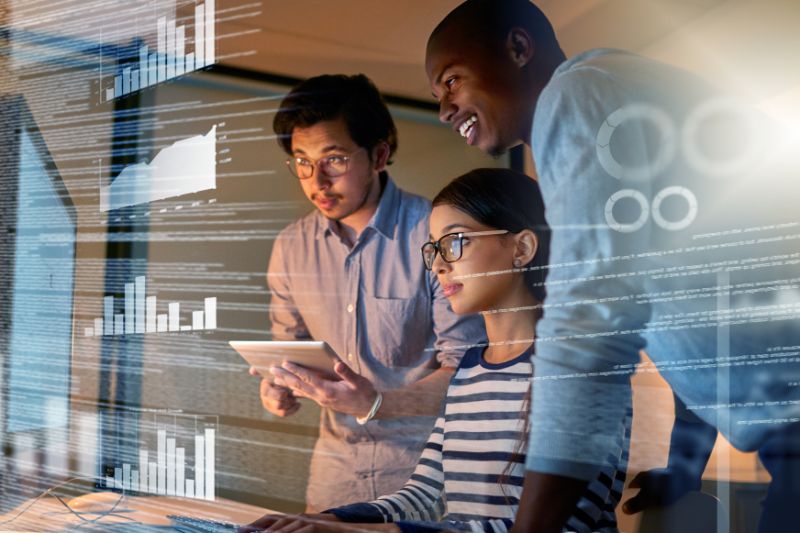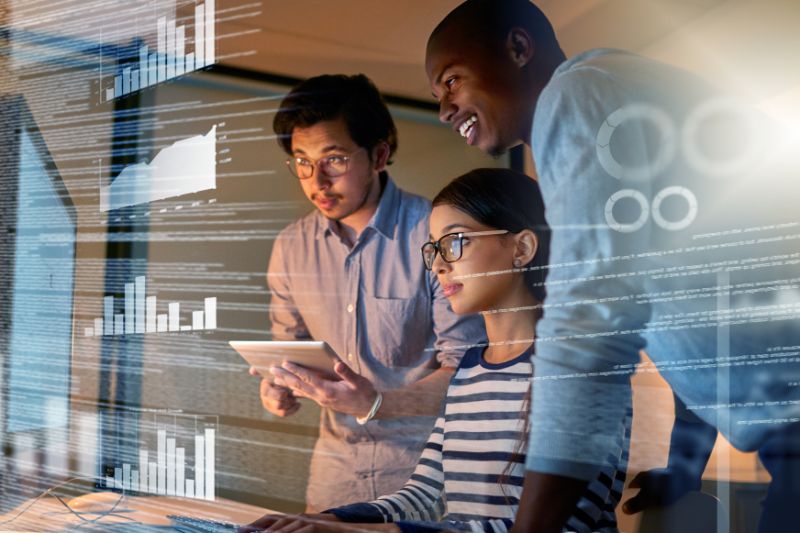 Source: Canva/ PeopleImages
If you manage a small business from home, you might be familiar with all the food and store receipts, travel and phone bills, purchase orders, and invoices lying around your work desk. 
It's common to see all the paperwork slid into a folder or under a paperweight, not to mention the opened tabs of email soft copies all waiting to be sorted and encoded in spreadsheets. 
Nowadays, manual data entry processes are becoming a thing of the past, with 66% of businesses in 2020 already adapting to automated technologies. (1) 
With the rise of automated data entry systems, data entry tasks are now focused on data extraction, validation, and approval. More than 80% of companies aim to improve process efficiency and reduce the costs of manual processes. (2)
In this article we've compiled the best accounting data entry software so you can take a look at options that suits your business's financial needs.
#1 Envoice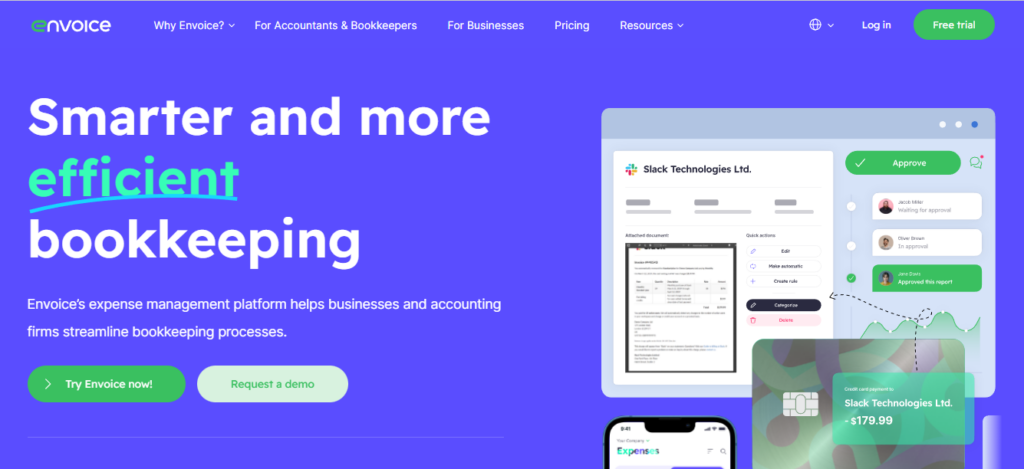 Envoice is, hands-down, our top data entry software. It helps you easily manage business data, conveniently from any device, anywhere. 
Envoice digitally transforms business processes using accounting software for your AP or invoicing data entry process.
Key Features We Love
Envoice takes data collection seriously to help you manage your business.
Extract data seamlessly

with the use of optical character recognition (OCR). It makes it possible to automate data entry accurately for email and existing paper-based documents.

Simplify the data capture process

and prevent wastage of resources caused by repetitive administrative tasks. Collect rich data in a matter of seconds and personalize data management rules on how to approve them.

Reduce if not eliminate common data entry errors

and publish the data you need to your existing accounting software. This way, your finance teams can

streamline bookkeeping

data entry processes and helps reduce as much as 25,000 hours caused by human errors.

(3)
Pricing
Choosing the best plan lets your data entry software work for you instead of the other way around. Envoice offers two simple options for you and your team:
Essential:

5€ per month includes 30 free documents

Business:

10€ per month includes 30 free documents, with Approvals and Travel Requests on top of the Essential Plan features.
Optional top-ups are also available based on your specific business demands so you only pay for what you need:
ExactExtract:

0.20€ per document

Line item extraction:

0.02€ per line item

Invoicing:

0.15€ per document
Envoice also offers a free 14-day trial, no credit card needed.
Claim To Fame
SmartRecord is the perfect data entry solution for any type of business. Envoice AI is a self-learning, data entry software filter which creates patterns of your recurring electronic forms and entries. Automate daily repetitive tasks by using Envoice's recording for data quality control and monitoring: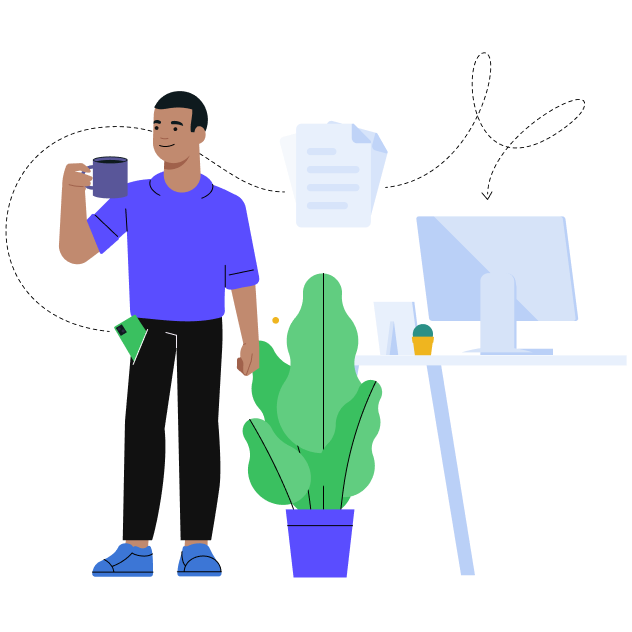 How to eliminate repetitive bookkeeping tasks?
Book a demo
and we will show you how
Simple recording

allows the recording of expenses in one cost center

Advanced recording

lets you split expenses between different accounts, projects, expenses, and even tax codes so you don't have to do it manually.
It also includes other items not found in an invoice like the account, tax code, and tracking that help you automate an invoice from recurring transactions with different service providers or suppliers.
Pros and Cons of Envoice
PROS: Flawless integrations and interfaces, mobile data collection and expense reporting, data archiving and storage, payment syncing, and tracking.
CONS: Setting up the app can be slightly confusing. Initiatives from the approachable experts of the support team talks through users on the step-by-step process and helped in settling the issues.
Suitable for …. Freelancers, small and growing companies as well as teams who want to collaborate and automate their bookkeeping needs.
#2 Xero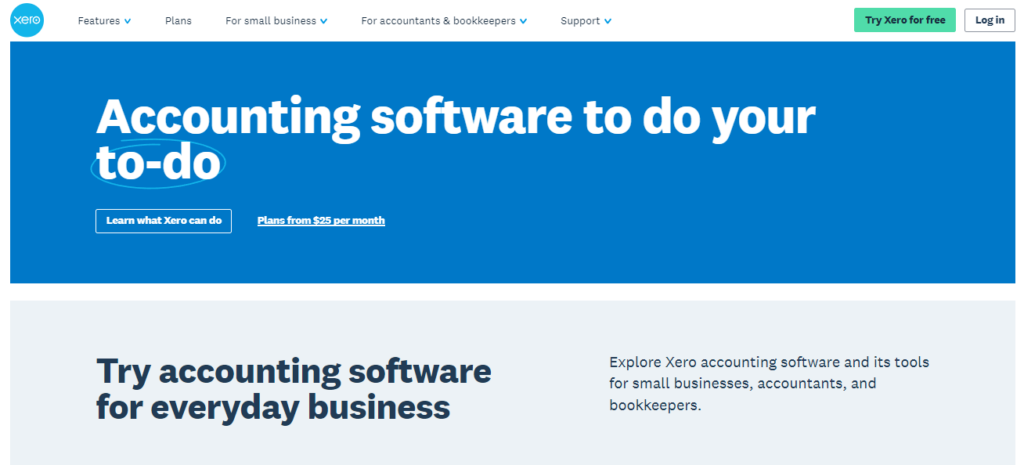 Xero is an accounting software for small businesses that enables users to streamline the data entry process from the digital form or paper documents using Hubdoc. It automatically fills data entry tasks instead of manually encoding specific items, including suppliers' names, amounts, invoice numbers, and due dates.
Main Features
User-friendly interface

to extract data and easily sync data using Hubdoc.
Store collected data online,

making searching for captured bills and receipts easier.
Pricing
Xero comes with a 30-day free trial. Afterward, you can choose from one of their available paid plans:
Starter Plan:

$25 per month for new businesses
Standard Plan:

$40 per month for growing small businesses
Premium Plan:

$54 per month for more established businesses
Claim To Fame
Xero lets you turn your bank statements into readable document data. Simply scan or upload a PDF copy of the Xero-supported bank. Xero then converts it to CSV format that can be easily used in filling accounting data entries in Xero.
Pros and Cons of Xero
PROS: Document scanning and transfer lets you see the original document when entering data.
CONS: Complexity and variety of features may require a higher learning curve. Some users also take note of limited app capabilities and other features needing further improvement.  
Suitable for …. small businesses but can also be used by larger companies.
#3 AutoEntry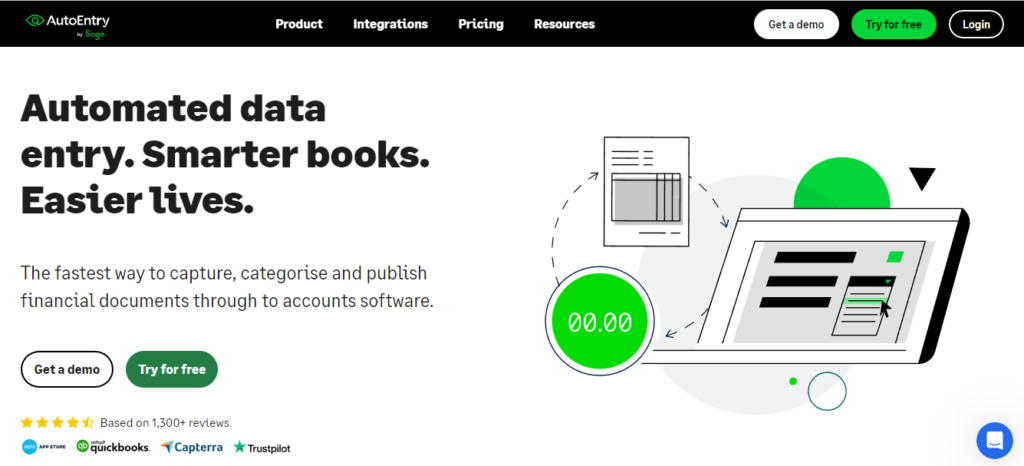 AutoEntry by Sage is a data entry software that helps you automate manual processes and reduces data entry tasks. It eliminates paperwork and other physical data sets and transforms them into actionable data for your accounting business system.
Main Features
Manage document generation

by snapping a photo, uploading an image, or just dragging and dropping to AutoEntry's mobile app.

Categorize with ease

and with auto-suggested supplier, VAT code, and chart of accounts that can be applied for each specific data.
Pricing
AutoEntry has 6 pricing options depending on the number of credits needed per month. Credits are the 'currency' used to avail any of AutoEntry's processing services for standard, line item, and page data extractions.
Bronze:

$12 per month for 50 credits
Silver:

$ 23 per month for 100 credits
Gold:

$44 per month for 200 credits
Platinum:

$98 per month for 500 credits
Diamond:

$285 per month for 1500 credits
Sapphire:

$450 per month for 2500 credits
Claim To Fame
AutoEntry's document fetching can be used to link bank or supplier accounts to fetch data automatically. It can be set up by both business owners and accountants whether they have access or not to the log-in information. This feature can be applied to any of the 6,000+ suppliers and banks around the world.
Pros and Cons of AutoEntry
PROS: Data functions accessible in-app for easier managing of captured image entry, available multiple export options, and do not struggle with bulk invoices.
CONS: Users complain about limited platform functions, occasional scanning inaccuracy, complicated installation, and very little support provided.
Suitable for …. Small and medium businesses.
#4 FoxTrot RPA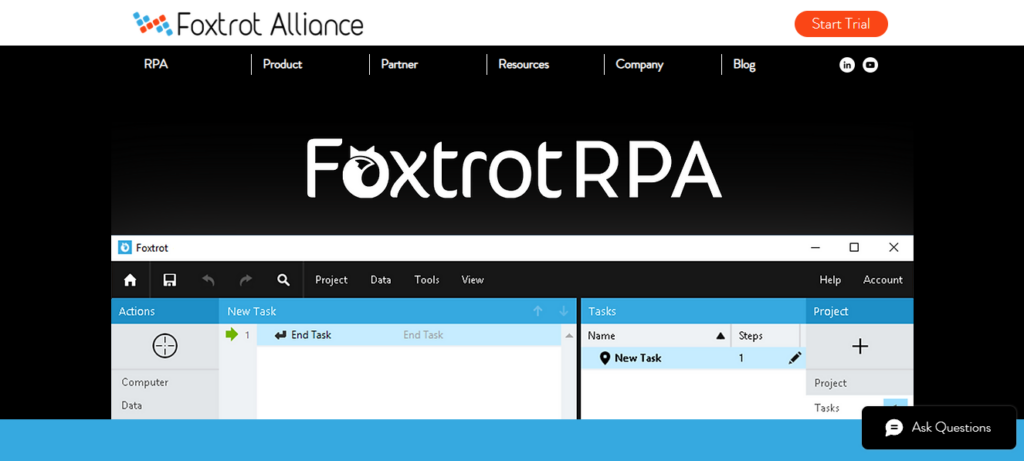 Another data entry software in the market today is FoxTrot Robotic Process Automation (RPA). It uses virtual robots to do repeating process tasks faster. It helps you type, copy, compute, and gather data that you can customize according to your business needs.
Main Features
Intuitive setup

that does not require advanced programming and coding skills.

Uses a license model

so multiple teams can share the software in one company
Pricing
FoxTrot RPA has two paid license models available, starting at $850 per month:
Essentials Basic Solution:

for individual and small businesses
Enterprise Full Scale Solution:

for larger organizations
They also offer a free trial license for 30 days. Simply email a request form for more pricing details.
Claim To Fame
FoxBots are features provided under the Foxtrot RPA Enterprise Plan which helps run the data you programmed. You can delegate an employee even with minimal training to activate and execute the automation of manual processes. You can then manage your FoxBots in a FoxHub to oversee and perform data quality control.
Pros and Cons of FoxTrot RPA
PROS: Works within the Windows platform so non-technical users can simplify Excel data capture, data extraction, and other data management processes.
CONS: Has difficulty in properly executing data especially when using other browsers. It also lacks integrations with other products and can be a struggle to get the data into the software system.
Suitable for …. Individuals, small and large businesses
#5 Klippa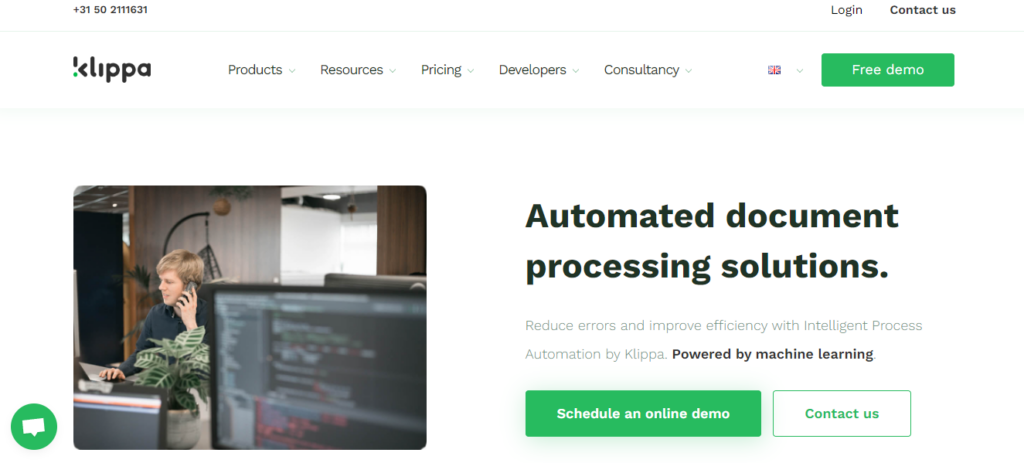 Klippa is a data entry software powered by artificial intelligence to collect data and automate document-related workflows. It scans, extracts using OCR, and classifies structured data so verification is easier and faster.
Main Features
Seamless integration

with various accounting and banking software

Improved scanning ability

supporting both iOS and Android captured data
Pricing
Klippa's costs depend on multiple factors. You need to submit a form to get a pricing quote.
Claim To Fame
Klippa's DocHorizon extracts data from price tags, utility meters, ID cards, shipping labels, and payslips among other unstructured data with mobile access. It claims to verify the authenticity of documents and label fraudulent ones by optical mark recognition.
Pros and Cons of Klippa
PROS: Fast setup, accurate text, and data recognition, recognizable in various languages
CONS: Limited customizations and OCR models cannot be established by themselves. There is no available data reporting and adjustments to bulk data collection can be tedious.
Suitable for …. Businesses with OCR API developer integrations.
#6 Docsumo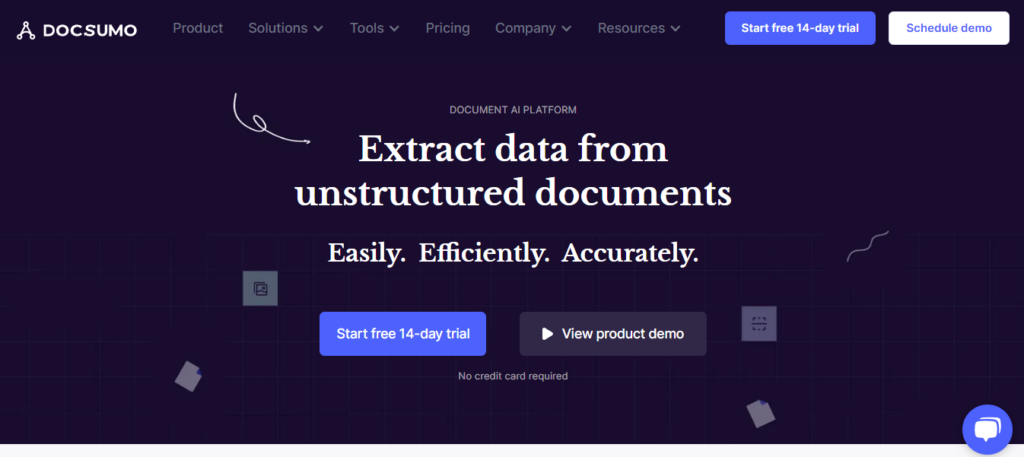 Docsumo is a data entry software that helps automate your data by extracting business documents like invoices and bank statements. It lets you capture, verify and validate digital forms in different supported formats that your business needs.
Main Features
Make use of data parsing

for converting structured data into readable type for your accounting software. You can also mark doubtful line items for review so you don't have to manually check all extracted fields.

Categorize and configure

data collection made using AI-learned formulas. You can even turn data into table or template layouts and delete duplicate information.
Pricing
Docsumo offers a 14-day free trial. Afterward, you can opt for one of their 3 paid plans:
Growth:

$500+ per month for start-ups and small companies with 3 users allowed and a limit of 1,000 pages. Limited models and APIs for invoices, POs, and ID cards.
Business:

For businesses that need specific data capture with 10 users allowed. It has additional APIs for bank statements, tax returns, and insurance certificates.

Enterprise:

For large businesses that need multiple data capture and customized workflows. It has APIs for all financial statements and full access to machine-learning abilities for auto-classification, invoice coding, and review screens for verification.
Both Business and Enterprise plans need to contact sales for custom pricing details.
Claim To Fame
Docsumo is an AI-based data entry solution that offers data entry features without the use of manual setups. It is self-learning that improves and adjusts over time with minimal to no human intervention. But with inaccuracies from scanned documents, flagged and missing data should still be reviewed and corrected by AP processing teams.
Pros and Cons of Docsumo
PROS: Simple user interface makes the platform easy to understand and work around and even supports multiple data outputs for bulk data collection.
CONS: Needs improvement in collecting data from handwritten documents. It also lacks complex reporting systems. Some users also note miscommunication from the support team.
Suitable for …. Enterprises that suit the full features since the lower plans have minimal access offered.
#7 Sage Intacct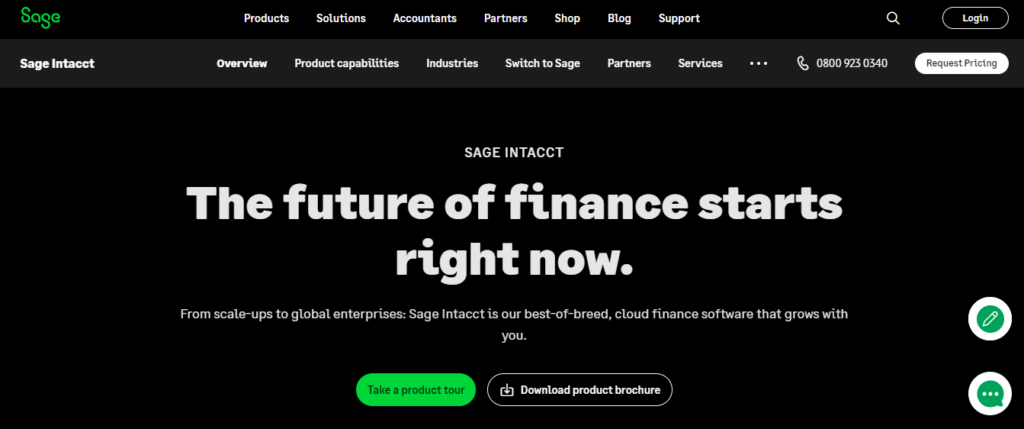 While Sage Business cloud accounting offers basic accounting features, Sage Intacct is the data entry software for larger SMB Sage users. It is used to extract data requiring more detailed accounting processes that smaller data entry software are unable to fulfill. 
Main Features
Effective management

using a general ledger layered with multiple dimensions you can filter like locations, departments, projects, customers, line items, and employees so you only need to create one ledger.

Available financial reports

you can check mid-month, monthly, quarterly, and annually. Customize the financial statements depending on what you need.
Pricing
Custom pricing is quoted using a request form. The pricing depends on the number of users and add-on Intacct accounting modules you need for your business.
Claim To Fame
Sage Intacct's Core Essentials holds the accounting management platform. It connects your AP software with cash management, inventory, and purchasing, so you don't need to re-enter data. The view screen can be customized to show the rows you are entering but triggers all user views to change simultaneously.
Pros and Cons of Sage Intacct
PROS: Helpful for large journal entries and scheduling recurring bills and invoices. 
CONS: Exporting to Excel spreadsheets does not include formulas which is data-entry heavy when migrating. Because it is aimed at mid-size businesses, some features have a steep learning curve and may take a while to get used to for smaller companies.
Suitable for …. SMBs and growing businesses.
Choosing the best data entry software for you
Overall, finding the best data entry software for your business accounting needs may seem overwhelming. Finding the perfect one that suits and minimizes your data entry needs may take some time, but it will definitely benefit your business in the long run. Let's recap what you need to consider:
Do the features support your accounting data entry requirements?
Will installation take time? Is the interface user-friendly? Is a mobile app available?
Does it integrate with your present accounting system for hassle-free export and import of data?
Does it have a free trial? Are most features accessible in their trial version?

Is their customer service available 24/7? Do they have after-sales support? Is their help page complete? Does it take a while for them to provide assistance?
If you're still worried about what data entry software to pick, choose ENVOICE. 
Envoice has all the necessary features for your data entry needs that will not only minimize manual data entry errors but also make it easier for you and your team to capture, extract, categorize, validate, store, and use data accurately and efficiently.
Take the first step in automating your data entry by making Envoice your accounting data software of choice. Schedule a free online demo or register for our free trial today!
Footnotes:
STAY ALWAYS TUNED
Subscribe to newsletter
STAY ALWAYS TUNED
Still not sure?
Don't spend time on manual work
Streamline processes
Automate your invoice flow
Integrate with the tools you rely on every day
Request demo