Digital Receipts
Best Receipt Apps for Business – Only the Top Options Compared
March 30, 2023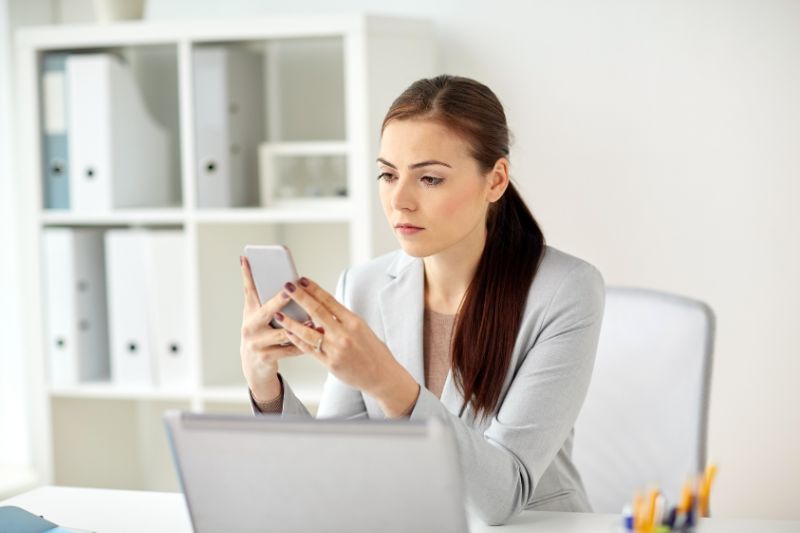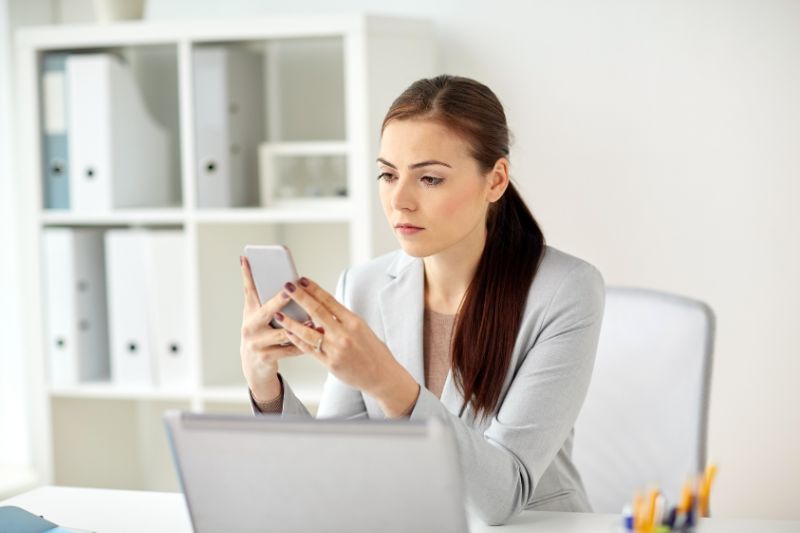 Syda Productions/Canva
Filing receipts is a crucial part of running a successful company. However, many companies struggle with proper record keeping. Some companies revealed that expense reports do not include up to 20% of receipts employees claimed on the request submitted for approval.[1]
Some employees lose receipts, attach the wrong one, or submit unreadable and crumpled paper receipts. Solving this pain point is crucial for any company, but more so for small business owners that track business expenses closely to stay afloat.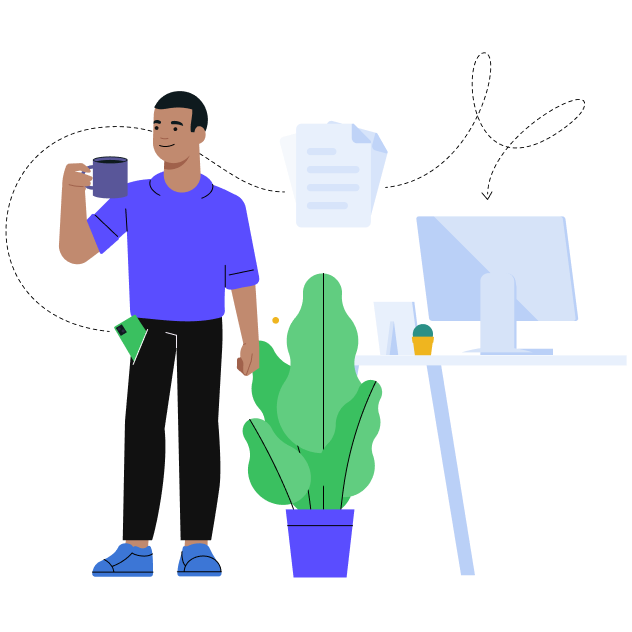 How to eliminate repetitive bookkeeping tasks?
Book a demo
and we will show you how
Fortunately, there's an easy and affordable way to end problematic source documents – using a receipt scanner app. 
What Does a Receipt Scanner App Do?
Receipt scanner apps create a digital version of your paper receipts by capturing information from an image or file. Most receipt scanning apps have a mobile and a desktop version. 
With the mobile version, you can extract receipt data by snapping a photo of your paper receipts. A receipt scanning app uses optical character recognition or OCR software to scan receipts, digitize files, and store information from your source data. And data extracted using OCR tends to be more accurate than information entered manually into an accounting system. 
12 Receipt Scanning Apps for Business Owners
Automatic data capture and receipt tracking save time and effort. If you're still managing receipts the old-fashioned way – taping receipts and asking employees to send the actual document or a scanned copy for approval – it may be time for a change. 
We've rounded up 12 of the best receipt scanner apps to help you create expense reports automatically, improve your digital filing system, and move away from filing physical 
receipts.
#1 Envoice
Envoice is an expense management app designed to speed up the processing of financial information. With Envoice, companies have access to a receipt scanning app and an AI-powered tool that automates approval workflow and improves receipt management.
Employees can use the Envoice app to create expense reports and submit them for reimbursement using a mobile app. It's a simple tool that supports expense tracking, data extraction by capturing a photo or uploading a receipt, and mileage tracking.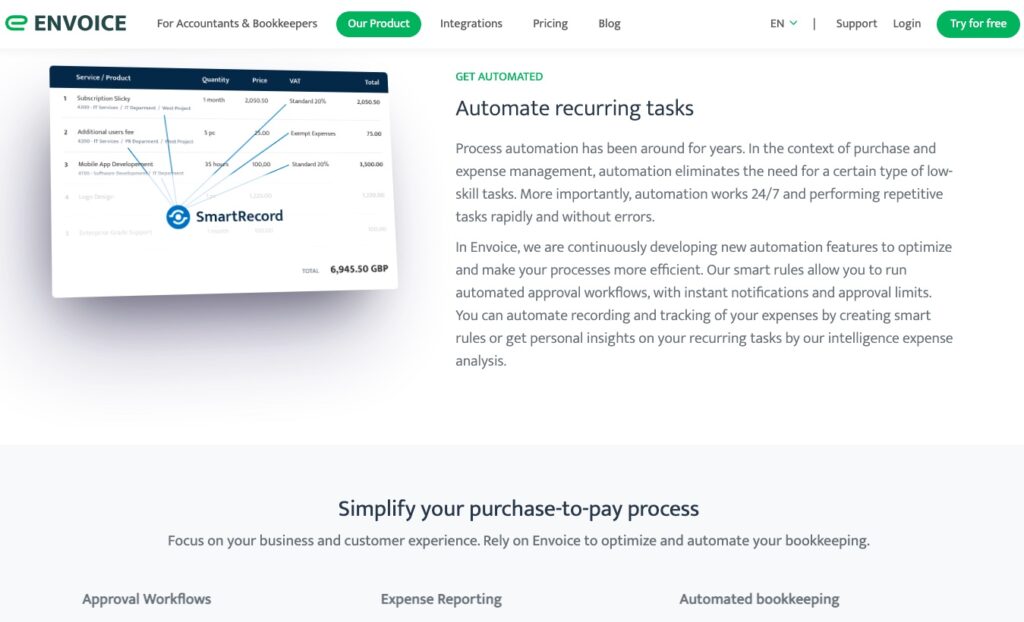 Source: Envoice
Pros and Cons
Envoice integrates with different cloud-based accounting programs. There's a subscription fee, but the cost of the service depends on usage. For now, Envoice doesn't have a linked corporate card – a feature that some companies may be looking for.
#2 Expensify
Expensify has a receipt-scanning feature called SmartScan feature. Like most of the tools in this list, it comes with a mobile app that you can use to take a photo of the receipt. Aside from the app, you can upload the invoice, use a Chrome extension, or email the receipt to your account.
Small businesses looking for a budget-friendly option can try using Expensify to see if it fits their needs.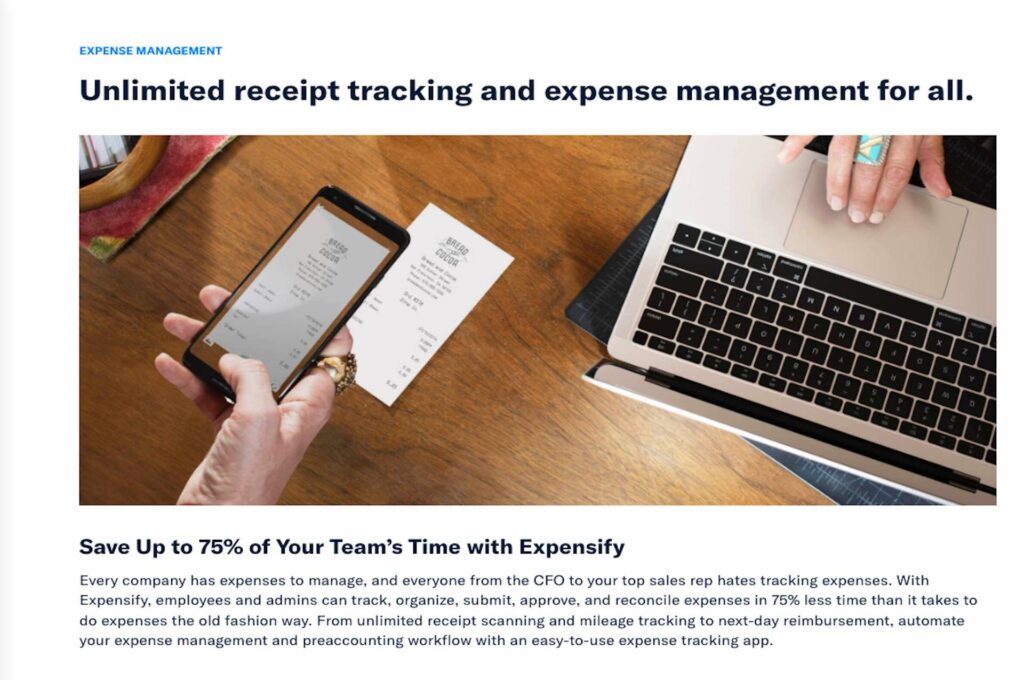 Source: Expensify
Pros and Cons
Expensify comes with a free plan, and you don't have to meet a minimum user requirement. Delegating access is also possible, and it integrates with several travel and accounting apps.
On the flip side, the app can be slow at times and free users are likely to receive constant offers to upgrade their accounts.
#3 Zoho Expense
Zoho Expense makes it to the list since the tool makes tracking and managing expenses easy. It comes with a mobile app and supports document management. Users can set up rules to speed up report creation for tax purposes and management use.
Business owners can maximize benefits from using Zoho Expense to manage credit card and bank accounts if they already use other Zoho tools.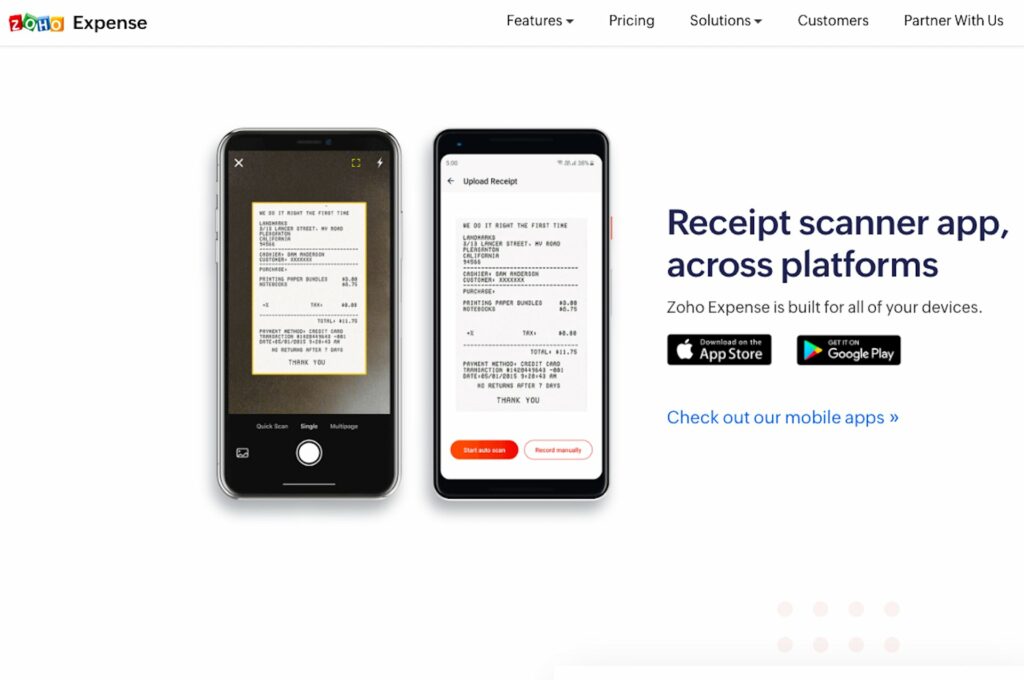 Source: Zoho Expense
Pros and Cons
Zoho Expense has a free version, but you need a paid plan to integrate the app with accounting software like Xero, Quickbooks, and Zoho Books. While the paid plan starts at $3 per user, you should have at least three users. Moreover, free users may have access to fewer features.
#4 QuickBooks
Most people think of accounting software when you mention QuickBooks, but the tool does more than generate financial reports; QBO has a receipt-scanning app.
If you use QuickBooks Online, consider using the app to capture information from your invoices.
With the QuickBooks mobile app, you can extract data by taking a photo of the receipt. However, you can also upload a copy of the invoice. After extracting data from the receipt, you can edit information and push it directly to your accounting software – making the process even more efficient.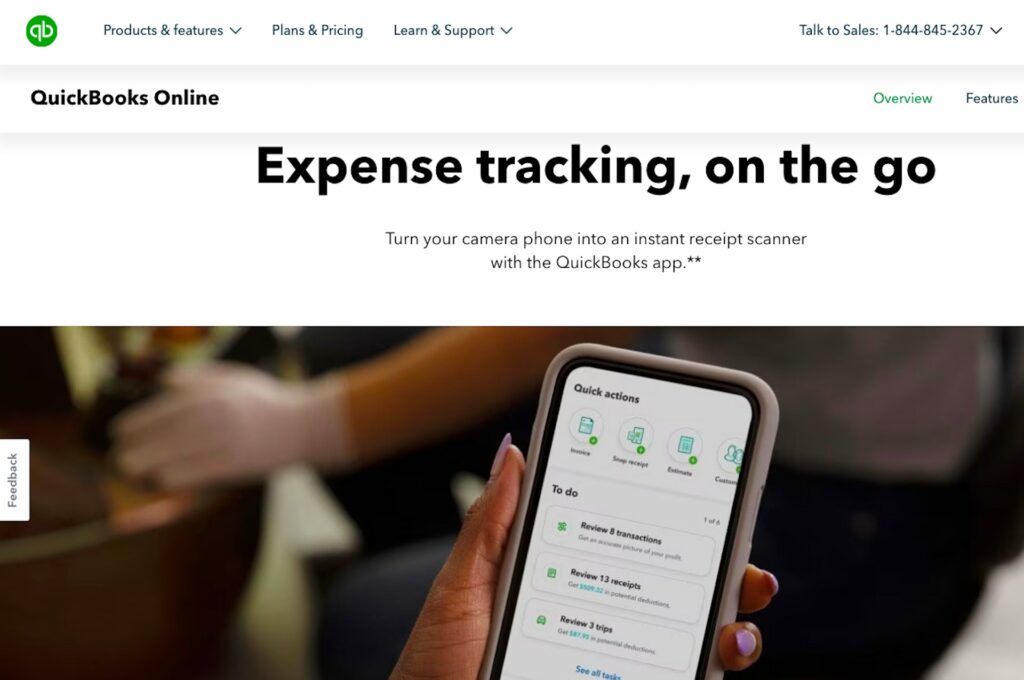 Source: Quickbooks
Pros and Cons
Businesses with an existing QuickBooks subscription have access to the app for free. The auto-match feature also works with these receipts. However, users on another accounting platform may find the learning curve a barrier to entry. Subscription fees for QBO tend to be higher than other receipt scanner apps.
#5 FreshBooks
Like QuickBooks, FreshBooks also includes access to its receipt scanning app as part of the subscription package. Compared to other accounting programs, FreshBooks is easier to use since it caters to the needs of small business owners. Service-based companies with a simpler operating process may also find FreshBooks to be the right choice for accounting and receipt scanning.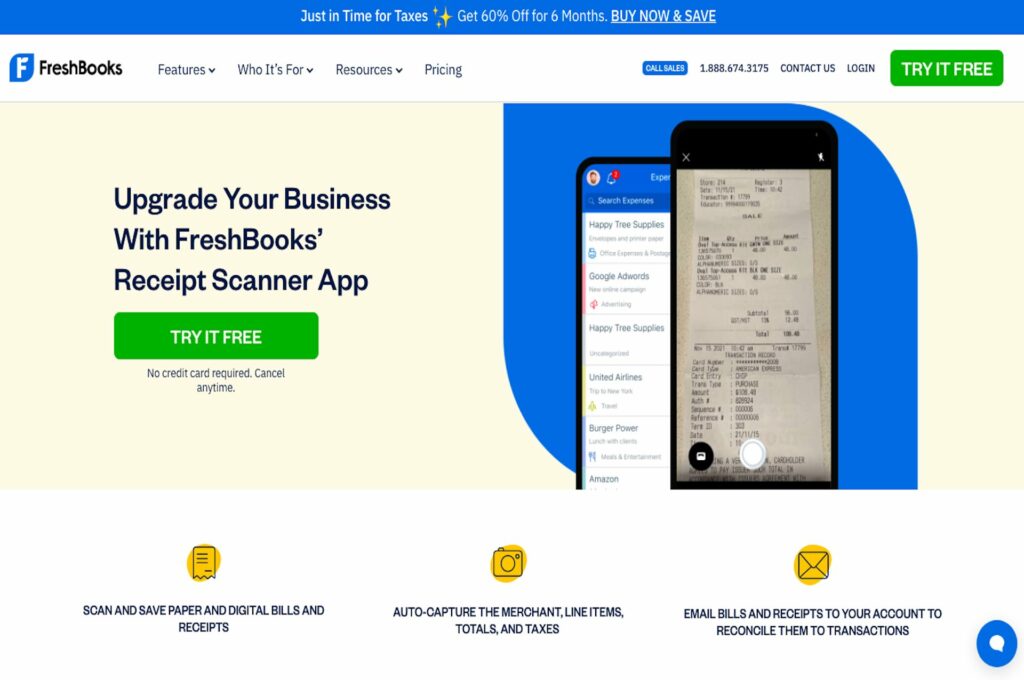 Source: Freshbooks
Pros and Cons
With the receipt scanning tool with FreshBooks, you can automate scanning and expense categorization. Users can also email the receipt to a unique email handle. Due to its simplicity, FreshBooks lacks certain features like inventory management. Adding more users also increases subscription costs.
#6 Wave Receipts
Wave Receipts is among the top picks if you're looking for a free mobile app for organizing receipts. With Wave, you can store proof of expenses to support claims since you can attach the receipt to each transaction. 
Wave also lets you keep a secure backup of your receipts. You can access all the information in one location – allowing your business to stay audit-ready. The receipt scanning app is free, but it's better to pair the tool with other Wave tools.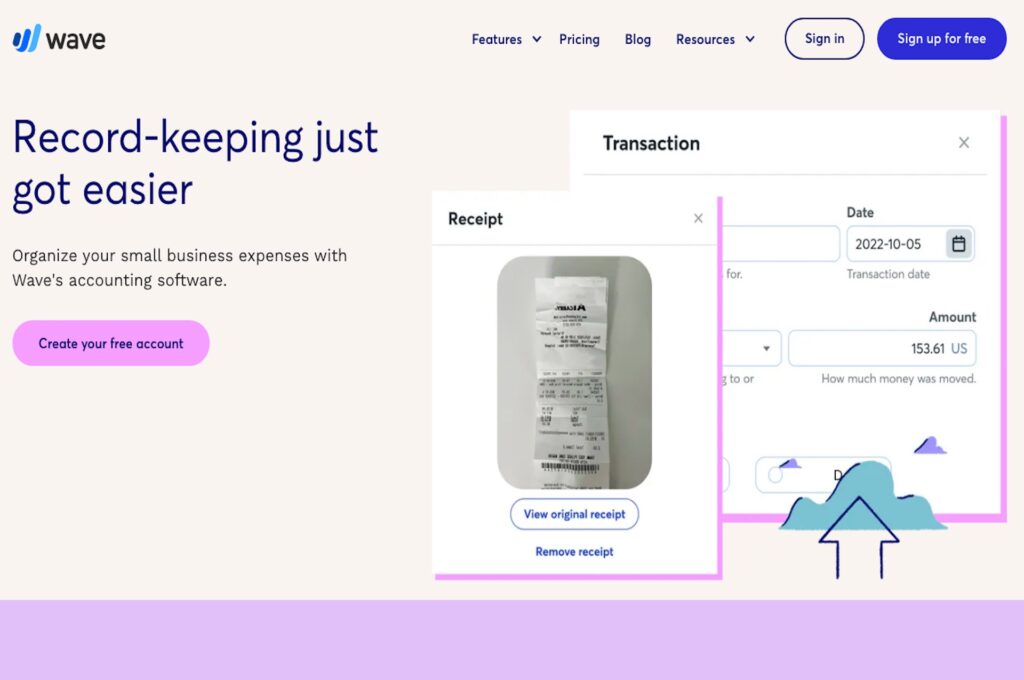 Source: Wave Receipts
Pros and Cons
Wave receipts have a user-friendly interface, making it convenient to navigate through the app. Aside from the receipt scanner, Wave also offers free accounting, banking, and invoicing, but it is more suitable for small business owners. 
You can capture photos of receipts with a mobile app. However, if you are going to upload receipts, you should use the browser version of the app. 
#7 Dext
Dext Prepare boasts various features that allow efficient data capture and receipt organization. You can access Dext through a smartphone app, automatic fetch, or email. Dext's receipt scanner integrates with different types of accounting software. You can create expense reports, set supplier rules, and match purchase orders to the related invoice. 
With its advanced features, Dext is ideal for financial controllers, accountants, and other professionals. You can also connect live bank feeds to your account and prioritize urgent tasks.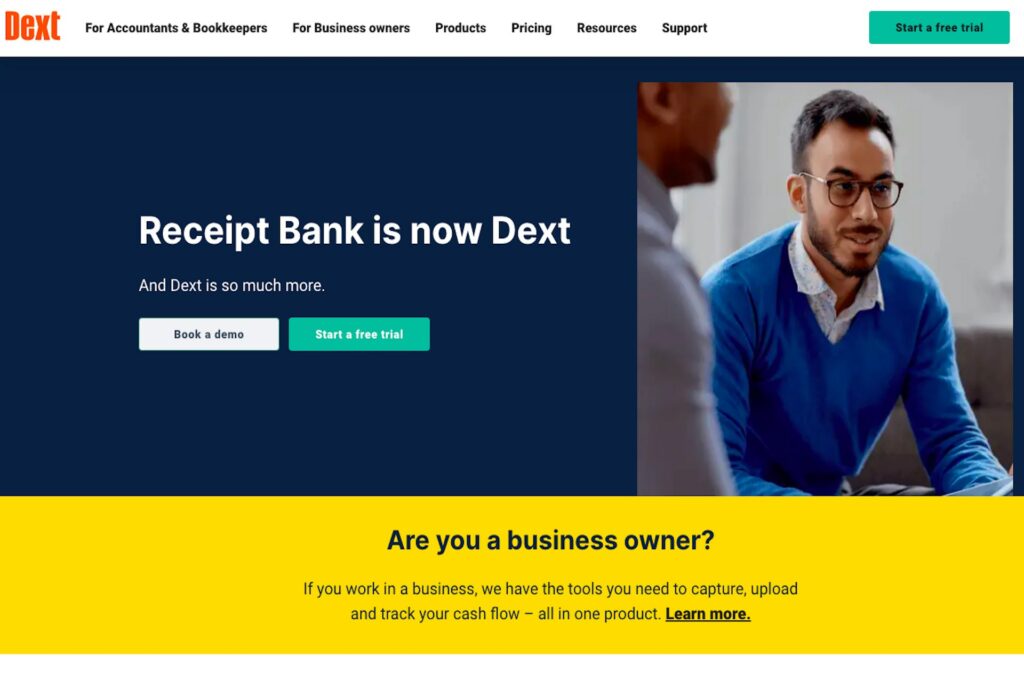 Source: Dext
Pros and Cons
Dext Prepare flags for missing paperwork, making it faster to track payments. You can take advantage of the free trial version of the app to see if it's right for your business. While the app comes with advanced features, it's on the expensive side, especially if you're planning to pay for a subscription for only one user. Some plans don't support line item extraction as well. 
#8 Neat Receipts
Companies looking for an app that allows unlimited scans and cloud storage can try Neat Receipts. The app is also ideal for companies looking for a tool with custom search filters and data extraction. With its receipt scanning features and archiving capabilities, you can locate information quickly. If you have to look for a specific invoice from years ago, you can instantly pull up the data.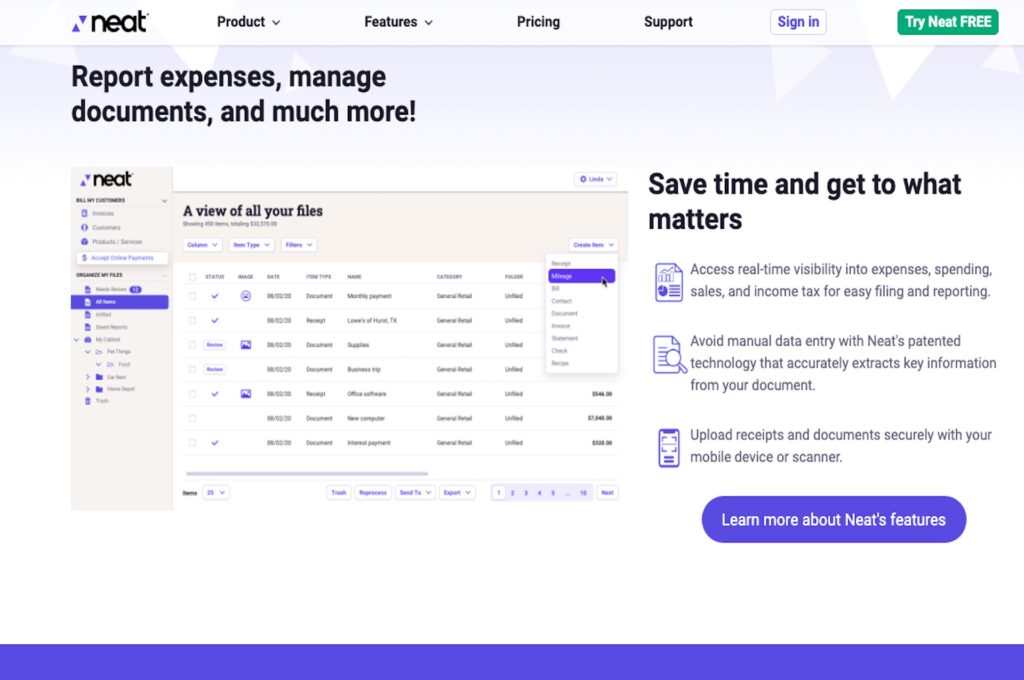 Source: Neat
Pros and Cons
Neat Receipts has multiple capture options and high-grade scanning. You can also create reports for different categories like spending details, sales tax, and per expense. With Neat, you have to pay a fixed fee per month. While neat provides unlimited support and storage, the upfront fee can be costly since there is no monthly plan. There is also no invoice reconciliation feature. 
#9 AutoEntry
Auto Entry is a receipt scanning app by Sage that simplifies invoice data extraction and organization. Businesses using Sage for accounting can benefit the most from using this app, but it can also sync with other cloud accounting programs.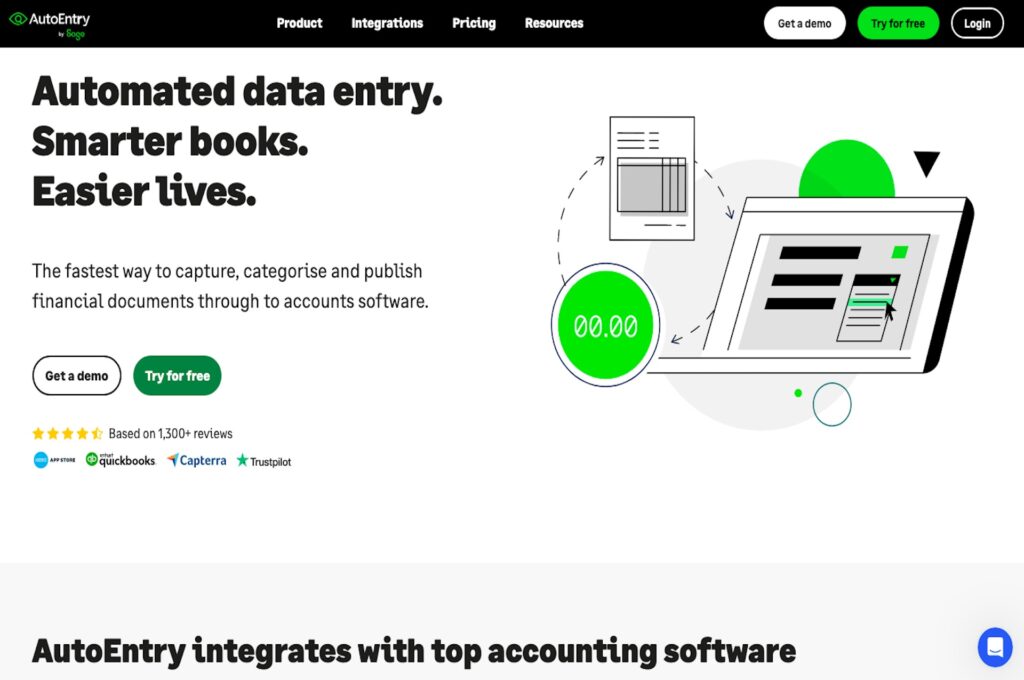 Source: Auto Entry
Pros and Cons
With Auto Entry, users pay for credits. The cost of extracting information varies on the source documents. Since you can extract data from invoices, bills with multiple line items, and bank statements – the credit cost varies depending on the information included in those documents. 
Auto entry works well with many accounting apps, but some people encounter inaccuracies in extracted information. Some users also find the interface difficult to navigate.
#10 Rydoo
With Rydoo, you can automate the expense workflow, streamline reimbursement cycles, and boost productivity by eliminating data entry. This app also includes useful features such as the ability to limit access based on the user's responsibility and role.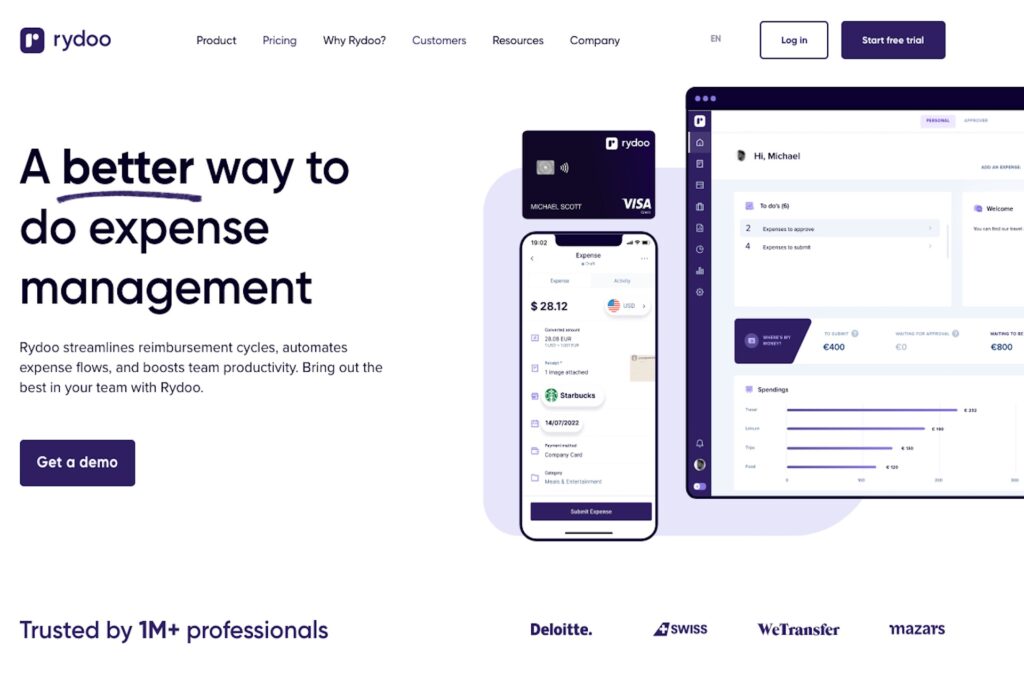 Source: Rydoo
Pros and Cons
As a cloud-based app, Rydoo makes it easier to access expense data in real time – preventing month-end spikes in workload for your finance team. Rydoo charges per user per month, billed annually. Larger companies that process a lot of invoices may find this rate reasonable, but smaller businesses may find the higher upfront cost to be a financial burden.
#11 Smart Receipts
As an open-sources app, you can customize Smart Receipts based on your business needs. You can modify the code and create additional features and filters. 
With Smart Receipts, you can save reports in multiple formats, including CSV, Excel, and PDF. There is also an option to create customized reports that can assist your business make better spending decisions. You can also forward reports to an email account.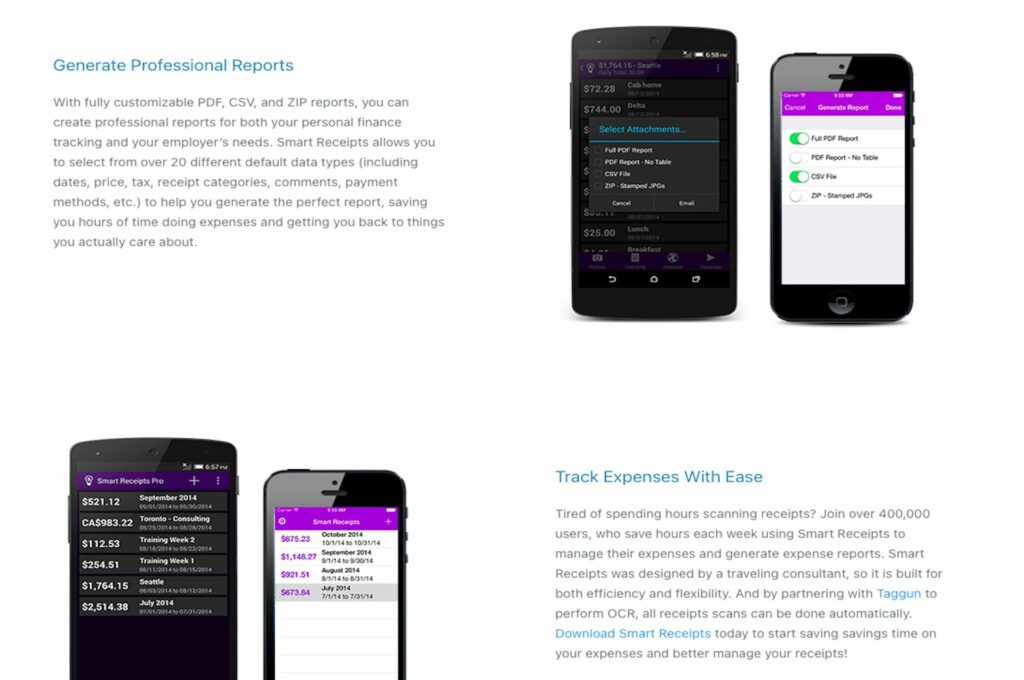 Source: Smart Receipts
Pros and Cons
Smart Receipts is a free app – an affordable option for businesses looking for a cost-effective choice. Since you can organize receipts in multiple formats, you have more flexibility in managing your receipts. While Smart Receipts has a free version, you can only unlock some features if you have a premium account. 
#12 Shoeboxed
Shoeboxed makes it faster and more convenient for small businesses and entrepreneurs to stay organized and manage receipts. This app is perfect for tax-saving purposes since it can provide suggestions on tax deductions and tax categories.  
With Shoeboxed, you can mail all your physical receipts to a processing facility. You also have the option to use the mobile app to capture a digitized copy of your receipt using your smartphone. Users can import receipts to the app using a Gmail plug-in or by sending the receipt to a designated address.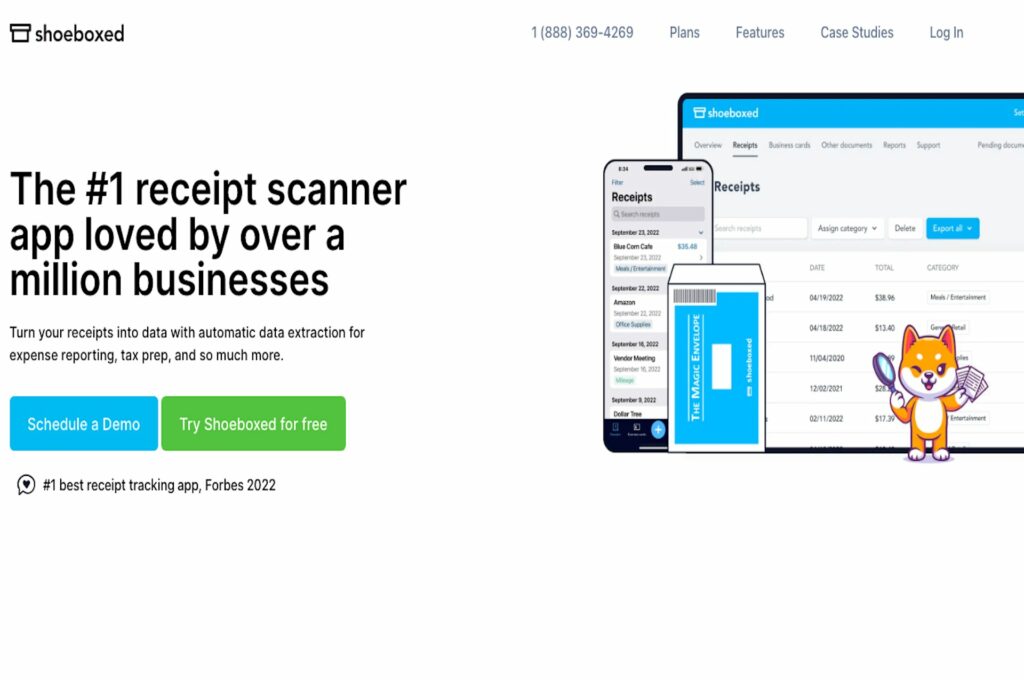 Source: Shoeboxed
Pros and Cons
With Shoeboxed, users allow expense reporting and mileage tracking. If you want to digitize physical receipts, you have the option to send them using the Magic Envelope for scanning. You have access to unlimited file storage as well. Compared to other receipt scanning apps, Shoeboxed is more expensive. 
Are Receipt Tracking Apps Accurate?
A study on using an automatic receipt recognition system revealed an accuracy rate of 99.39% accuracy rate for printed characters. [2] Smarter systems can even recognize handwritten text – allowing companies to process invoices faster without sacrificing accuracy. 
Your receipt scanner can also integrate with accounting software like Xero or Quickbooks. Many receipt scanner apps have capabilities like expense tracking or creating and submitting expense reports. 
Actual features vary from product to product, but most receipt scanner apps have the features above.
Why Does Proper Receipt Management Matter?
Organized receipts and proper record keeping help you to comply with legal and regulatory requirements. Most countries also require business owners to keep accounting records to support tax filing. 
In the US, for instance, the IRS requires businesses to keep records to substantiate expenses, including invoices, cash register tape receipts, and credit card receipts.[3] Generally, you should keep records for three years from when you filed your tax return or up to two years from when you paid your taxes, whichever is later.[4]
Manage Business Expenses Better With the Right Receipt App
Access to a simple and user-friendly tool for managing all your physical and digital receipts is invaluable for your business. Consider upgrading your existing process and modernizing your invoice process. 
Open a Free Envoice account now and experience how a receipt scanning app works in real life. 
STAY ALWAYS TUNED
Subscribe to newsletter
STAY ALWAYS TUNED
Still not sure?
Don't spend time on manual work
Streamline processes
Automate your invoice flow
Integrate with the tools you rely on every day
Request demo