Product updates
Expenses & Workflow
October Updates: Smart Invoice Summaries, Auto Expense Categories, and Customizable Emails
October 10, 2023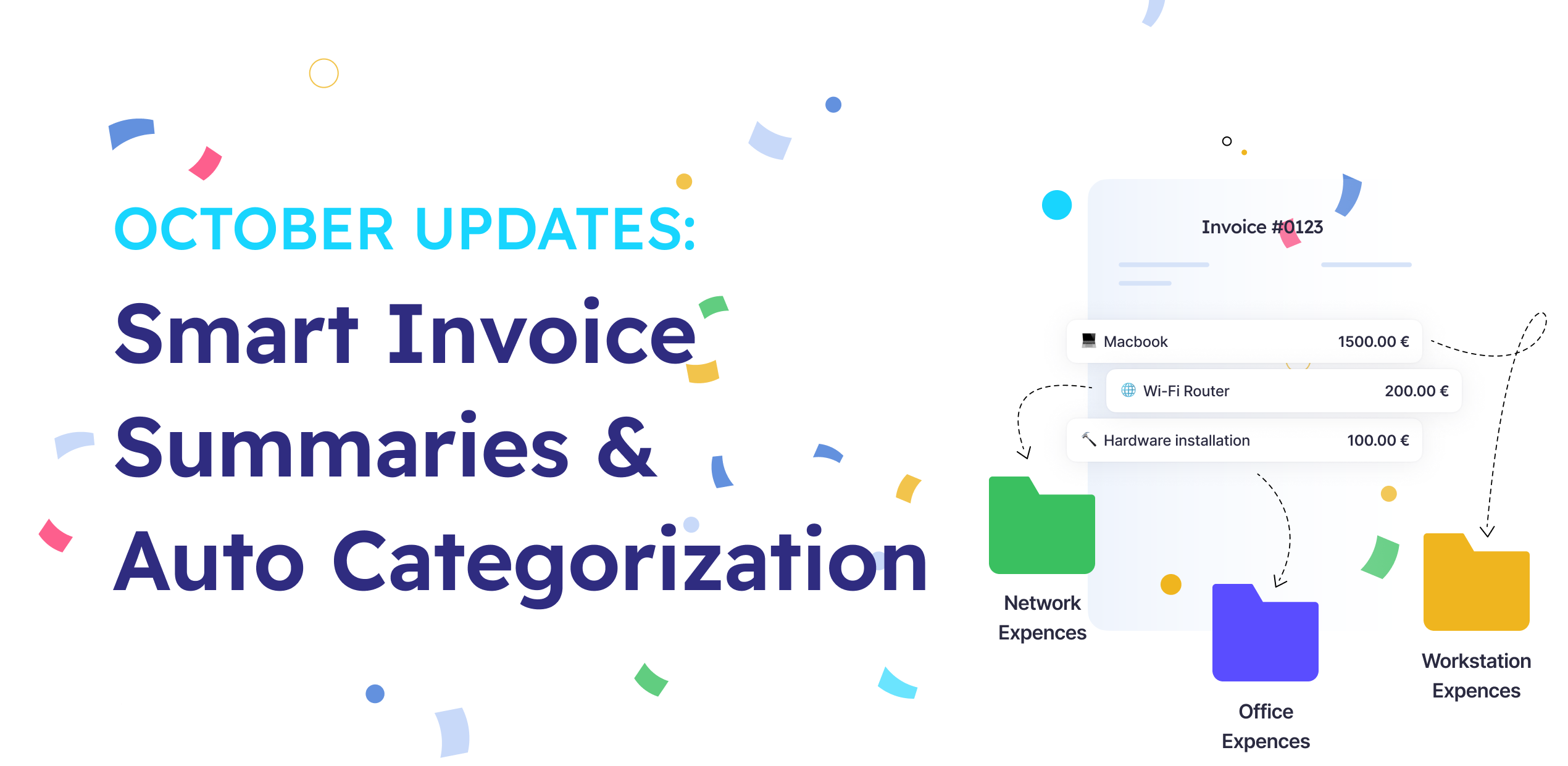 Invoice Line Description Summaries
Our latest update goes beyond mere numbers and amounts on invoices; it explores into all invoice line descriptions and creates concise summaries. For instance, if you've made a purchase at The Home Depot that includes nuts, screws, and paint all in one go, Envoice will label the invoice line description as "Building Materials." This solution is not only multilingual but also generates summaries in the language officially designated for your company (Settings > General > Official Language).
However, if you wish to maintain consistent invoice line descriptions for invoices from a specific supplier, you can set this as the default value for that supplier. Check out how to configure supplier-specific default values for more details.
This feature is enabled for all businesses, and there's no need for any additional setup.
Automatic Expense Category Detection
If you use Envoice to create expense and travel reports, our new AI-powered assistant can now automatically identify what's on a receipt image and attempt to auto-categorize the expense. The expense category is selected from those set up within your company. Since using expense categories can save a significant amount of time for accountants, please ensure that your company's expense categories are correctly configured. Learn more how  to set up expense categories.
Customizing Email Messages for Sales Invoices
Another enhancement includes the ability to customize email messages for sales invoices according to your preferences. When a sales invoice is sent via email, company administrators can modify the email content in three different languages and create distinct default letters for both sales and credit invoices. Default letters can be adjusted at the time of sending the sales invoice. See how to customize email templates.
These updates are designed to simplify your workflow and make accounting tasks more efficient. Take advantage of these features and explore how Envoice can optimize processes for your company.
STAY ALWAYS TUNED
Subscribe to newsletter
STAY ALWAYS TUNED
Still not sure?
Don't spend time on manual work
Streamline processes
Automate your invoice flow
Integrate with the tools you rely on every day
Request demo