Accounts Payable
7 Best AP Automation Software Solutions on the Market
January 30, 2023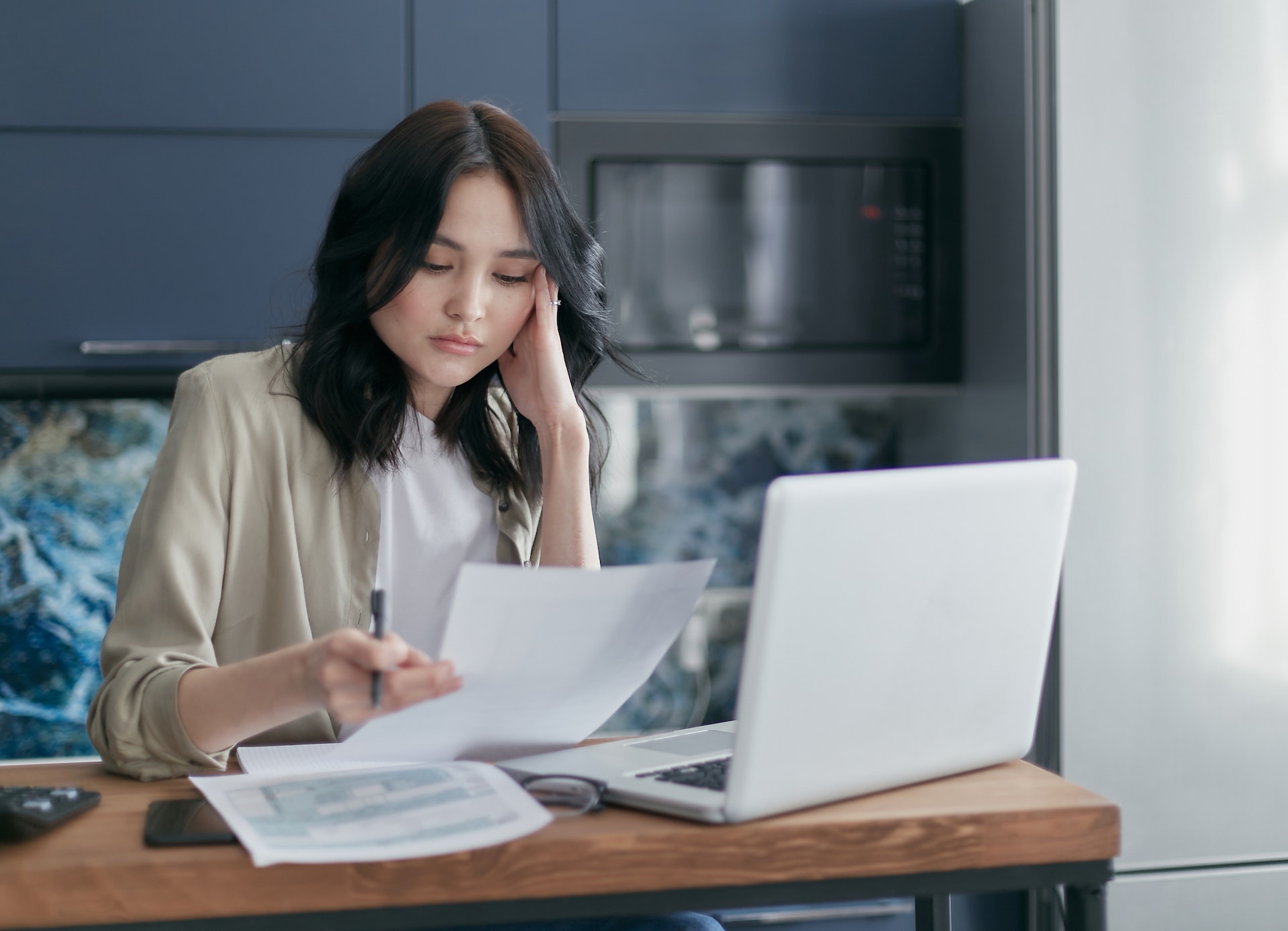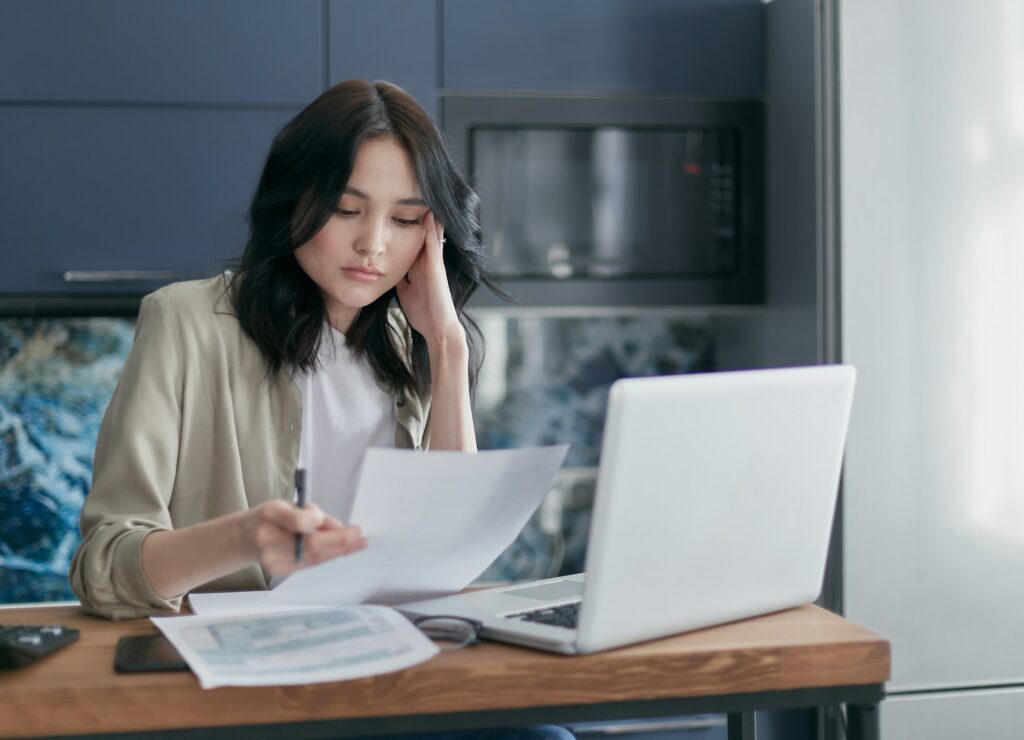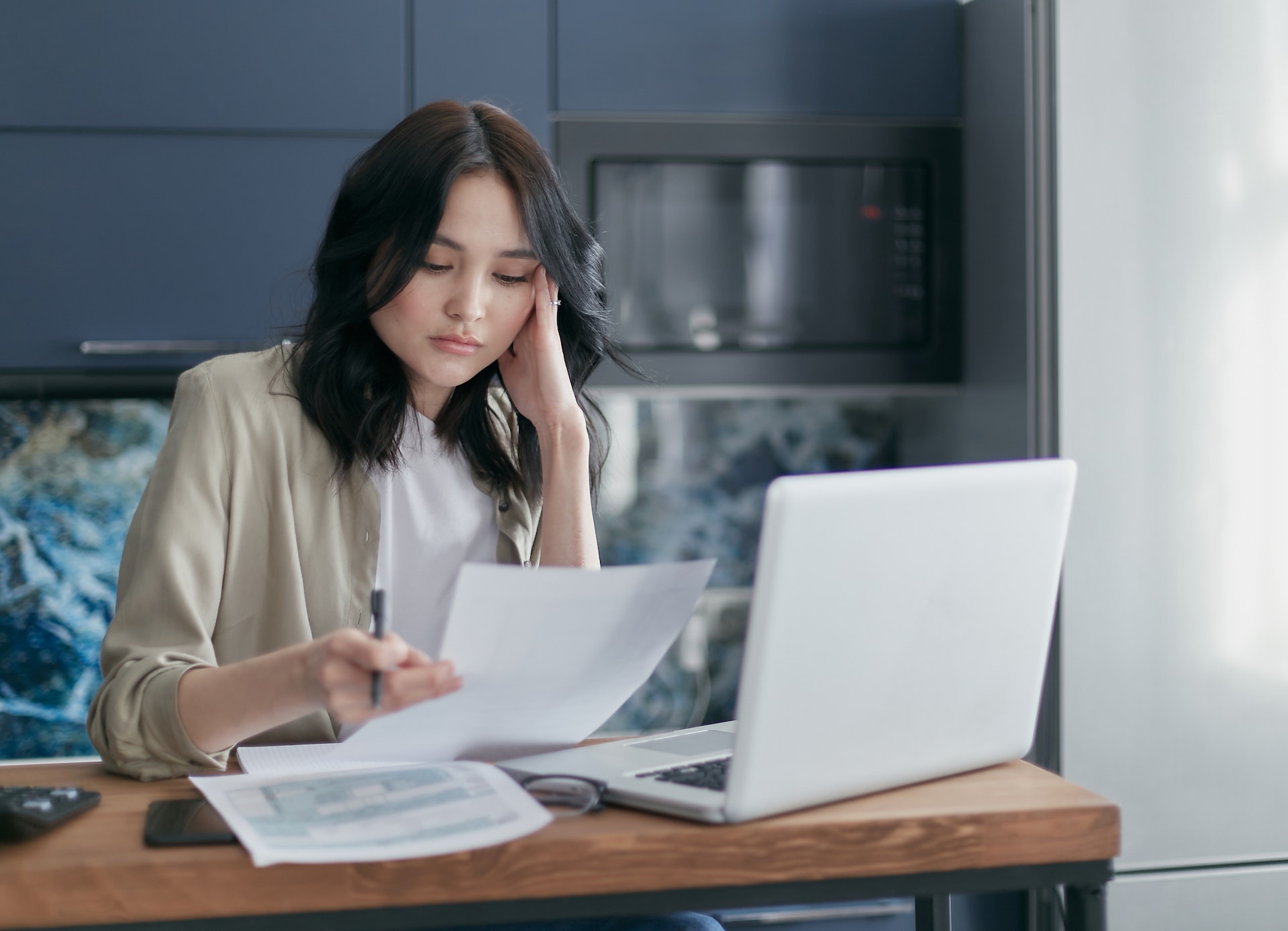 Pexels
With an expected growth rate of 12.5%, the Accounts Payable automation software market will likely increase to $7.5 billion by 2030 [1]. 
Demand for almost real-time information, higher efficiency, and cost-saving initiatives is fueling the growth of accounts payable automation across industries.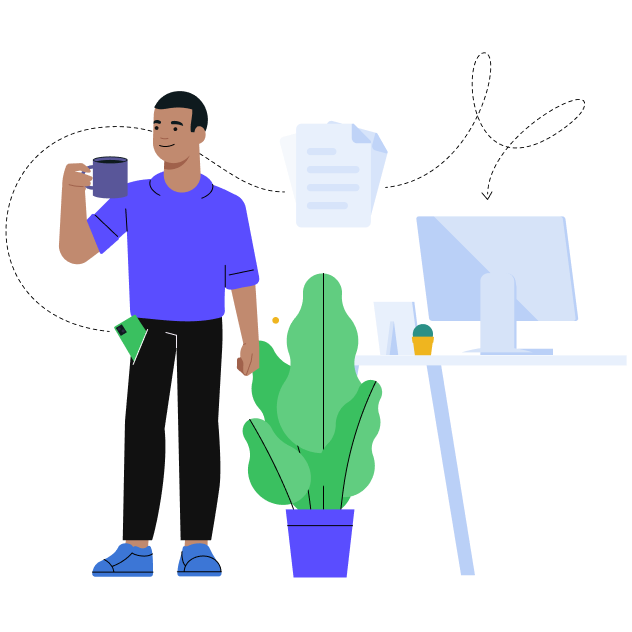 How to eliminate repetitive bookkeeping tasks?
Book a demo
and we will show you how
However, despite many successful case studies, some companies still rely on manual processes – with 68% of businesses entering invoices manually [2].
But clinging to manual processes is a source of stress to many accounts payable teams. AP processing challenges hurt companies by causing damage to vendor and supplier relations and may lead to delays in delivering goods and services.
We've rounded a list of the top accounts payable automation solutions to help you get acquainted with your AP software options. 
But first, here's a primer on accounts payable software solutions.
Accounts Payable Software – What is It?
Accounts payable software is a tool that allows companies and their accounting team to speed up invoice processing and management. 
Continued reliance on a manual process leads to many problems for understaffed accounts payable departments. When there are too many invoices to process, AP teams can't keep up with business operations. Problems like late payments, paying invoices twice, and processing incorrect payment amounts often crop up. 
Using ERP or cloud-based accounting systems like Xero and QuickBooks Online helps, but it doesn't solve the problem. These tools lack features to address pain points in a manual AP environment­.  
Expense management and accounts payable software solutions exist to fill this need. Products like Envoice leverage technology so businesses gain visibility and control over invoice management. 
Top Features of an Accounts Payable Automation Software
Automating manual tasks plays a vital role in business success. So, picking the right AP automation investments is critical. Here are some of the best time-saving features when choosing AP software.
Optical character recognition
Reducing manual data entry is among the biggest selling points for AP automation – and this is impossible without optical character recognition or OCR.
With OCR, users don't need to key data from bills or invoices. Data from photos or PDFs get converted to a machine-readable format in seconds. Rather than entering data, users only need to review it for accuracy. Some providers also add human verification to their subscription plan to achieve 99% accuracy.
Automated Approval Workflows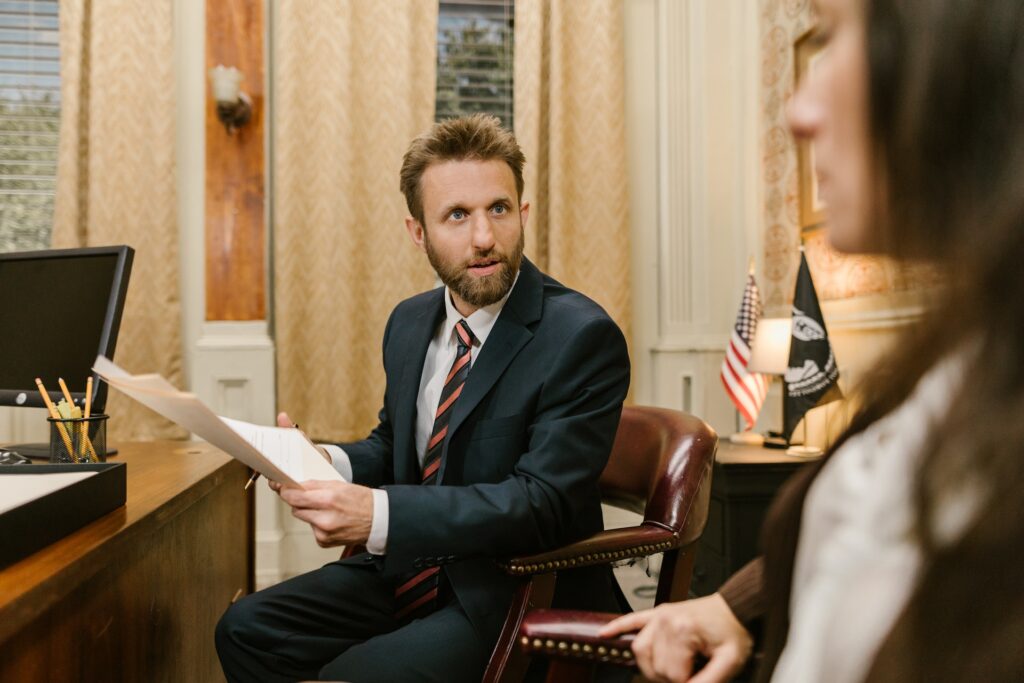 Pexels
In a manual environment, companies route invoices for approval before getting paid as part of internal control. AP software transforms this process by creating an approval workflow for all invoice activities. 
Having every invoice enter the workflow enables invoice status tracking. When users send the invoice for review, the approver receives a notification, so they know that an invoice is waiting on them. Best of all, an approval log shows all actions related to the invoice. 
Machine Learning
Machine learning allows your AP software to recommend categories and use past transactions to apply rules automatically. 
Self-learning AI reduces repetitive tasks like adding vendor codes or choosing expense categories which frees up additional time for your staff.
Accounting Software Integration
Integration puts an end to entering data in multiple systems. AP software solutions should integrate with your existing accounting or ERP software to enable information sharing. Integration makes it possible to push data captured through your AP automation tool to the right expense category in your accounting software with the push of a button.
Availability Across Different Devices
More businesses embrace hybrid work, making it necessary for AP software solutions to be accessible from a laptop, mobile phone, and tablet. Users expect their AP software to have a mobile app that allows them to capture invoice data by taking a photo of an invoice and sending it directly for approval.
Why Companies Embrace AP Automation
Automating the accounts payable function comes with many benefits. Many businesses accelerate AP automation to modernize business processes, address emerging business risks, and achieve growth targets while keeping costs at bay.
Here are reasons why almost all companies consider automating the AP process.
Better Document Management 
Accounting departments deal with various types of paperwork – invoices, expense reports, billings, and other supplementary documents to support data reported in the financial statements. Having all this information in file cabinets may work for a small business, but as you grow, it becomes more challenging to keep up with all the paper. 
Paperless records that users can access online make data accessible to authorized users. It is also easier to comply with legal and regulatory requirements with an efficient document management system. Document retrieval is also more convenient with a paperless system. 
Higher Productivity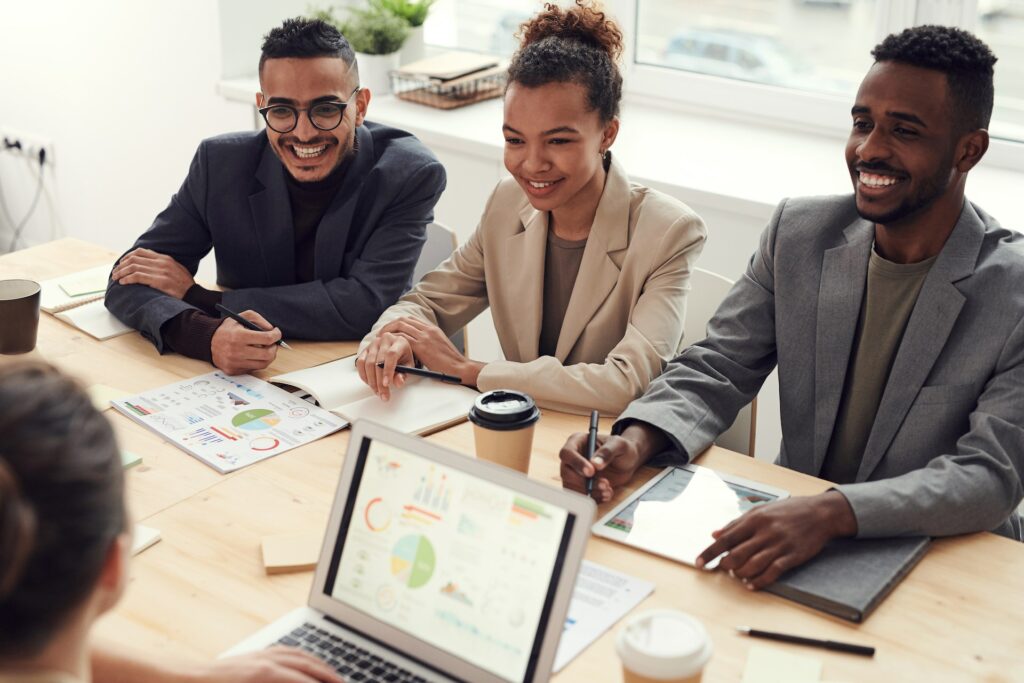 Pexels
Access to more tools does not necessarily lead to greater productivity. In fact, it can result in hours wasted due to navigating between apps, training on how to use the tool, dealing with the learning curve, and more. AP automation solves this productivity paradox by leaving repetitive tasks to robots who can process data non-stop without sacrificing consistency and accuracy. 
While humans should still be in the loop to make decisions related to invoice approvals, automating data entry and invoice routing means less time wasted, so you get more work done. 
Stronger Internal Controls and Higher Compliance Rates
Compliance with regulatory and legal requirements is among the most tedious parts of accounts payable compliance. AP automation tightens internal controls and enhances compliance by providing another level of oversight.
Automated invoice workflows allow administrators to code rules into the system. All expense claims that enter the process should pass these rules to move through the approval phase. Since everything happens in one system, all actions and changes leave an audit trail – making it easier to track everything related to a transaction.
Achieve Higher Cost Targets
Finance operating models are changing as companies continue to face long-term economic uncertainty. For 88% of companies, the main goal for revamping operation models focuses on achieving an average cost savings of 4.8% in the next two years [3].
AP Automation allows finance teams to achieve their cost targets through process optimization. Introducing robots into the invoice approval workflow decreases labor hours spent reviewing, approving, and correcting invoices due to coding errors, increases capture rates for early payment discounts and helps the business avoid penalties and late payments.
Reduce Employee Turnover
Repetitive manual processes hurt businesses and employee morale. About 55% of employees think of leaving a position with too many admin tasks [4]. Meanwhile, 85% navigate to organizations that invest in using technology to reduce manual work like data entry.
With hiring challenges across organizations, it makes sense to automate AP workflows to continue business as usual without adding headcount and to attract and retain talent. Freed-up time from automating tasks allows your employees to focus on their main job and widen their skillset to take on bigger responsibilities.
Best Accounts Payable AP Automation Software 
Businesses have a wide range of options for accounts payable automation solutions. There are standalone systems, cloud-based tools that allow integration, and enterprise-wide solutions with advanced features from the world's leading software providers.
Explore some of your options when it comes to AP automation below.
#1 Envoice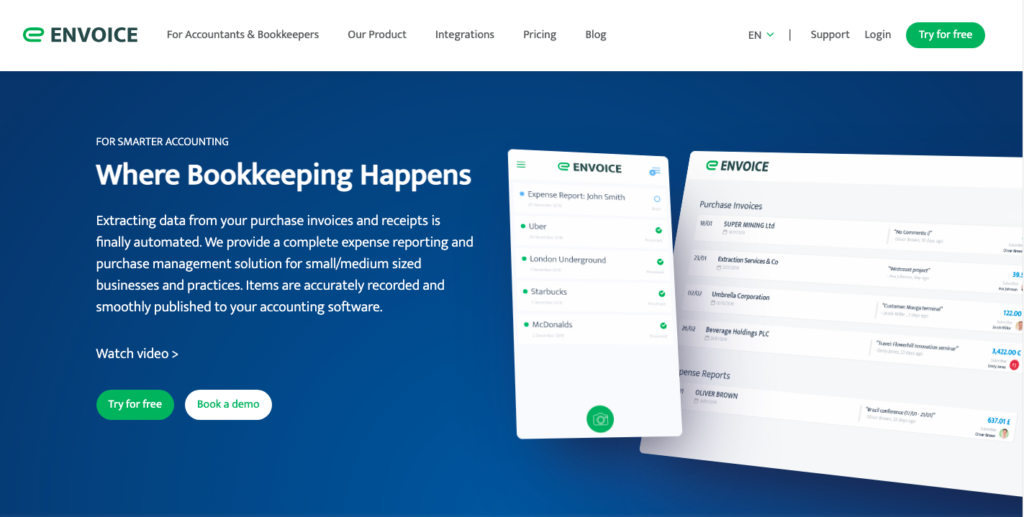 Designed for accountants and bookkeepers, Envoice makes smart accounting possible. This expense management solution allows small and medium-sized businesses to reap the benefits of automation on a budget. 
Envoice offers built-in tools to extract data, automate approval workflows, and automate recurring tasks. Practice accountants receive discounts, and companies can request custom features to match their expense reporting requirements.
User Plans
Envoice offers two subscription plans:
Essentials – this plan includes SmartExtract, SmartRecord, and Travel & Expense Reports

Business – comes with all the tools under the Essentials plan, as well as approval workflow and travel requests

ExactExtract – an enterprise-grade service that offers automatic extraction and human verification
Pricing
 The Envoice pricing model includes a fixed monthly subscription fee and a variable fee for additional documents processed.
Essential – €5 per month inclusive of 30 invoices + €0.15 per invoice for each additional document

Business – €10 per month inclusive of 30 invoices + €0.15 per invoice for each additional document

ExactExtract – €0.20 for each document extracted
Read On: Accounts Payable Automation Case Studies
#2 Oracle Netsuite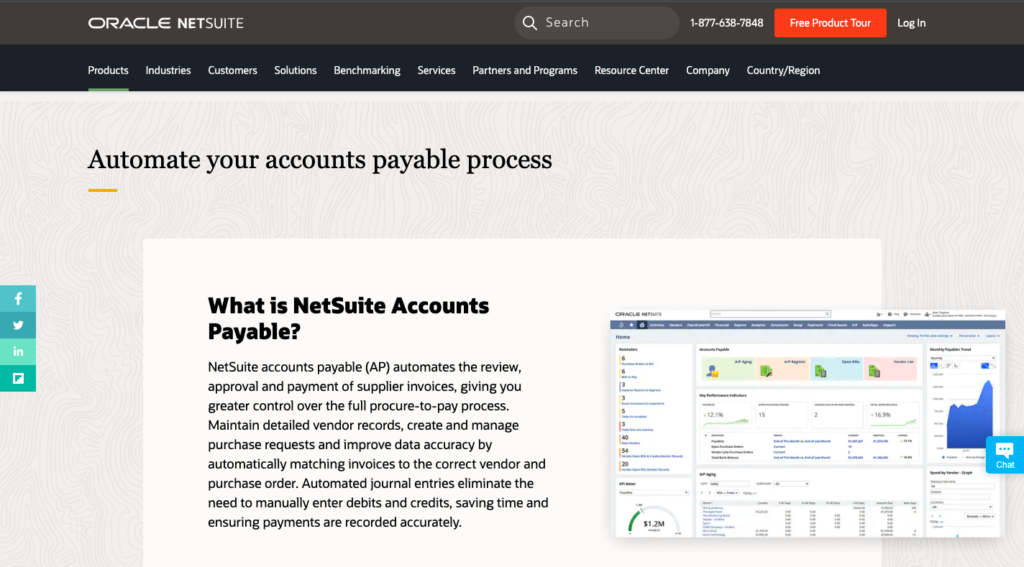 Oracle Netsuite is more than just an accounts payable automation solution; it is an ERP platform with advanced features. Netsuite comes with many developer capabilities, allowing various customizations depending on the needs of your business.
Like other solutions in this list, Oracle Netsuite is a cloud-based solution where you can access both your accounting and operations data. Every business type gets a different version of the software – making it easier to add features later on. 
Netsuite has financial management software that combines AP automation with accounting, ERP, and other processes. AP capabilities of Netsuite's solutions include:
Automatic matching of receipts, purchase orders, and bills

Exception handling and automated invoice approval workflows

Vendor management portals
User Plans
With Oracle Netsuite, companies can customize product features. The ERP's integrated ecosystem is more beneficial for midsize and large organizations than small companies. 
Pricing
Netsuite's pricing depends mainly on the number of users and the solutions needed by the business. Since no standard pricing is listed on the company's website, you need to request a price quote directly from the company.
#3 Sage Intacct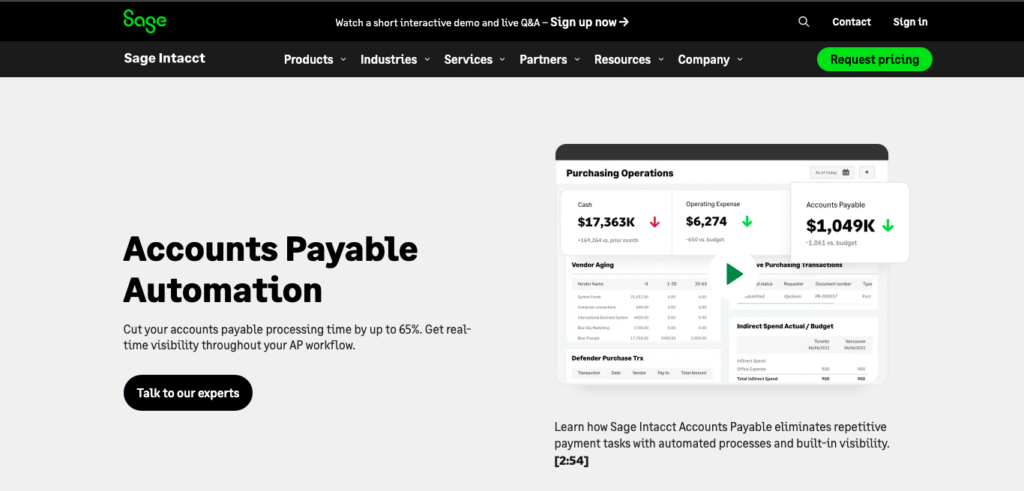 As an accounting software endorsed by the American Institute of Public Accountants, Sage Intacct has powerful features to assist accounting professionals. Accounts payable automation is part of the Sage Intacct ERP ecosystem.
Companies can use the AP module to decrease processing time for invoices. Accounts payable automation features for this ERP tool can do the following:
Automate accounts payable workflows to reduce bottlenecks in the process

Align existing internal controls, approval procedures, and workflows with your business objectives

Access to AP transaction data in real-time

Pay for invoices and expenses through online channels
With these features, Safe Intacct delivers valuable business insights, data, and financial reports with ease.
User Plans
Sage Intacct does not offer cookie-cutter plans. Every company will receive a unique set of recommendations based on factors such as the nature of their business and invoice transaction volume.
Pricing 
Similar to other ERP providers, Sage Intacct has a custom pricing plan that allows you to choose the tools that the company requires. Pricing will depend on the products included in the plan – so having more tools means paying a higher price.
#4 SAP Concur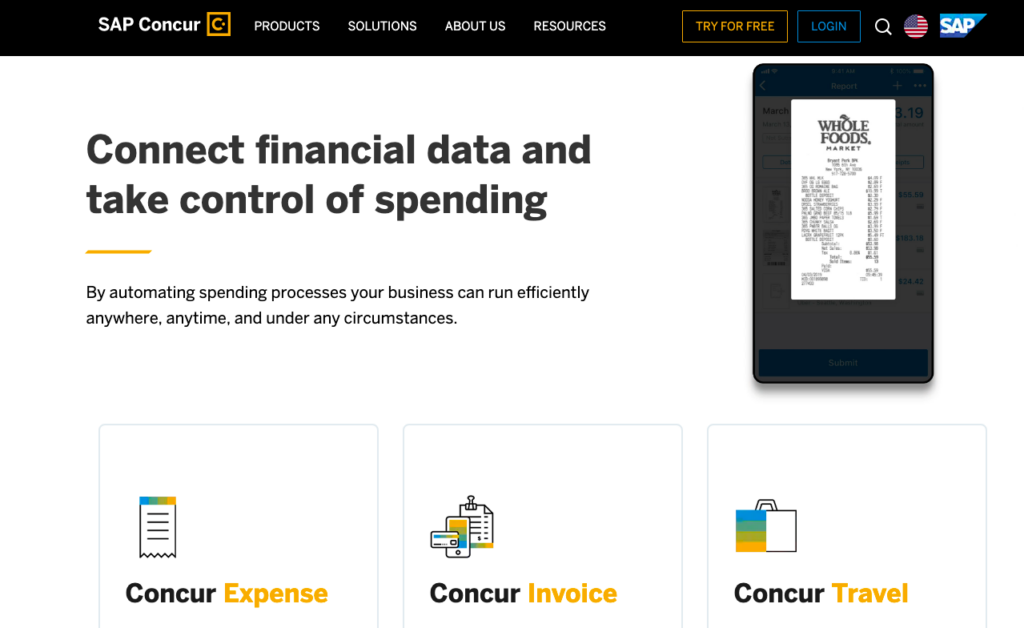 Known for providing a wide range of software solutions, SAP Concur is one of the world's most popular accounts payable automation providers. The company offers different solutions for travel and expense, expenses, and invoices. One of its stand-alone applications, Concur Expense, allows expense tracking and automated expense reporting. 
SAP Concur leverages intelligent systems to automate business payment processes, enable invoice matching, eliminate data entry, and gain deeper insights into spending patterns. While using Concur Expense alone is possible, users can maximize benefits from using this solution when combined with other apps such as Concur Invoice and Concur Travel.
Larger businesses with a higher tech budget are more likely to benefit from SAP Concur solutions. However, businesses of all sizes can integrate the solution with their ERP or accounting system and payments providers to streamline their accounts payable processes.
User Plans
The SAP Concur website lists all solutions based on business needs, by industry, and by role. There are also AP software solutions for small businesses, midsize companies, and large organizations looking to improve spend management.
Pricing
SAP Concur does not indicate prices for its solutions on its website. However, each application has a separate price. You can request a price quote by providing information about your business, such as expense report volume, industry, and the current number of employees.
 #5 AvidXchange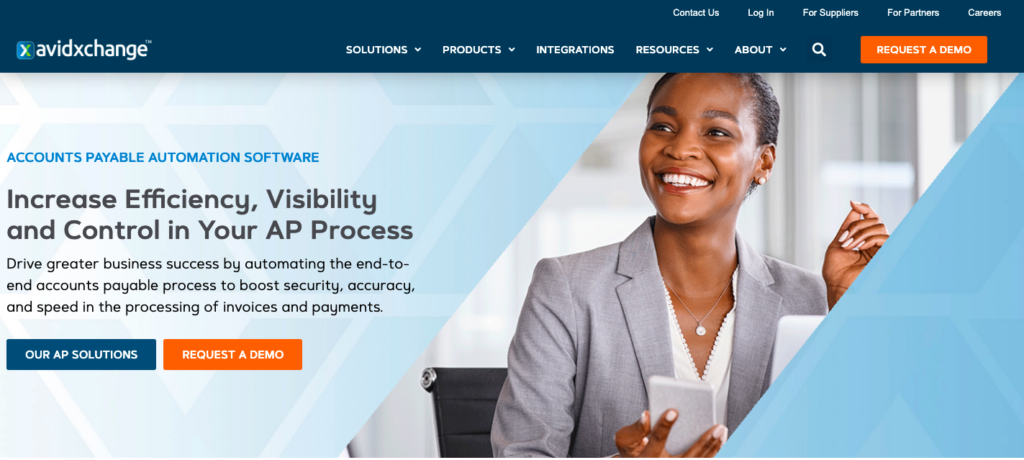 Software solutions from AvidXchange target pain points of the middle market by changing how businesses process invoices and payments. Like SAP Concur, AvidXchange has a suite of products to eliminate manual processes in the accounts payable process.
As a company that has been working on streamlining the accounts payable process for more than two decades, AvidXchange has forged partnerships with various providers. To date, the software comes with more than 200 integrations.
Since the software is cloud-based, users have 24/7 access to the platform.
 User Plans
 AvidXchange offers several AP automation solutions, which include the following:
AvidStrongroom – this product is a complete AP and payment automation solution

AvidInvoice – this tool users can streamline the invoice process and align it with existing approval workflows

AvidPay – this tool improves business payment processes by paying bills and invoices through electronic channels

AvidBuy – a tool that facilitates faster processing of purchase orders for seamless procurement of goods and services

AvidUtility – a tool for managing utility consumption and automating payment processing
Aside from these software solutions, AvidXchange also offers solutions designed for specific industries. For instance, AvidAscend for the financial industry and TimberScan for construction companies.
Pricing
Users can request a price quote directly from AvidXchange. Businesses can customize plans depending on their needs. The final cost of the product will depend on the modules purchased.
#6 Expensify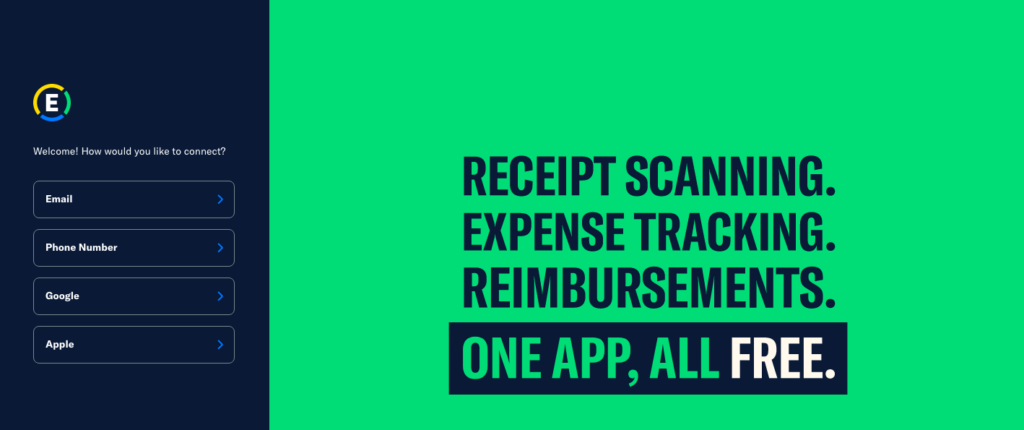 Founded in 2008, Expensify launched the industry's first receipt-scanning technology. Users can scan receipts and request reimbursements for free using the Expensify app. Aside from invoice automation, Expensify comes with a corporate card that makes it easier to keep track of a company's spending.
While the user interface has room for improvement, Expensify differentiates its products by catering to the AP automation requirements of medium to large enterprises. Expensify has reliable OCR features and offers technology integration and workflow systems – making it a top pick for larger organizations.
User Plans
Expensify users have access to the following plans:
Scan up to 25 invoices or bills for free every month. Users can take advantage of this offer to track expenses and mileage, send invoices to receive money, collect payments, and submit invoices to accountants or managers.
Free plan – this comes with the Expensify card and allows users to pay bills, send invoices, and reimburse expenses

Collect – this includes all features under the free plan plus approvals, accounting integrations, and payroll.

Control – this subscription provides access to all features under free and collect and allows users to customize reports, create rules based on expense policies, and add multiple approvers
Pricing
Expensify charges subscription fees per user per month:
Collect plan – $10/ $5 with the Expensify card

Control – $18/ $9 with the Expensify card
#7 Spendesk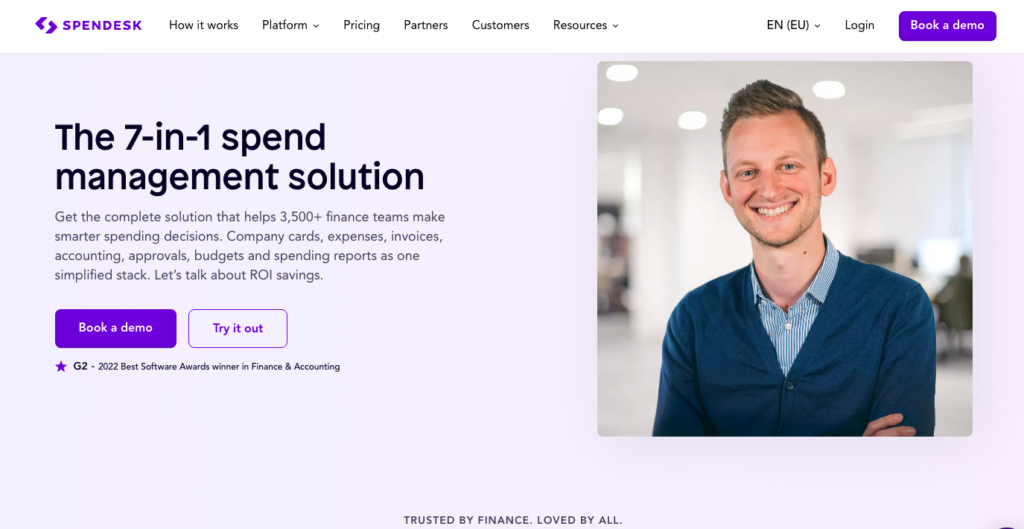 Spendesk provides a 7-in-1 solution to help companies manage their cash outflows. AP software solutions include access to corporate cards, expense reimbursements, compliance, invoice payments, invoice approval, budgets, and financial reporting.
With Spendesk, users can manage expenses using a mobile or web-based application. It also comes with a physical and virtual card tied to the software, allowing companies to track card charges automatically. 
User Plans 
Spendesk offers three types of subscriptions which are as follows:
Starter – Designed for SMBs and entrepreneurs, the Starter plan makes it easy to manage expenses incurred in running a business. With this plan, you can have up to 7 users and one approver.

Essentials –The Essentials plan is Spendesk's most popular subscription. With this plan, companies can enroll unlimited users and approvers in the platform to enable more efficient operations.

Scale – Created for larger companies, the Scale plan allows greater automation, control, and flexibility. Like the Essentials plan, it has unlimited users and approvers and has advanced features like budgets and spending trends.
 Pricing
Subscription fees for this AP automation software have two components:
Fixed fee to access the platform, plus

A variable fee for each transaction made, including invoice payments, card purchases, and expense reimbursements.
Embrace the Power of AP Automation With Envoice
If your accounting firm and department aim to plug financial leaks and get more value from AP, it's time to automate.
You can't run a 21st-century finance team when outdated tools and manual processes hold you back. Modernize AP with Envoice and free up time for your staff, increase productivity and create a proactive and strategic AP team. 
Discover how accessible AP automation can be.  Schedule a free demo with the Envoice team today.
Article Sources:
[1] https://www.globenewswire.com
STAY ALWAYS TUNED
Subscribe to newsletter
STAY ALWAYS TUNED
Still not sure?
Don't spend time on manual work
Streamline processes
Automate your invoice flow
Integrate with the tools you rely on every day
Request demo