Accounts Payable Automation
Get a Grip on Your Accounts Payable: A Comprehensive Overview of AP Automation Workflows
May 11, 2023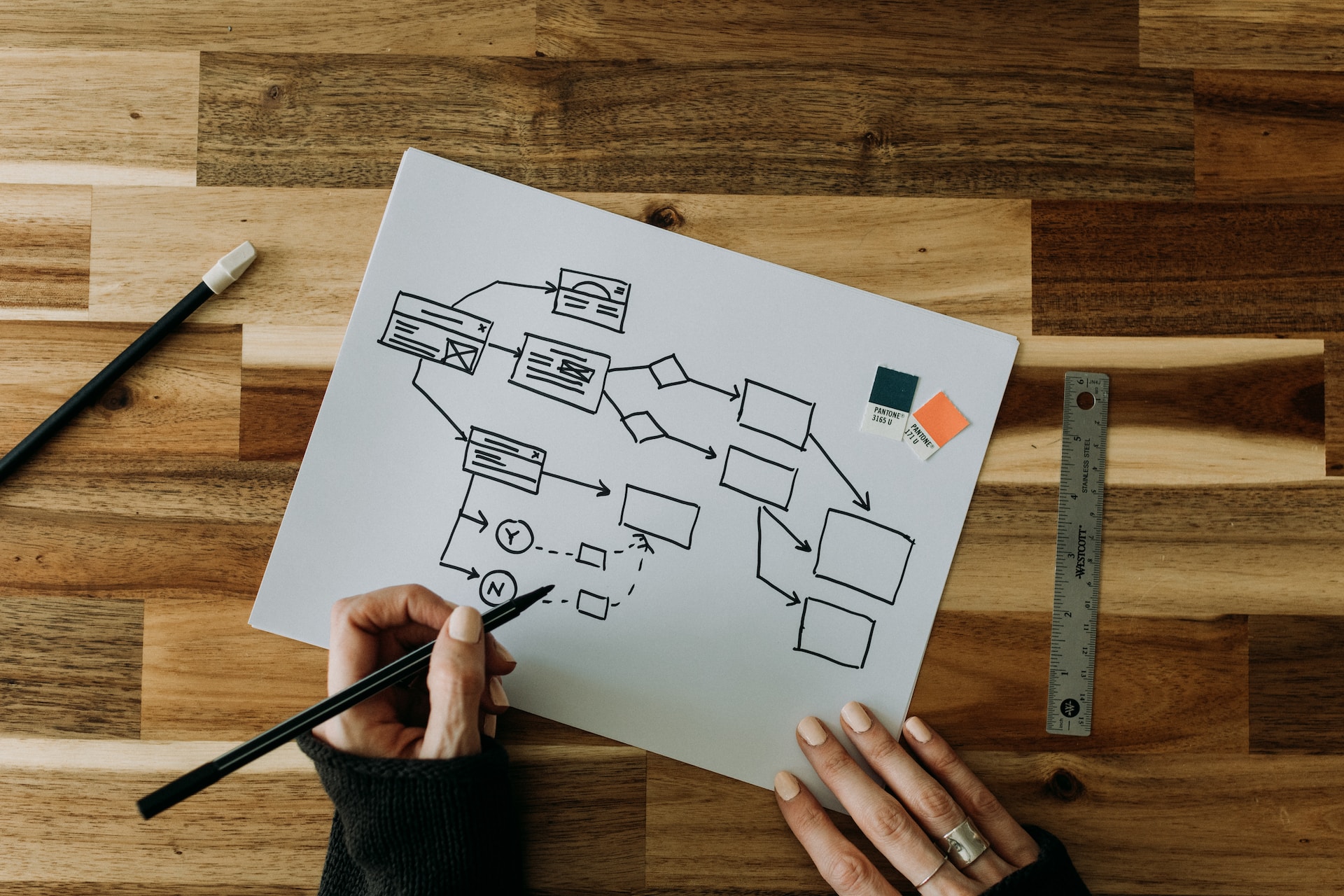 Unsplash/ Kelly Sikkema
Automation has been at the forefront of accounting teams' journey to optimize their workflows, especially when it comes to accounts payable. More than just bookkeeping, it is also crucial to improve tech literacy (1) to embrace today's new ways of increasing productivity without increasing operational costs.
Significantly, there is a noticeable 61% rate increase in adopting AP automation from 2021-2022 (2). This shows how accounting firms, growing enterprises, and even small businesses are already taking the digital move to achieve a more streamlined, distinct, and cost-effective accounts payable process.
If you're planning to automate your accounts payable and don't know where to start, this article will help you create and develop an efficient AP workflow.
Plus, a quick look at our most recommended accounts payable automation software solution for any type of business.
Why is automated accounts payable workflow important?
AP workflow automation is important because it eliminates the struggle of manually processing accounts payable tasks. It helps save time and reduces the risk of human error brought on by manual workflows. (3) 
Automating accounts payable is also essential to keep everything in one place, preventing miscommunication, vendor invoice late payments, duplicate invoices, and miscategorization of items.
Paper checks, paper invoices, receipts, and bills are scanned, approved, and stored in one platform, making it more convenient and accessible.
Since payment arrangements are notified beforehand, payments can be made in advance making budget allocation and cash management a breeze. Some vendors even offer early payment discounts that businesses can take advantage of when using automated software.
To complete the process, AP automation has an automatic routing and debit from your balance sheet's accounts payable. This ensures you can sleep soundly at night knowing your accounting data is well-organized and up-to-date.
AP automation workflow vs. manual process workflow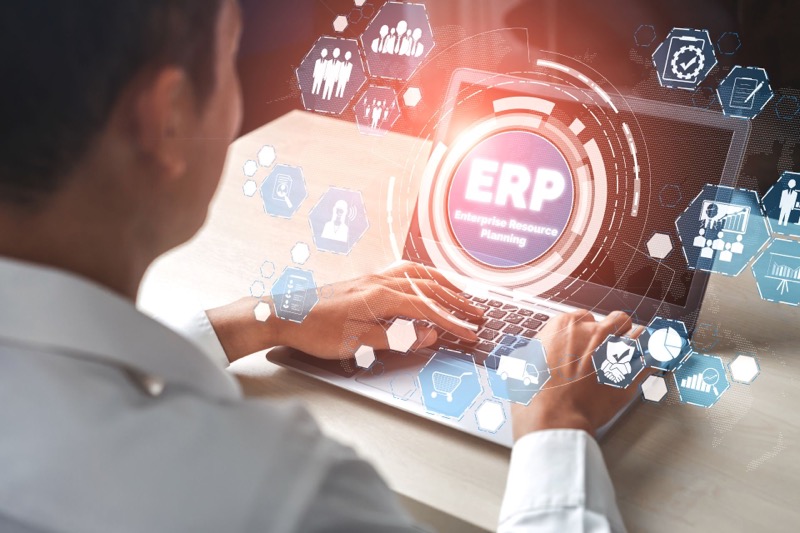 Canva
A manual accounting workflow is solely dependent on the encoder of accounting data. There is still an accounting system in place for a manual AP process, but everything needs to be filled in like information from receipts and bills, bank statements, invoice numbers, and tax codes.
Manual AP processes have no centralized invoice approval since it relies on email threads and signed paperwork. A manual workflow also uses physical checks as their mode of payment to vendors and suppliers which are prone to fraud and forgery.
Compared to manual processing, an automated AP workflow uses trustworthy AP automation software for each accounts payable function like capturing data from receipts, sorting, recording of transactions, and automatic invoice approvals.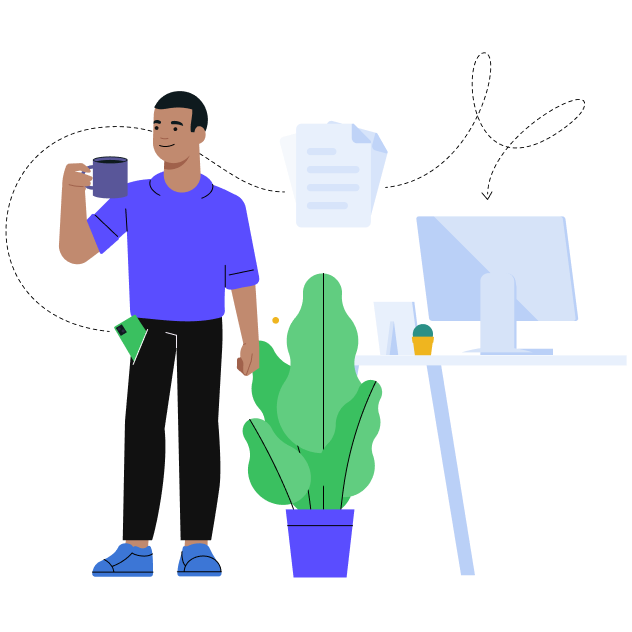 How to eliminate repetitive bookkeeping tasks?
Book a demo
and we will show you how
With the use of accounts payable automation software integrated into the accounting system, AP automation management becomes easier to handle. Invoice processing costs and time are cut in half, there are fewer errors in data entries, approval workflows are streamlined, and you can focus more on building relationships and scaling your business.
Accounts payable workflow automation – a run-through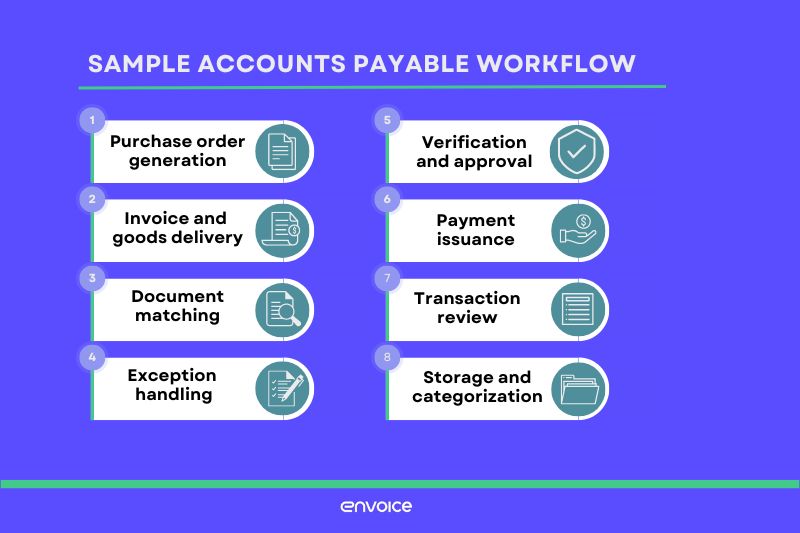 1. Purchase order generation
Purchase orders can easily be generated when automated. Accounting staff does not need to enter every business information every time a PO is required.
The buyer details and purchase templates for recurring items and services are also easily customized. All you need to do is double-check the PO numbers and key in the amount and date.
2. Invoice and goods delivery
Invoice data can be captured with the use of optical character recognition (OCR) technology in your AP automation software.
Essential accounting data like amount, category, date, and document owner are picked up with just a few clicks through data extraction. Once all necessary information is filled up, it can be immediately sent over to the next step for confirmation of the captured information.
3. Document matching
Aside from taking images of physical copies, observing accuracy is also an important part of the invoice processing workflow. The accounting team compares documents by matching details from invoices with purchase orders, and even three-way when there are receipts involved.
When all documents are captured and uploaded in a single AP automation system, cross-checking the validity of information becomes easier because they are all available and accessible in one location, instead of flipping through hundreds of paperwork and files.
4. Exception handling
Exceptions occur when invoice information does not match POs and receipt records. But there are other exceptions that can happen like amount and supplier information.
Invoices that are duplicated and inaccurate data entries can be a burden to correct and takes up a lot of invoice processing time if you don't have an existing AP automation software where you can simply type relevant keywords or details to find a captured image.
For manual data entry exception handling, this is the step where errors are detected, that is if you have a reliable accounting specialist. For automated accounts payable workflow, this step simply triggers a prompt notification for accounts payable departments. The data is then corrected before sending over for approval. As easy as that.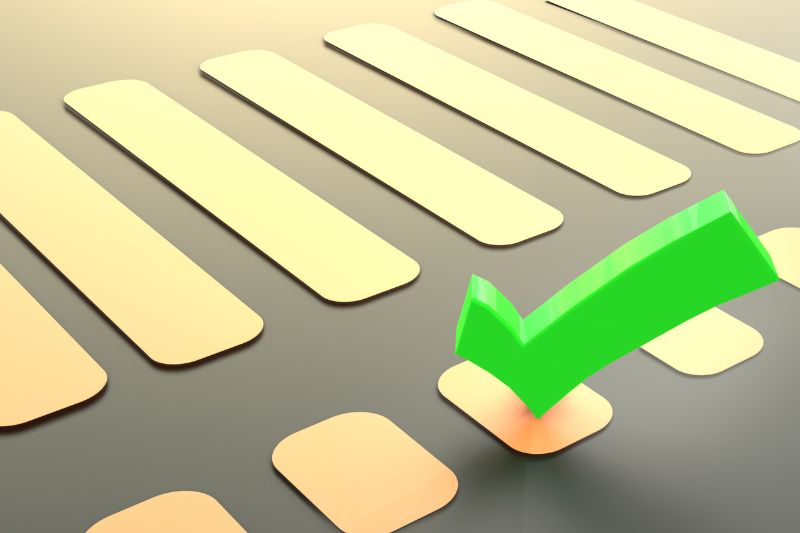 Canva/ Exceptional_3D from Pixabay
5. Verification and approval
AP approvals process is needed to verify each invoice before proceeding to payment. For medium and large enterprises, it would be inconvenient for accounting managers or supervisors to manually review dozens of invoices and forward them back to the payment team.
Sometimes, invoices are even sent in batches by accounting staff with original documents attached by folder or staple wire. Once lost, it will take another round of acquiring invoices, which will affect vendor relationships negatively.
In an automated invoice approval process, authorized approvers are notified digitally if there are new invoices for checking. They check their email or app, approve the invoices, and move on to the next one. The presence of AP software makes approvals faster, more convenient, and more seamless which increases productivity and efficiency.
6. Payment authorisation
Traditionally, CFOs and finance managers are held back from their roles just to sign paper checks which are then distributed physically to pay suppliers or sent to banks for manual deposit of checks.
With AP workflow automation, there are electronic payment options to choose from including ACH payments, wire transfers, digital wallets, and mobile pay
Integrations with your accounting software allow for the automatic sending of payments on a specific date so payments can be made available on time.
7. Transaction review
For tracking purposes, paid transactions are recorded in accounting books in order to keep balances updated. Without an automated workflow, the finance team manually creates new journal entries for the invoices paid, which can also be subject to error.
In an automated AP workflow, transaction reviews are automatically processed by customizing triggers or letting artificial intelligence technology record recurring payment patterns.
Transaction reviews also help monitor long outstanding payments and keep track of appropriate entries for audit. Up-to-date records are essential in month-end and year-end accounting reports for proper budget allocation and financial strategic planning.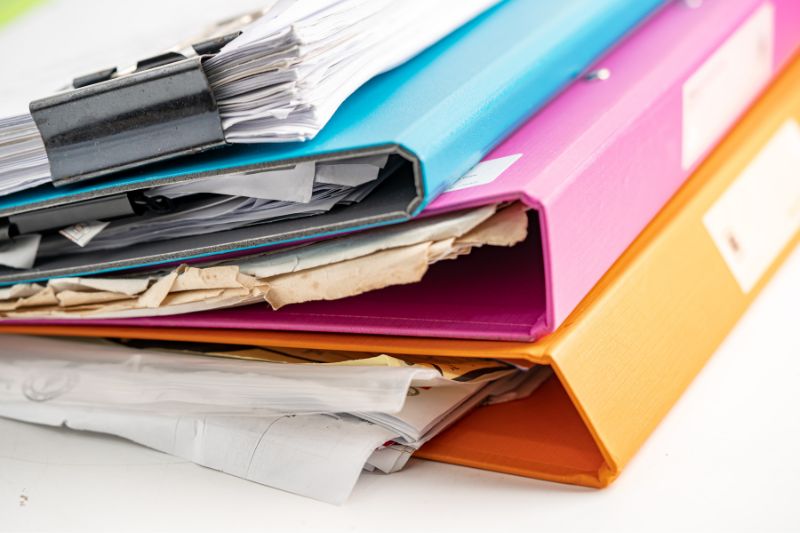 Canva/Sasirin Pamai
8. Storage and categorization
After making the necessary entries, transactions are then sorted and stored. Because AP workflows involve more than one document per entry, it would mean several pieces of paperwork for accounting firms still practicing the traditional file-and-folder system.
AP automation uses cloud-based software that supports fire gauging and encrypting to prevent hacking and data leakage. While automating your AP process does not mean eliminating details, it is more eco-friendly and more secure when storing your accounting data.
Automate your AP process workflow with Envoice
Having an efficient AP automation software matters, and with Envoice, your accounts payable workflow gives you more time, productivity, and control over your accounting processes.
Envoice is your AP automation solution that creates standardized workflows for better collaboration with your finance team. It collects your AP documents using smart AI technology that automates time-consuming manual tasks from invoice capture to the systematic filing of your accounting data and more.
Eliminates manual data entry errors
With an automated invoice processing AI, inaccuracy and duplicate payments from manual processes are reduced. Set your own rules by making sure your AP process is set up from uploading to categorization to approval.
This way, you will have more time to focus on your business and less time to correct manual data entry inaccuracies.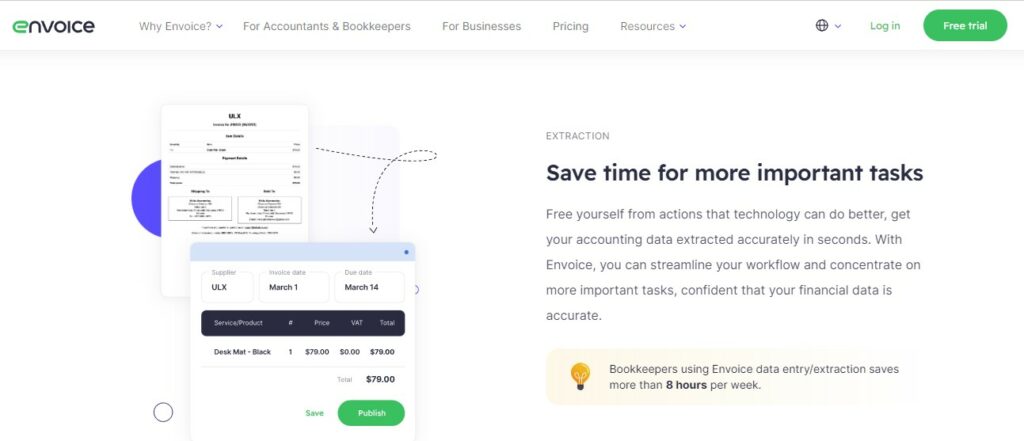 Extracts invoice data in seconds
Use SmartExtract to obtain all key information from an invoice in a matter of seconds. Let AI do all the manual accounts payable work for you and your team.
Process invoices with ease using Envoice' ExactExtract. Get 99.9% accuracy of validated data preventing missed payments, misplaced invoices, and long hours reconciling manual AP processes.
Integrations are supported by the automated AP workflow
When you already have a working accounting system, you don't need to transfer everything to automate your accounts payable workflow. Simply connect your existing accounting tools with Envoice and watch how our integrations improve your entire AP process.
Whether for accounting, file management, or payment, Envoice allows accounting teams to build an end-to-end automated workflow for efficient expense management.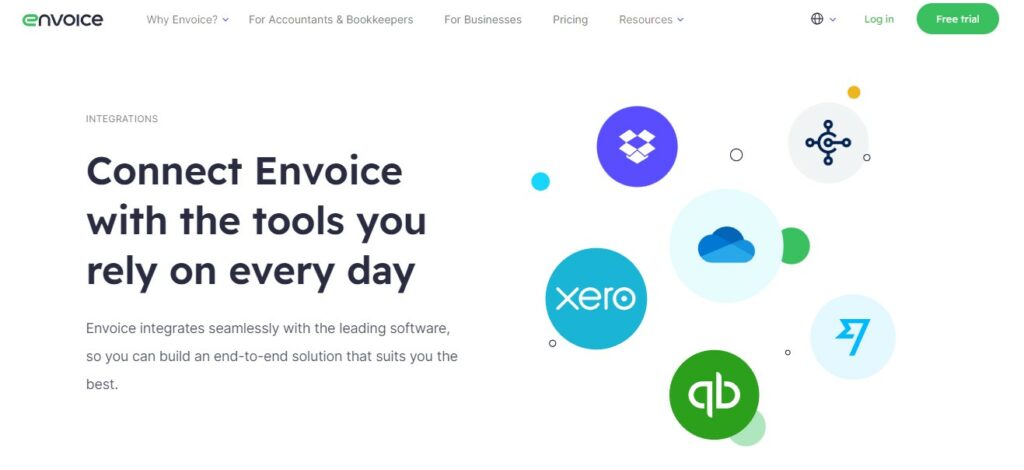 Track your AP processes from anywhere
Monitoring accounts payable automation solution does not mean you have to sulk in the office with everyone having their holidays. Do it while you're out of town on your smartphones and mobile devices so you can submit expenses on the go.
Your approval process becomes less complicated with Envoice's mobile app. What's more is that even without an internet connection, your data automatically syncs when data is restored so you don't have to worry about losing track of your receipts and reports.
Secure and accessible archiving
Find your documents with ease and make them more searchable with the Archiving feature. Use the date, supplier, payment status, and invoice number filters to locate your files with just a few clicks.
Envoice data follows advanced encryption standards so your records and transactions are safely stored. Maintain information private when you grant access or limit permissions to selected team members and guest users. It also undergoes regular security audits to avoid data spills and unintentional disclosure of information.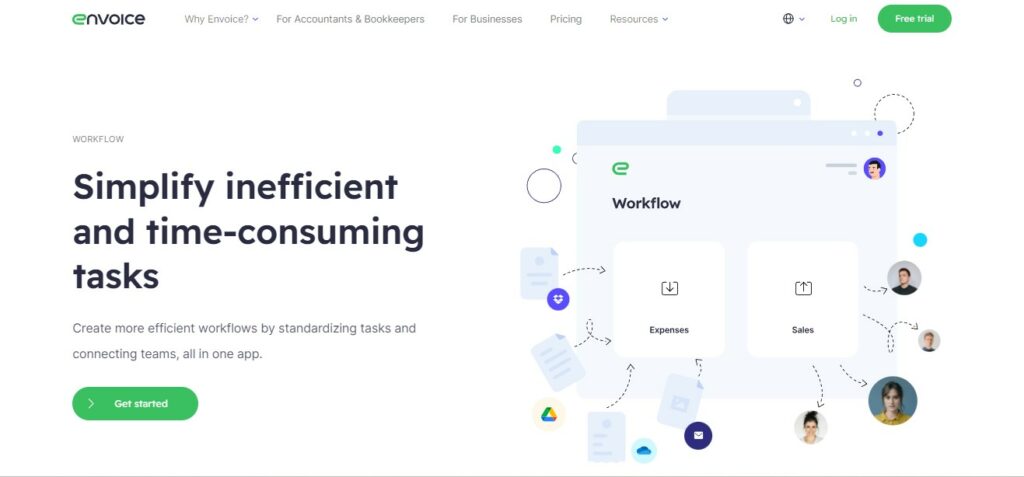 Envoice simplifies your accounts payable process automation
AP automation workflow does not need to be elaborate and complicated. Keep in mind that the purpose of automating your AP process is to improve your efficiency while spending less time and money.
With Envoice, we provide an automated system for your accounts payable workflows that streamline your invoicing process, frees your accounts payable staff, promotes digital workflow, and provide immediate payment authorization all with just one reliable platform.
Start your accounts payable workflow automation today with our free trial.
Still not sure about AP automation? Request a demo and we'll set up one specially for you and answer your questions.
Footnotes:
STAY ALWAYS TUNED
Subscribe to newsletter
STAY ALWAYS TUNED
Still not sure?
Don't spend time on manual work
Streamline processes
Automate your invoice flow
Integrate with the tools you rely on every day
Request demo