Accounting Automation Software
Best Accounting Software for Startups
April 1, 2023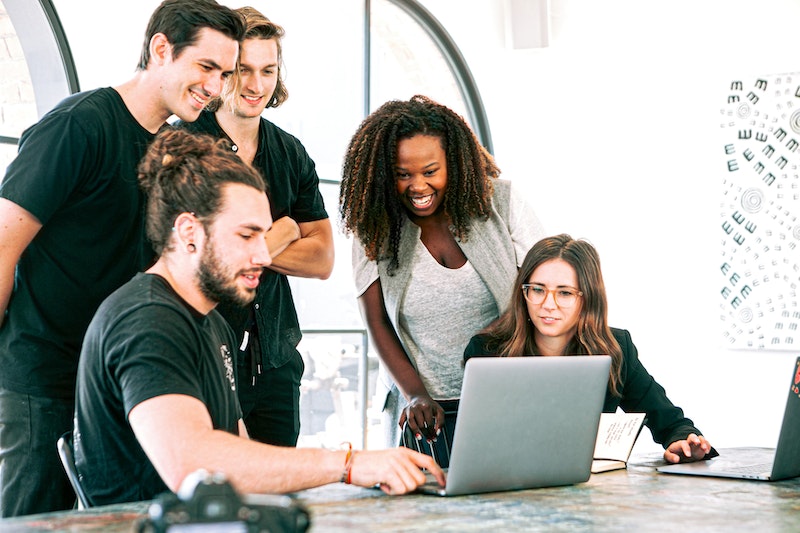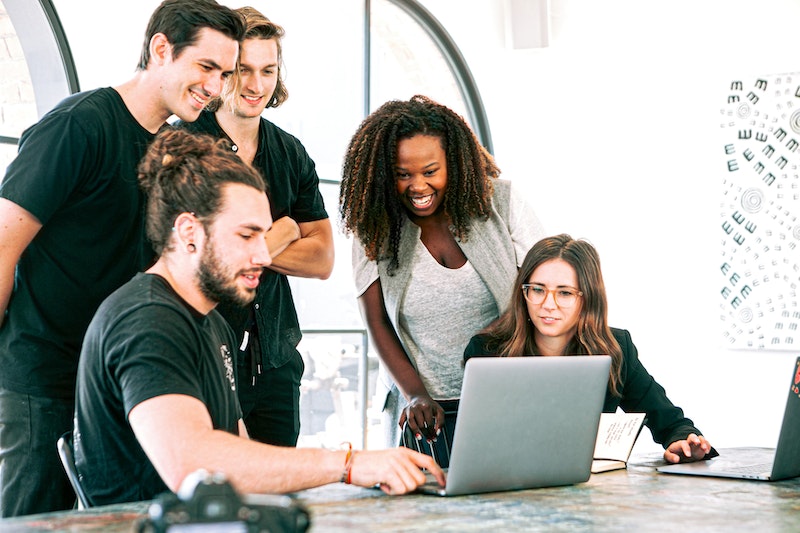 Source: Pexels.com
Starting a business requires financial discipline. You need to handle your money smartly and maintain that discipline over the long term.
Being financially savvy involves many things, but one of the most important is choosing the right accounting software for your business.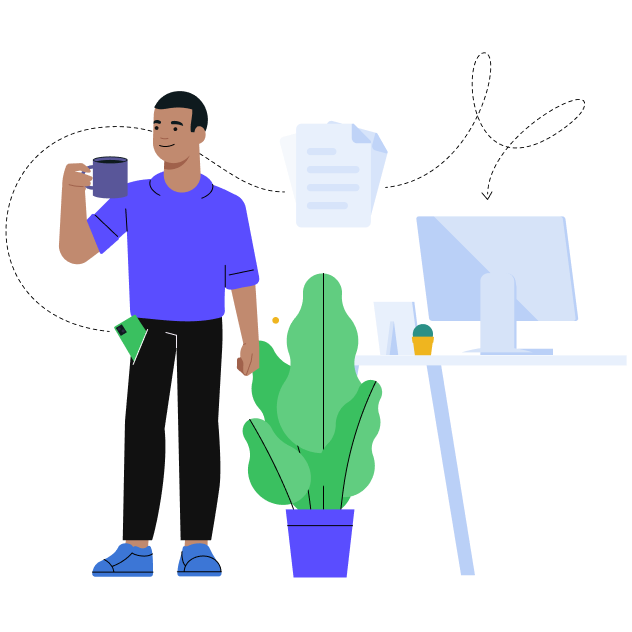 How to eliminate repetitive bookkeeping tasks?
Book a demo
and we will show you how
There is no shortage to choose from, each offering its own features. But, at their core, all accounting software options are designed to provide a convenient, reliable way to keep track of your finances while keeping costs down. 
6 of the Best Accounting Software for Startups
The list below will help you navigate the best accounting software programs that you can choose based on your budget and specific needs.
1. Xero
Best for: Xero is ideal for startups that require a wide range of integrations.
It lets you connect to your bank and advisors anytime, anywhere. With its simple interface and powerful features, Xero is the perfect tool for managing the finances of small businesses and startups. [1]
Features:
Detailed Reports
Xero's financial reports provide a detailed view of the company's financial activity, including sales revenue, expenses, and cash flow. This allows companies to analyze their performance and identify areas where they can improve their bottom line.
Flexible Invoicing
Xero offers flexible invoicing options, allowing companies to send unlimited invoices tailored to their specific needs. You can also set up recurring invoices, so you don't have to worry about sending them manually every month.
Third-Party App Integration
Xero allows you to connect to various third-party programs, including inventory management systems and accounting automation software like Envoice.
With Envoice, users can utilize automatic coding and approval procedures. It can also provide novel insights for automating recurring billing and other repetitive tasks. Because of the perfect synchronization with Xero, your purchases and costs will be converted into postings with accurate coding.
Pricing:
Xero has three pricing plans, each with its own set of features and pricing tiers. The starter plan costs $13 per month, while the standard plan costs $37 per month, making it the best for startups. There is also a premium plan available for $70 per month.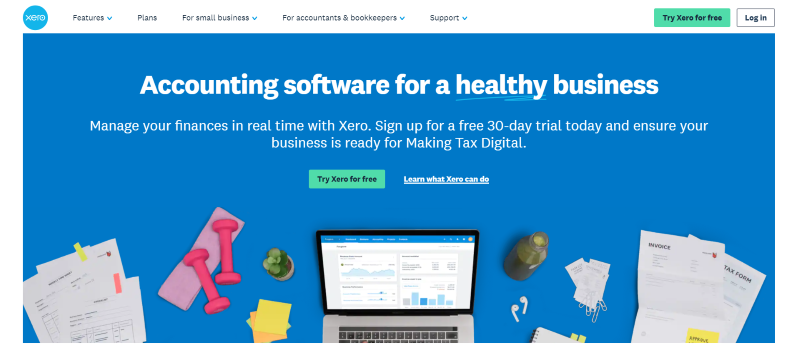 Source: Xero
2. QuickBooks Online
Best for: QuickBooks is the best accounting software for startups with rapid growth.
Since QuickBooks Online is so flexible and scalable, it is ideal whether you need an accountant or a bookkeeper as your company grows.
You can customize QuickBooks Online to meet your specific needs. It can also integrate with many other business applications, making it easy to keep all your financial information in one place. [2]
Features:
Capture and Organize Receipts
The ability to take pictures of your receipts and match them to bills is one of QuickBooks' most helpful tools. It's a terrific way for expense management purposes.
Connect QuickBooks with Envoice to cut bookkeeping costs and processing times even further.
Insights and Reports
QuickBooks Insights and Reports lets users see how their business is doing and make better decisions with various customizable financial reports. This tool gives users insights into their business performance, financial health, and marketing effectiveness. It also allows users to track their progress against their goals and objectives.
Accessibility Feature
QuickBooks Online is cloud-based accounting software you can access anywhere with an internet connection. This makes it ideal for startups with remote employees or those who travel frequently. In addition, QuickBooks Online automatically backs up data to the cloud, so there is no need to worry about losing important financial information.
Pricing:
Quickbooks Online offers three subscription plans: Essential, Plus, and Advanced. Essential is the cheapest option, starting at $8 per month. It includes basic accounting features like invoicing and tracking expenses. 
Plus is the middle-tier plan, starting at $13 per month. Advanced is the most expensive plan, starting at $18 per month. It includes all of the features of Quickbooks Online plus additional features like inventory management and advanced reporting.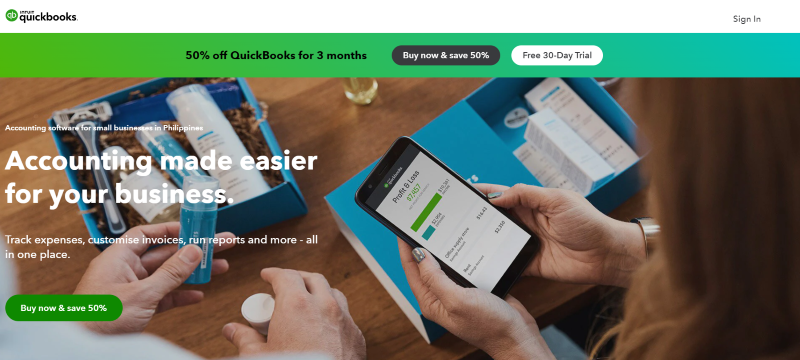 Source: Quickbooks
3. Erply Books
Best for: ERPLY Books is perfect for startups that need a powerful automation process for bookkeeping.
It offers users a quick and easy way to keep track of their business finances. The accounting software allows users to connect their business bank accounts and credit cards and automatically categorizes and records bank transactions. This makes it easy to see where money is being spent and to track income and expenses over time.
Features:
Purchase inbox
By providing your suppliers with access to your ERPLY Books email, you can ensure that sent emails and any attached files are immediately stored and archived in ERPLY Books. Additionally, all documents are centralized and stored to ensure that none are lost.
E-mail Tracking
Users can check which emails from customers or suppliers have bounced and whose emails have been received using ERPLY Books' purchase email tracking feature.
Users can also keep track of other processes with this tool, including generating invoices, retrieving supplier balance statements, and setting payment reminders for accounts payable and accounts receivable.
Tax Process Automation
ERPLY Books includes all the functions connected to sales and purchase taxes that you might require, such as tax calculation, extra transactions, reverse taxes and country-specific reporting. 
Pricing:
The accounting software is priced according to the number of users and the level of functionality required. Pricing starts at $59 per month plus $5 per user. There is also a 14-day free trial available for all new customers.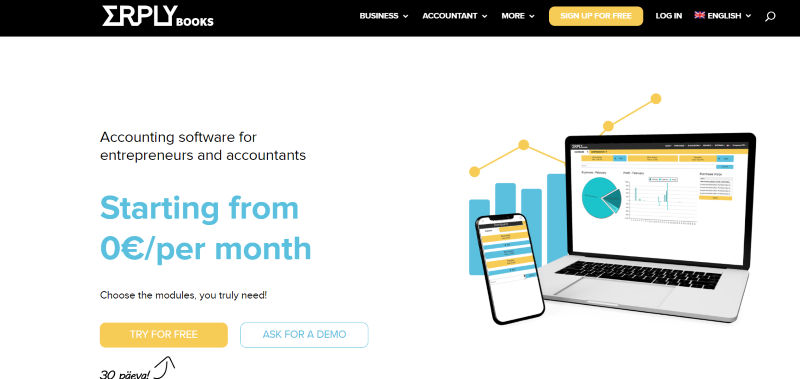 Source: Erplybooks
4. Wave Accounting
Best for: Wave is the best choice for startups on a tight budget. It is one of the best free accounting software options available. 
Wave accounting is far less expensive than other accounting packages on the market while still providing essential and dependable bookkeeping functions. The software is also easy to use so you can get started quickly.
Features:
Wave Money
Wave Money is a checking account tailored to startups and small business owners. It includes a Visa business debit card, a virtual card, and invoicing and payments in a single mobile app. The account has no fees, making it a cost-effective solution for business owners.
The Wave Money account also provides several financial management capabilities, such as setting and managing budgets, tracking expenses, and viewing account activities.
Wave Advisors
With Wave Advisors, you will have access to a team of experts who can provide you with one-on-one support on all things accounting-related. Whether you need help understanding your financials, handling your payroll, or preparing for tax season, the Wave Advisors team is here to help.
In addition to providing support, the Wave Advisors team can also provide you with resources and advice on how to grow your business.
Invoicing
Quickly prepare and send online invoices and get paid faster by accepting customer payments online.
Wave also alleviates the hassle of handling customer information by providing a centralized location to track payments and communications.
Furthermore, Wave's comprehensive reporting features provide important insights into your company's finances, allowing you to make educated decisions about where to focus your time and resources. With Wave invoicing, you'll have everything you need in one location to manage your business simply and efficiently.
Pricing:
Wave Accounting offers a free software basic plan with no monthly fees. This can be a great option if you have simple business transactions.
You can upgrade to Wave's paid plans, which start at $40 per month. With the paid plans, you also access priority customer support and additional features like bill payments and account reconciliation.

Source: Wave
5. Directo
Best for: Startups with a remote team of freelancers.
The Estonian business software company Directo has provided software solutions for businesses for over two decades. The software is entirely web-based, making it easy to use and accessible from any location.
Directo is constantly updated with the latest features and benefits, making it one of the most popular small business accounting software products today. If you're looking for a comprehensive, easy-to-use business software solution, look no further than Directo.
Features:
Seamless Accounting
Directo's integration with Envoice will automate coding features and approval workflows if you want a seamless accounting solution. This feature provides you with personal insights for automating recurring and routine tasks.
Envoice's seamless synchronization with Directo also turns your purchases and expenses into accurately coded transactions. When used in conjunction, you can streamline your accounting process and save time on routine tasks.
Affordability
Directo is a low-cost solution for companies of all sizes. It can be accessed from any desktop or laptop computer linked to the internet. Thus, no IT expenditures or ongoing maintenance costs are required.
Ease of use
Directo's simple, intuitive interface makes it simple to get started, and its extensive online help and training resources guarantee you have all you need to succeed. Furthermore, Directo connects with various popular business apps, making it simple to include Directo into your existing workflow.
Purchase management
Multiple businesses rely on an efficient and comprehensive buying management system. 
Directo's buy management tool covers the full purchasing process, from start to finish, and contains useful features such as keeping a list of required products, tracking expenses, and conveniently making orders.
Pricing
:
Directo's pricing starts at €199 per month plus an additional €25 per month for accounting features such as bills, expenses, and VAT tracking.
Most businesses will likely need the €225 per month plan for invoicing and reporting. Still, the €199 per month plan is a good option for small businesses that don't invoice clients regularly and need the additional features.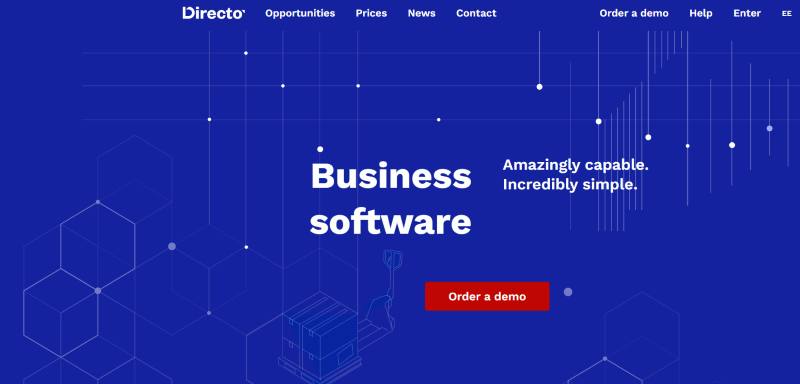 Source: Directo
6 Zoho Books
Best for: Zoho Books is ideal if you run a startup with many repetitive tasks.
Zoho's apps simplify complex business procedures and make it easier for your team to work. Furthermore, Zoho's sophisticated self-service business accounting software with an integrated intelligence and analytics platform will provide your company with rich insights. [3]
Features
Manage Recurring Expenses
This feature is a great way to automate your expense generation. You can create a recurring profile for expenses that take place regularly, and Zoho Books will automatically record them. This is a great way to track expenses. And it is entirely free to use.
Categorize Transactions
Maintaining your finances can be difficult, especially if you have many transactions to keep track of. That's when Zoho Books' Categorize Transactions tool comes in handy. It allows you to utilize bank account rules to filter and categorize transactions automatically. That way, you can be certain that everything is in order. It's also a terrific method to keep track of your expenditures and stay on track with your budget.
Client Portal
The client portal in Zoho Books allows small businesses to instantly share quotations with clients and start a discussion to expedite estimate approvals. In addition to partial and full payment choices, the portal allows your customers to make bulk payments with a single click. Simple payments for them imply that you will be compensated much easier. 
Pricing:
Zoho Books offers a variety of pricing plans to suit the needs of different businesses. The Basic plan is free for one user and includes all the essential features for invoicing, tracking expenses, and managing cash flow and accounts payable.
For businesses that need more advanced features, such as project management and time tracking, the Standard plan starts at $10 per month for three users.
And for larger companies that require even more functionality, such as CRM integration and custom reports, the Premium plan starts at $200 per month for up to fifteen users.
So whatever your business needs are, Zoho Books has a pricing plan that will fit your budget.

Source: Zoho
Tips on Choosing the Right Accounting Software for Your Startup
When running a successful startup, there are many moving parts, and keeping track of your finances is one of the most important. That's why choosing the best accounting software for small businesses is crucial. Here are a few tips to get you started:
1. Cost
Obviously, you'll want to find something that's affordable. However, make sure to sacrifice features for the price; the best way to save money, in the long run, is to choose software that will save you time and effort.
2. Ease of use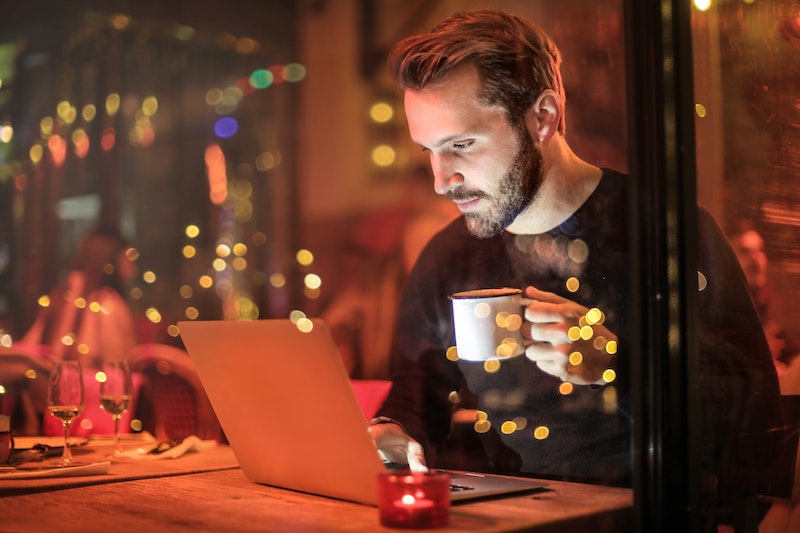 Source: pexels.com
Remember, you're already juggling many different tasks. Look for software that's user-friendly and won't require a lot of training to use. The best software is easy enough for anyone to use, even without an accounting background—the more intuitive the interface, the better.
3. Features
What kind of features do you need? Some software is designed for simple bookkeeping, while others offer more advanced features like cash management, expense tracking, and payroll services. Think about what you need now and what you might need in the future as your business grows.
4 Integration
Integration capabilities allow you to connect your accounting software directly to key services in your business, like payroll providers, shipping companies, or tax authorities.
This way, your records are automatically updated when transactions happen outside the application. This makes it easier for you to stay up-to-date on everything happening with your finances without manually entering each transaction into multiple places.
5 Support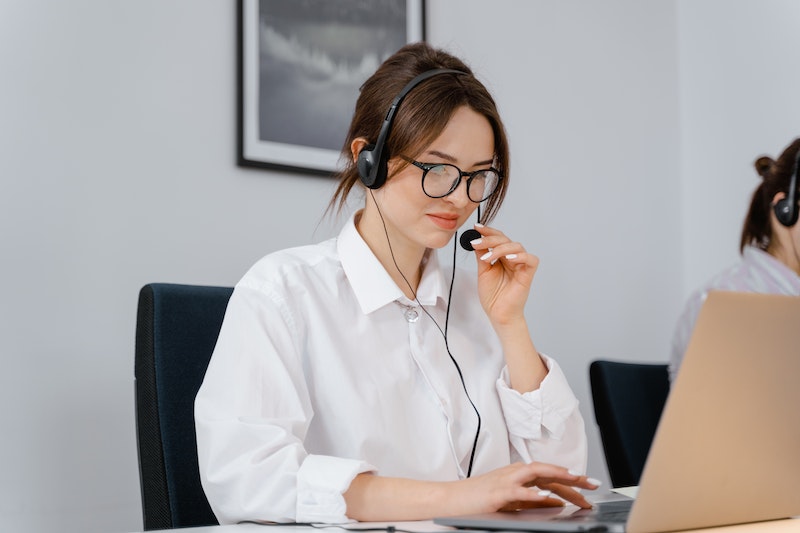 Source: pexels.com
What kind of support does the software offer? 24/7 support is ideal, but you should at least be able to get help during business hours. Also, look for a company that offers phone support and email support. If a problem arises during business hours, you don't want to have to wait for someone to get back to you.
6. Free trial
If you're considering purchasing business accounting software, it's important to take advantage of the free trial period. This will allow you to test the program and see if it's right for your business.
You don't want to make a decision based on a salesperson's pitch or someone else's recommendation; instead, use the free trial to get a feel for how easy it is to use and how familiar you are with its functionality.
Conclusion
Remember that all businesses are different, and no one program will be perfect for every company. If in doubt, consider using a combination of software programs, or give a few of these recommendations a test drive to see which solutions work best for you.
If you need help making the final decision, our team at Envoice is happy to give you tailored recommendations based on your specific needs. Contact us today to get started!
Sources:
2 – https://quickbooks.intuit.com/
3 – https://www.zoho.com/books/
STAY ALWAYS TUNED
Subscribe to newsletter
STAY ALWAYS TUNED
Still not sure?
Don't spend time on manual work
Streamline processes
Automate your invoice flow
Integrate with the tools you rely on every day
Request demo