Accounting Automation Software
QuickBooks Essentials Vs Plus – Which Plan is Right for You?
May 30, 2023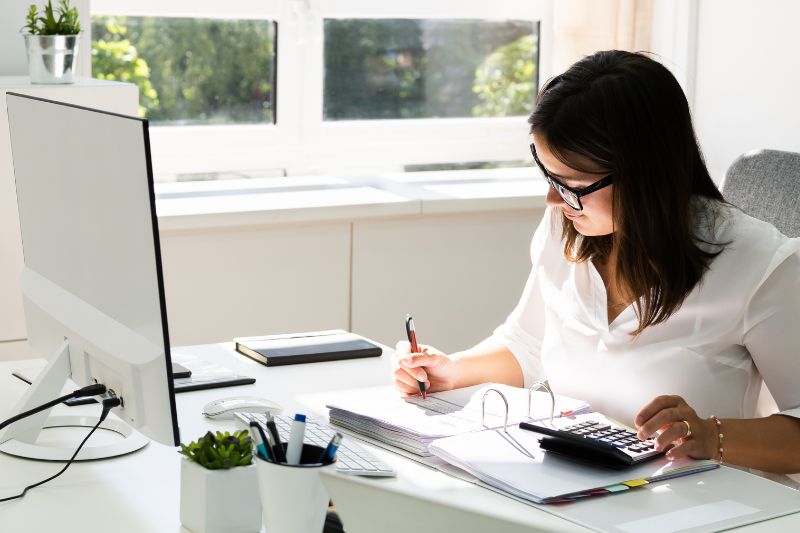 Canva/ Getty Images
QuickBooks, one of the most popular accounting programs today. It makes it easier for business owners to record transactions and keep track of their company's financial health. Since QBO has several subscription models – it's tricky to know which plan is right for your business.  But this article will lead you in the right direction.
If you're past being a solopreneur and you're looking to:
– Add three or more people to your team to help with accounting and managing business finances.
– Access more accounting features to increase the efficiency of your accounting process.
– Find the most cost-effective accounting software subscription to meet the needs of your growing business.
You'll have more information about QBO Essentials and QBO Plus subscriptions that support multiple users. Both plans also cost less than $100 a month – making them an affordable pick for a small business.
Before we dive into the details, let's talk about building a business the right way.
Why Starting a Business Properly Matters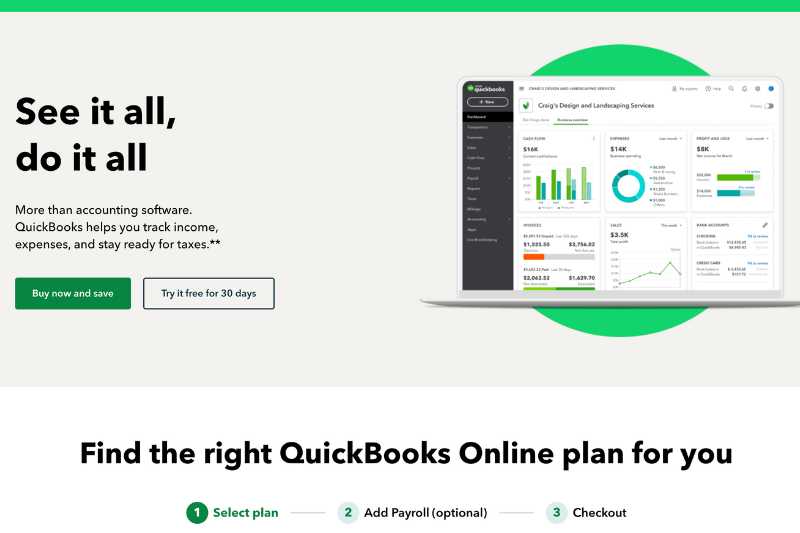 QuickBooks
More people are planning to start a business mostly because of inflation and needing to boost their income. In the US alone, 42% of adults plan to start a new business in 2023.[2]
While starting a business appears to be a way to make up for increasing prices, it's not always easy to earn a profit. More than one in 10 small and medium businesses worry about surviving through 2024 due to cash flow issues.[3]
Ensuring funds don't dry up is only possible if you track income and expenses. Having reliable accounting records is the only way to achieve visibility over your company's financial health so you know how money flows in and out of the business.
Fortunately, keeping a clear record of revenues and expenses is much easier today – thanks to technology. Gone were the days when bookkeepers and accountants relied on pen, paper, and calculators to calculate net profit for the period. Even spreadsheet programs like Excel are slowly becoming a thing of the past as accountants, bookkeepers, and business owners realize the benefits of using accounting software to manage business finances.
QuickBooks is one of the most familiar programs to make accounting more convenient for business owners. QuickBooks used to have products that only required a one-time fee, but this software version has been discontinued. All remaining plans requiring ongoing subscription fees will be the only option for users soon.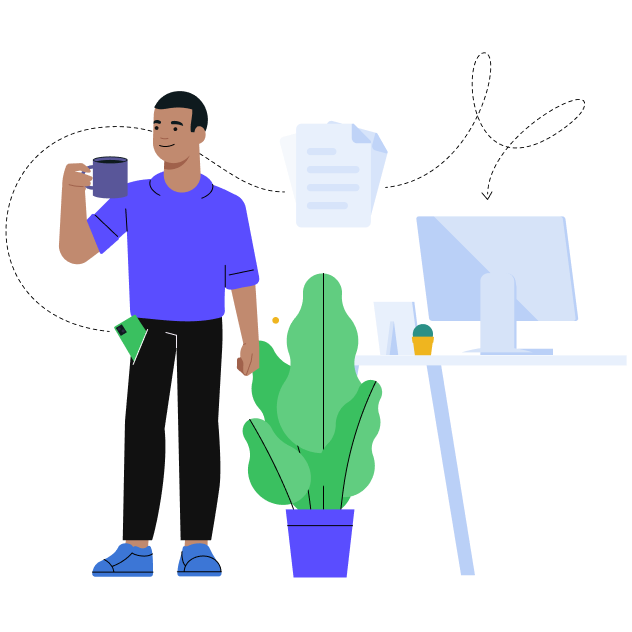 How to eliminate repetitive bookkeeping tasks?
Book a demo
and we will show you how
If you have ever been in the market for accounting programs for your small business, you may have heard about QuickBooks or are considering signing up for a subscription. Before you do that, let's look into two popular plans for multiple users – the Essentials and the Plus plan.
Do You Need QuickBooks?
No. Running a business doesn't require a QuickBooks subscription, but all companies need proper recordkeeping and accounting.
QuickBooks Online is just one of the many cloud-based accounting products business owners can choose for their accounting needs, but it is one of the most popular. With more than 4.5 million global users. Almost all accounting professionals have worked with or heard of QuickBooks.[1]
Small businesses looking for a convenient way to collaborate with multiple users and access their accounting program remotely have the most to gain from using QuickBooks Online. For instance, sharing access to your accountant or tax preparer is easy with QBO. Access to different subscription tiers is another advantage –it's convenient for SMBs to add more features when needed. 
What are QuickBooks Online Essentials?
Among the QuickBooks Online versions, the Essentials subscription has the lowest monthly fee with multi-user access. The QBO Essentials plan is a product designed for service-oriented companies and the subscription usually satisfies the accounting requirements of many organizations.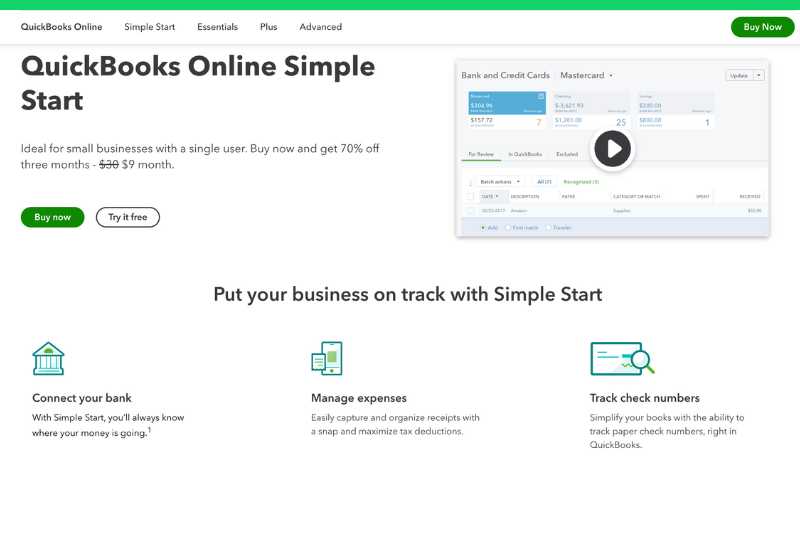 Quickbooks
But how does it stack up against the plan with single-user access? Is the additional fee to allow more users worth the upgrade?
Here's a short comparison.
QuickBooks Online Simple Start vs. Essentials
Among the QuickBooks Online versions, Simple Start is the least expensive option designed for self-employed people. Here are the main differences between these two plans:
Time Tracking – With the QuickBooks Online Essentials plan, you can enable time tracking for employees. You also have the option to enter hours for them. The Essentials plan can also be integrated with QuickBooks Time.
Expense Management – Stay on top of your expenses with the bill management feature that allows you to settle payments with multiple vendors, settle supplier payments, and monitor status.
User access – Allow up to three users to access your QuickBooks account so you don't have to rely on just one person to update your books.
Multi-currency Support – Manage transactions in more than one currency – a necessary tool when working with international customers.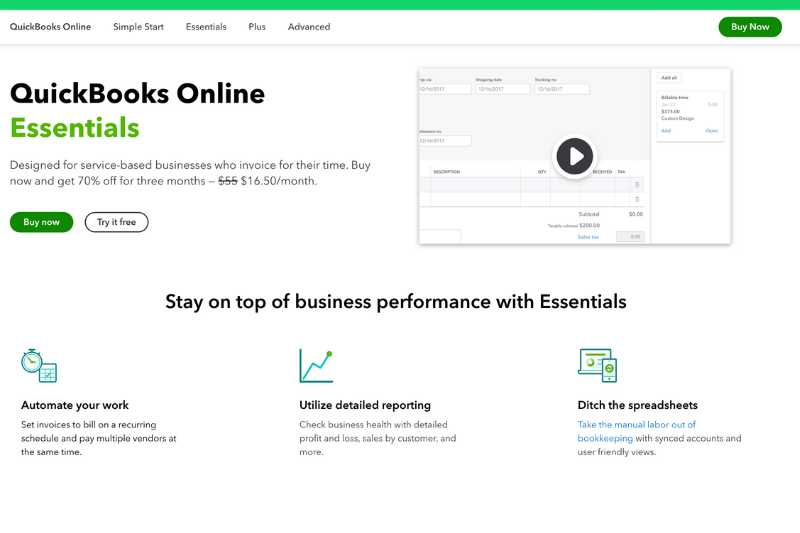 QuickBooks
QuickBooks Online Essentials – Key Features
The QuickBooks Online Essentials plan allows users to access the following features [4]:
Bills Payment
Improve expense tracking and pay bills on time, achieve visibility over bill status, set up payments for recurring invoices, and settle bills with multiple vendors.
Receipt Management
Capture data from receipts using your mobile device, categorize receipts, and match them to an expense.
Report Creation
Generate various reports to support business needs, including detailed accounts payable, accounts receivable, and sales reports.
Mileage Tracking
Keep a reliable record of miles driven by using the GPS on your phone to track business mileage with ease.
Manage Independent Contractors
Update all independent contractor records required for tax filing for 1099 employees.
Professional Estimates
Send professional estimates that you can convert to invoices with ease.
Time tracking
Allow employees to enter their own time or enter them yourself.
Automatic Sales Tax Calculation
Accept payments and credit cards and calculate the related sales taxes.
Payment acceptance and invoice creation
Use QBO to create, customize, and send invoices to clients. Recipients can also transfer payments through a payment link included in the invoice.
Tax Category Tracking
Sort all the business expenses you incurred into the correct tax categories to help you maximize tax deductions.
Shareable Access
With QuickBooks Essentials, you can share access to your accounting software with up to three users.
What is Included in QuickBooks Online Plus?
QuickBooks Online Plus is one of the most popular subscription plans since it's a full-featured package. With a Plus subscription, you have access to all features available under Essentials and the following tools:
Inventory Tracking
QuickBooks Online Plus allows inventory tracking. Retail companies and other businesses carrying inventory can monitor inventory levels, track the cost of goods sold, and receive status updates on current stock levels.
Project Profitability Tool
With a Plus subscription, businesses can measure the profitability of individual projects. If you're working on multiple contracts, you need to know if you're making a profit on each project and how much.
Access to Additional Features
Run reports related to inventory, budgeting, and other asset classes to improve business monitoring and management.
Customizable reports available with the Plus plan are one feature that many businesses find useful. QBO has more features compared to other cloud-based accounting tools like Zoho Books and Xero. Modifiable templates help companies drill down into details on transactions such as customers, sales, expenses, vendors, accounts payable, accounts receivable, sales taxes, accountant reports, and management reports.
With QBO Plus, companies can have up to five users. Adding more people allows you to delegate tasks while ensuring accountability over changes in the accounting records. As your business grows, sharing access to one account makes it harder to create a clear audit trail since you have no way of checking who made changes to the accounting records.
QuickBooks Essentials Vs QuickBooks Plus – Which Is Better?
It depends on the business you're running and your accounting requirements. Finding the right accounting software depends on factors such as:
Nature of Business
Are you a service concern? Do you have a retail component? Intuit designed QuickBooks Online Essentials for small service businesses. Meanwhile, Plus provides support for organizations with a retail component, since it includes inventory management.
Inventory Monitoring
Does your business organization require visibility into stock levels? Is tracking the Cost of Goods Sold a critical part of the accounting function? If yes, Plus could be the better option as it lets you track inventory. If you don't need to manage inventory and track COGS, QBO Essentials might be a better choice.
Track Profitability for Each Project
Do you need to track income and expenses for each project? Essentials cannot drill down into the details on a project level. Signing up for a Plus subscription could be the right choice.
Reporting Requirements
What kind of reports does the management require? Essentials allow companies to generate many types of reports, but if you need to customize
QuickBooks Online Monthly Fee
Recent changes in QBO plans indicate that the company will phase out versions requiring a one-time fee and move to a subscription model. Consider the financial impact of paying the monthly fee – the Essentials cost $27 a month, while Plus users start at $38 a month. 
If you sign up for any QBO subscription, consider paying the annual fee to save more.
Pro Tip: Sign up for a free QuickBooks Online trial. QBO allows new users to try a subscription for free for 30 days. Check out if there are promotional offers for QBO subscriptions and pay reduced rates for a few months. 
Take advantage of these offers to get a feel of the subscription model that suits your business operations.
Should I Only Consider QBO Essentials and QBO Plus Plan?
No, consider other QuickBooks subscriptions if it makes sense and other software programs if needed.
QuickBooks comes highly recommended by multiple websites like Forbes, NerdWallet, and PC Mag [1][5][6][7]. QBO is simple enough for inexperienced bookkeepers to use. However, it has advanced accounting tools for generating customized reports for accountants and management use.
Upgrading from one version of QuickBooks Online to another is also possible.
Are There Other QuickBooks Online Plans?
Aside from QBO Essentials and QBO Plus, there are other QuickBooks Online offers.
If you are a freelancer or independent contractor, QuickBooks Online may not be the right fit since you don't need access to the advanced reporting feature.
Rather than signing up for the QuickBooks Online version, check out QuickBooks Self-Employed – a more affordable plan with fewer features than QuickBooks Online that should have everything you need to track income and file taxes.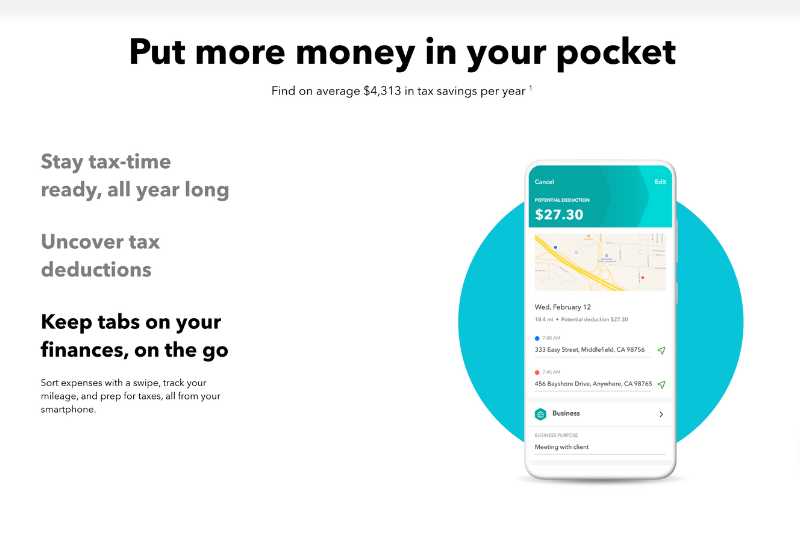 QuickBooks
As your business needs grow, you can pay for add-ons and unlock more tools when you sign up for a higher subscription level.
Larger companies require access to more accounting and reporting features than small businesses. The on-premise version, QuickBooks Desktop, used to have a one-time fee option for companies requiring advanced features to support business needs. However, the one-time purchase option no longer exists. All desktop versions will start moving to a subscription plan.
QuickBooks Advanced users can access automated workflows that allow users to add on QuickBooks Payroll to improve business efficiency.
Advanced allows users to customize permissions to contain access to areas that users would be working on. For instance, the AP clerk team can only see modules related to viewing invoices and adding invoices. Like other subscriptions, the QuickBooks Online Advanced plan is available on the cloud. However, there's an option to download the app for both Windows and Mac.
A Forrester study reported that companies using QuickBooks Online Advanced saw a 488% ROI. For a three-year period, the net present value of the risk-adjusted net savings reached $59,000.[8]
Aside from QBO Advanced, there's also QuickBooks Enterprise with industry-specific features.
Is QuickBooks Online the Right Accounting Software?
QuickBooks Online has several advantages, but it's not always the most cost-effective option for companies. Subscription fees can be expensive, especially if you need multiple people to access the accounting software.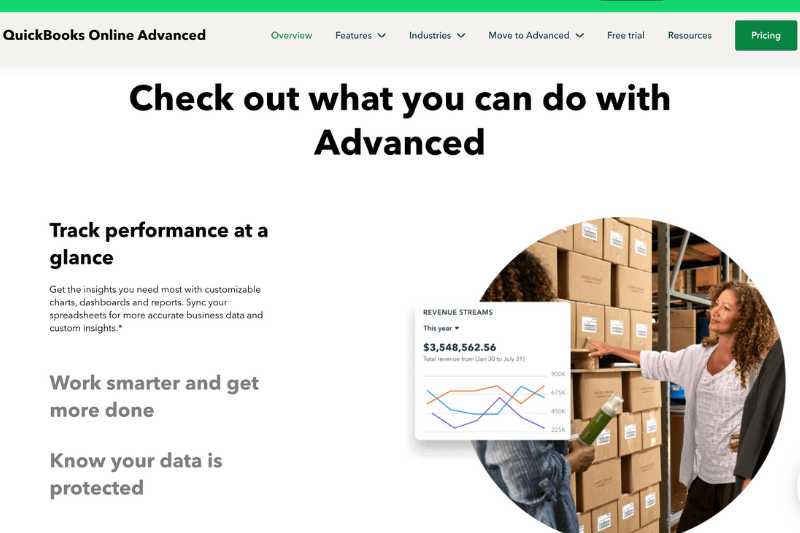 QuickBooks
Xero, for instance, is equally powerful, and large companies can save money since it has an unlimited-users feature. Solopreneurs and freelancers with few transactions to track can use free programs like Wave to do accounting if they're saving money.
Constant changes in the layout of the online app can throw off users with the confusing toolbar. Although QBO reviews cite excellent customer support, it can be better. Another issue lies with marketing the tool as a way for business owners to do their books which can be misleading.
QuickBooks Online makes bookkeeping easy, but anyone using the tool needs adequate accounting knowledge to avoid messing up the recordkeeping. Hiring a qualified bookkeeper, an accountant, or both is still necessary.
QBO has been promoting courses and free training so users can learn basic accounting and understand how to use the tool properly. Like any other business expense, you need to weigh the pros and cons and decide if subscribing to a QuickBooks Online plan makes sense for your business.
If you're sure that going with QBO is the right choice and you need multiple users to access your account, consider signing up for an Essentials or Plus subscription unless your business operations require the Advanced subscription.
Can I Access Advanced Level Automation with QuickBooks Essentials or Plus?
Yes, you can access features similar to the ones available only on the Advanced QuickBooks subscription with third-party apps.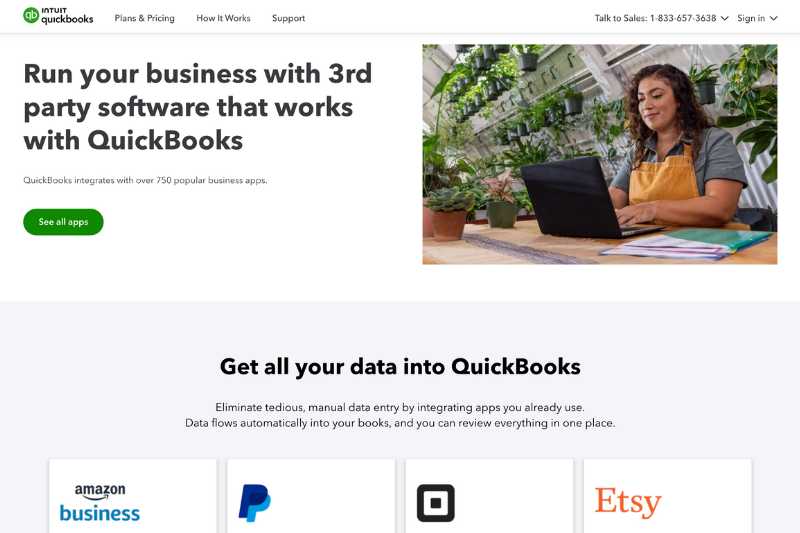 QuickBooks
Some companies may sign up for a Plus or Essentials account and integrate another app with QBO since it can be more cost-effective.
For instance, QBO Advanced allows you to perform more accounting tasks and prepare detailed reports. However, getting this QuickBooks plan is expensive at $200 a month [8] – way higher than the QuickBooks Online cost for Essentials or Plus with monthly fees below $100.
Integrate Third-Party Apps
As mentioned above, QuickBooks supports integrations with apps from other vendors to automate processes.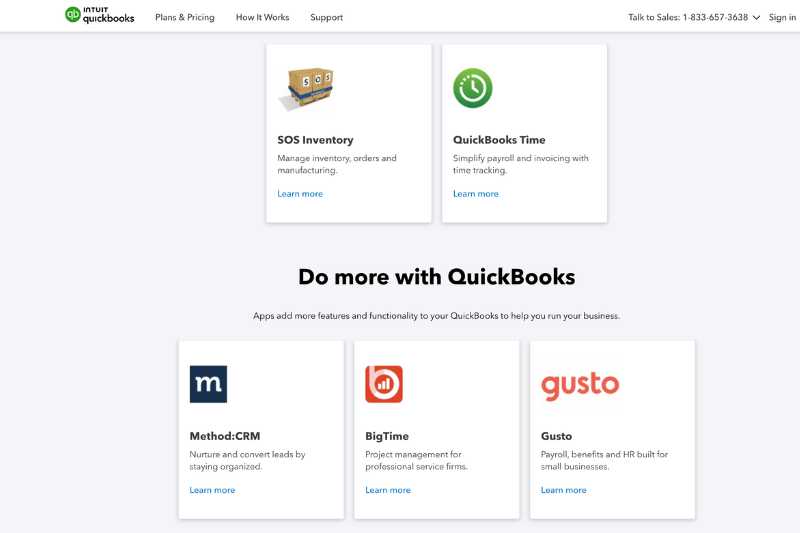 QuickBooks
Check out the Integrations page from QuickBooks. You should see apps that make businesses run more efficiently such as apps for banking, cash management, payroll, inventory tracking, practice management, and expense management.
Here's an example.
If you're looking for a Payroll solution, for instance, you can sign up for an app like Gusto and integrate the app with your QuickBooks Online account.
Automate Expense Management
Expense management is another feature that can be automated at a lower cost when using a third-party app. QuickBooks Online has a mobile app that allows you to automate data capture and take information from the image and move it into the accounting software. However, there's no option to route invoices for approval using the QuickBooks mobile app, which is why companies may require a better way to automate expense processing.
Envoice, an app that you can integrate with QuickBooks, can solve this problem. 
With Envoice, you can automate expense reporting and bookkeeping. The mobile app can capture data from images and PDFs, and users can send expense and travel reports through the app.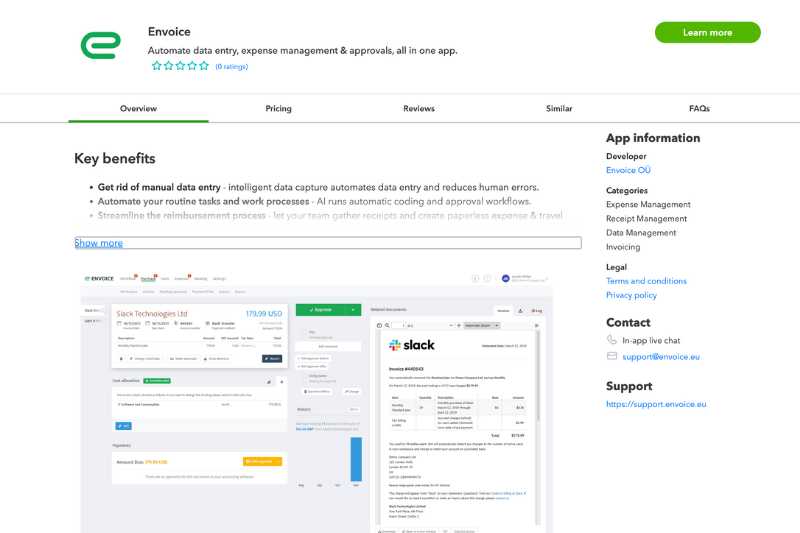 Envoice
All expense approval requests happen within a single workflow, and all approvers can see comments and notes about an invoice or payment request. Routing invoices automatically to multiple approvers and assigning substitute approvers is possible through the app. By automating the invoice approval process, organizations save time with invoice processing, track the status of an invoice in real-time, and remind approvers if they need to take action on an invoice.
Envoice costs less than signing up for a more expensive plan to access better expense management features since the Essential plan starts at 5€/month and the Business plan costs 10€/month. Fees increase as the number of invoices processed increases so you only pay based on usage.
Integrating the app to QBO eliminates manual data entry since you can move information from Envoice to QuickBooks Online with a click of a button.
Check out the Envoice app integration for QBO users and sign up for the free trial to test the tool.
Make the Most of QBO With App Integration
Third-party apps unlock many possibilities for QuickBooks Online users. Despite being one of the best small business cloud-based accounting apps today, existing QBO subscriptions lack features that some organizations need to operate with ease. In some cases, the features may be available as an add-on or on the QBO Advanced plan which has a higher monthly fee compared to the QBO Essentials or the Plus subscription plan.
By integrating a third-party app, businesses can continue using QBO for their accounting needs, supplement lacking features in QuickBooks Online, and automate processes without committing to an expensive monthly fee.
Uncover more ways to improve the functionality of your QuickBooks Online account. Take advantage of app integrations to see how artificial intelligence reduces the workload and enables efficiency across different business functions.
Maximize benefits from cloud-based accounting solutions by automating expense processes and workflows. Integrate Envoice with your QBO subscription today, and see how automation improves productivity and reduces the workload for your accounting team.
Footnotes: 
[1] Nerdwallet
[2] QuickBooks  
[3] Pymnts
[4] QuickBooks Online Essentials
[5] Capterra
[6] Business
[7] PC Mag
[8] QuickBooks Online Advanced
STAY ALWAYS TUNED
Subscribe to newsletter
STAY ALWAYS TUNED
Still not sure?
Don't spend time on manual work
Streamline processes
Automate your invoice flow
Integrate with the tools you rely on every day
Request demo