Accounting Software
10 of the Best Invoice Scanning Software in 2023
January 18, 2023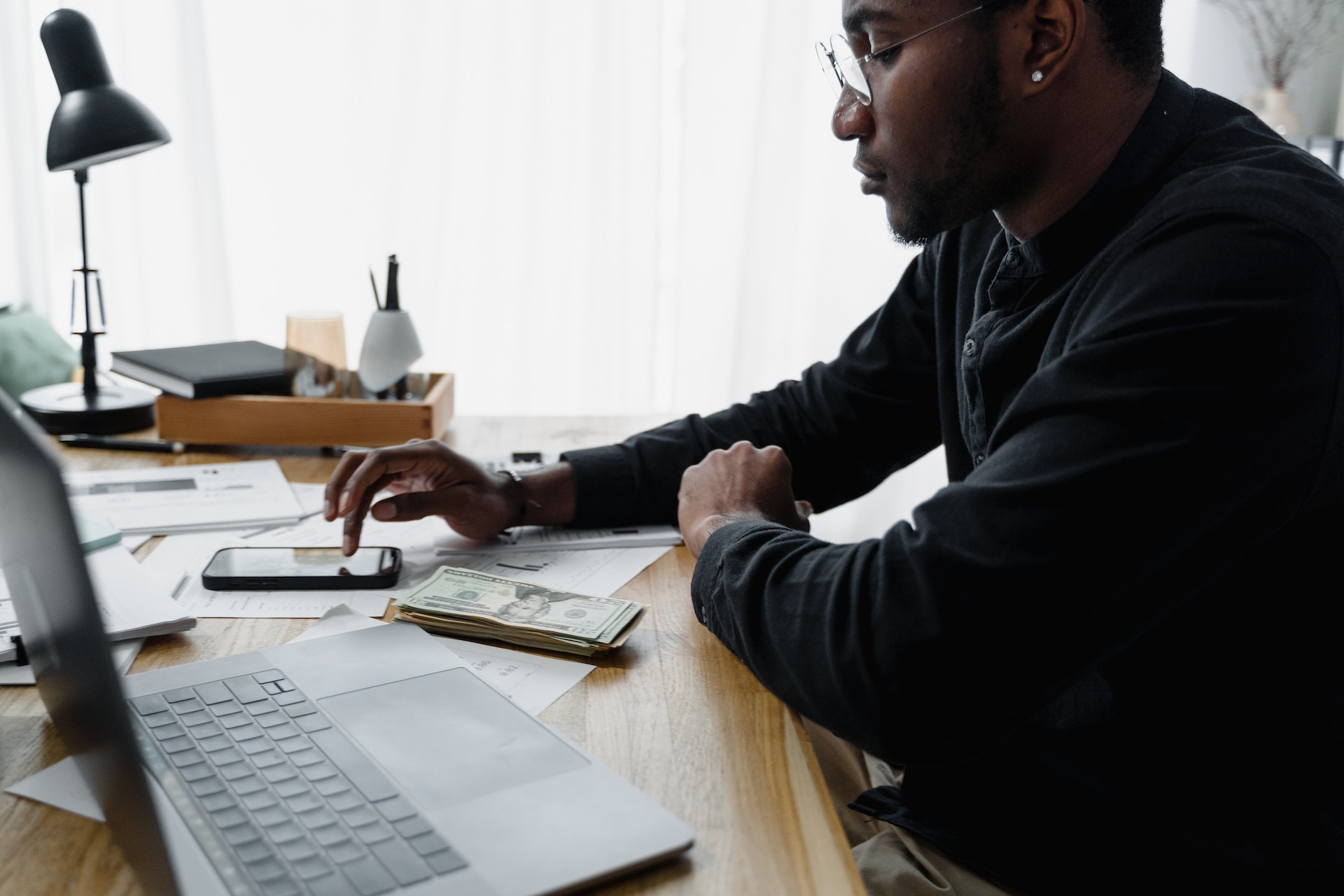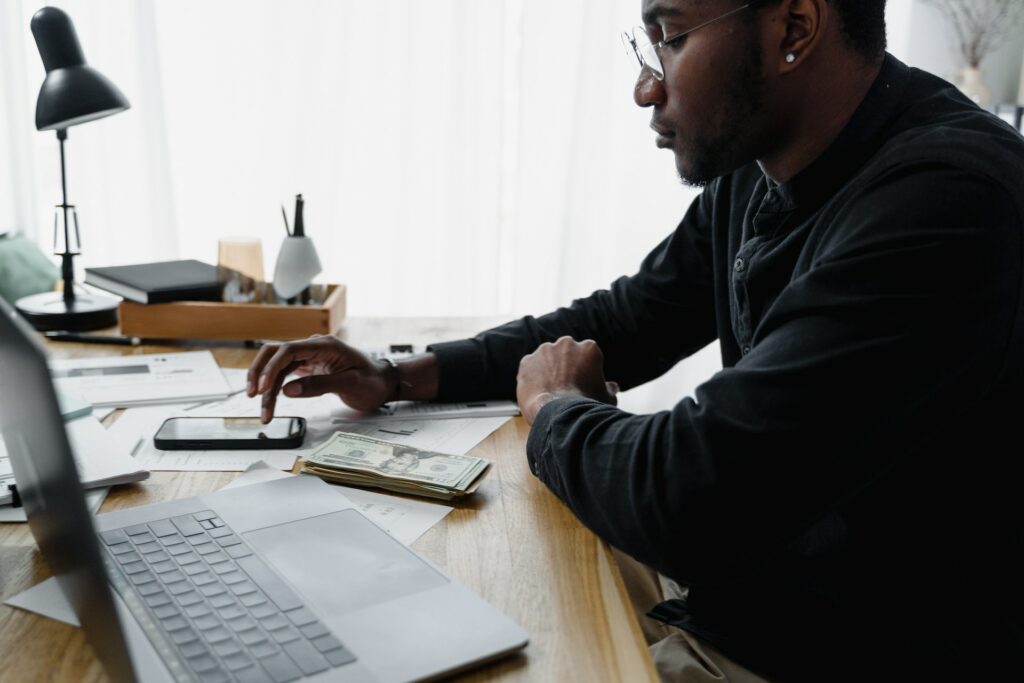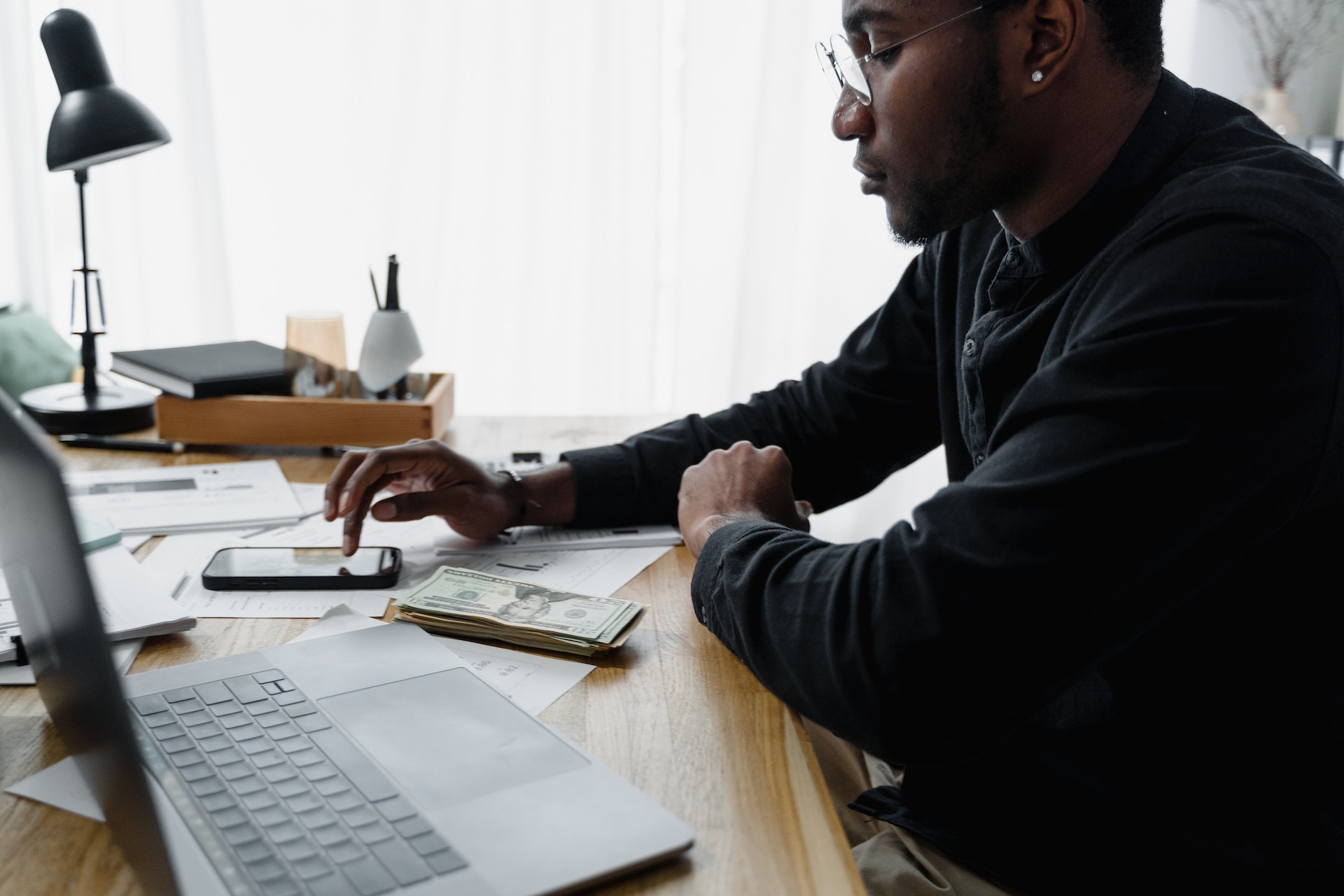 Pexels
With the growing number of digital transactions, invoice scanning software has become a must-have tool for businesses looking to automate and streamline their accounts payable processes. It can take time to choose the invoice scanning solution that will best meet your objectives, given the wide range of solutions on the market.
This article will discuss everything you need to know about choosing the best invoice scanning software in 2023 and review some of the top solutions available. We'll also explore factors to consider when comparing automated invoice solutions. Get ready to make an informed decision about your next invoice scanner.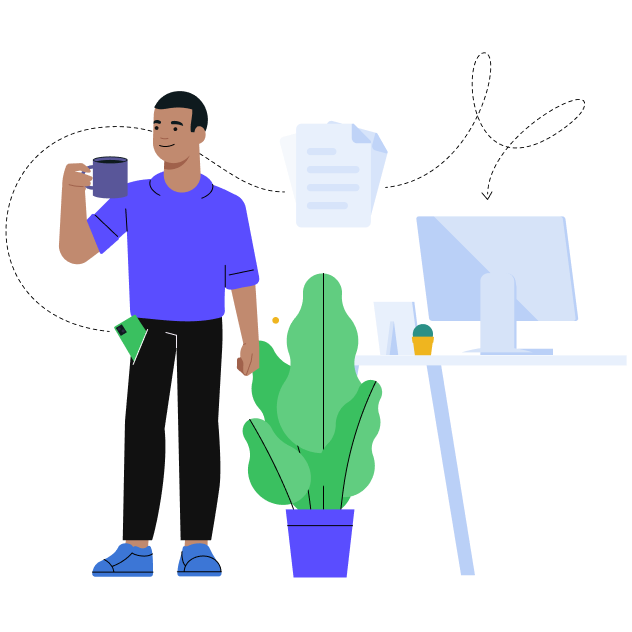 How to eliminate repetitive bookkeeping tasks?
Book a demo
and we will show you how
What is Invoice Scanning?
Invoice scanning is a digital processing technology used to scan and extract financial data from invoices, such as the vendor name, the total amount due, currency type, and invoice date. Invoice scanning solutions are usually a standalone software product or part of an integrated accounts payable automation software suite.
Benefits from Invoice Scanning
With automated and accurate data extraction, you can save time and resources by reducing manual invoice processing, eliminating human errors, and ensuring accuracy in financial data. It can also reduce costs associated with postage, printing, filing, and storing paper invoice data.
Additionally, an invoice scanner seamlessly integrates the accounts payable process with other systems, such as the ERP system, allowing for real-time tracking of documents and payments. In addition to these monetary savings and operational efficiencies, invoice scanning is more environmentally conscious than manual processing. [1]
Criteria for Selecting the Best Invoice Scanning Software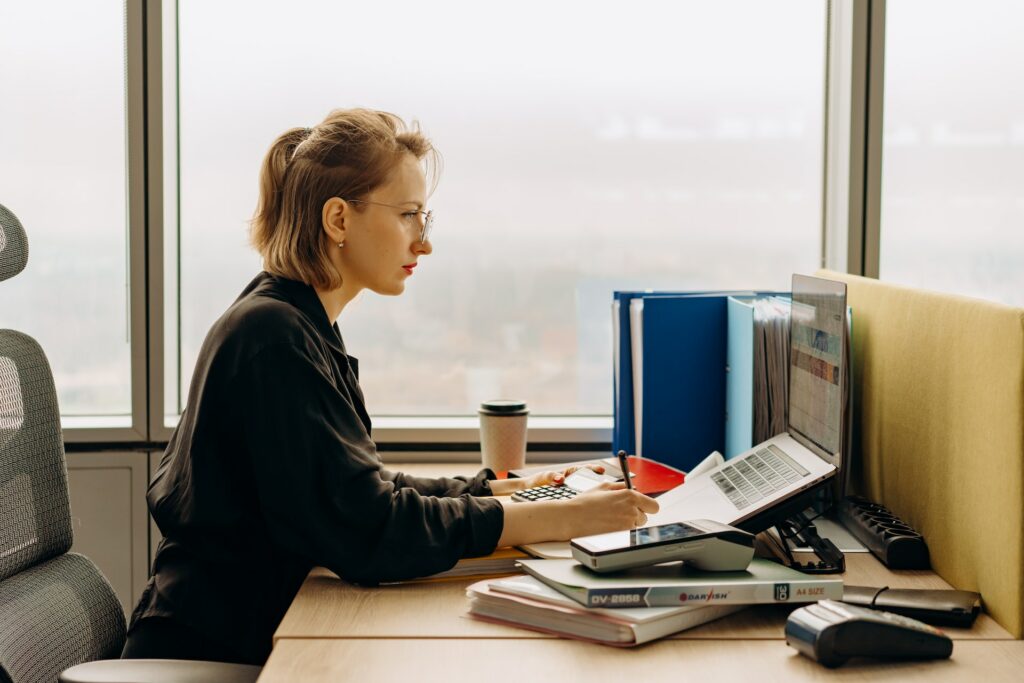 Pexels
When choosing the best invoice scanning software for your business or organization, there are several criteria to consider. Consider the following factors:
Cost and Pricing Models
While choosing the cheapest option is tempting, it's important to remember that this will likely not provide your organization with the same long-term results as a more expensive option. Instead, ensure you fully understand the pricing models available (e.g., pay per scan/monthly subscription) and which type best suits your needs.
It is also worth researching what additional fees might be included, such as customer support or maintenance fees. By taking into account both up-front costs and potential extra charges, you can ensure that you select an invoice scanning solution that is both cost-effective in the short term and appropriate for sustained use over time.
Features, Functionality & Usability
Features such as automated data capture and real-time updates can help streamline your accounts payable process and increase the accuracy of financial data. Additionally, you should look for a solution that offers intuitive user interfaces or features like drag-and-drop capabilities for easy use.
It is also important to ensure that the accounting system is compatible with current management systems so that all departments can easily access the necessary information. By considering all these components, you will be able to find invoice scanning software that is suited to meet your specific needs while still providing quality performance.
Automation & Integration Options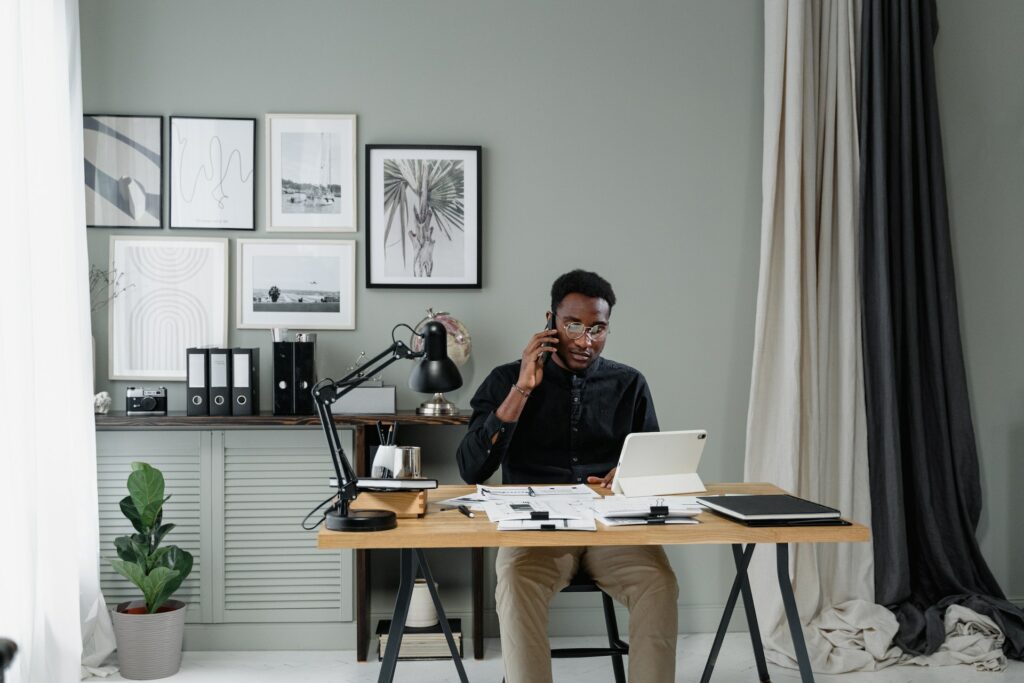 Pexels
When selecting a solution, check what integration capabilities are available, as this can significantly improve efficiency and productivity in the accounts payable process. 
Additionally, automation features such as rule-based custom workflow or AI-driven decision-making can help optimize processes even further without requiring manual intervention.
By properly evaluating these features and considering their implications for scalability and long-term use, you can decide which is the best invoice scanning software for your business.
Security and Compliance
Your invoice scanning software must meet all applicable data privacy regulations and industry-specific security protocols. Look for a solution that allows you to control user access, encrypts data in transit and at rest, implements two-factor authentication, and provides comprehensive audit trails of activity.
It is also vital to ensure the software vendor has an established compliance record with laws regarding GDPR, data management, and financial reporting. By carefully evaluating a solution's security features before investing in it, you can be sure that your business remains compliant with current regulations and that your information is safe from external threats. [2]
Review of the Top 10 Invoice Scanning Solutions
There are dozens of software options, each offering its own features and capabilities. To help make the process easier, we have compiled this list of the top invoice scanning software on the market today. Whether you're looking for an enterprise-level system or need something to start quickly. Read on to discover which solution is best for you.
1. Envoice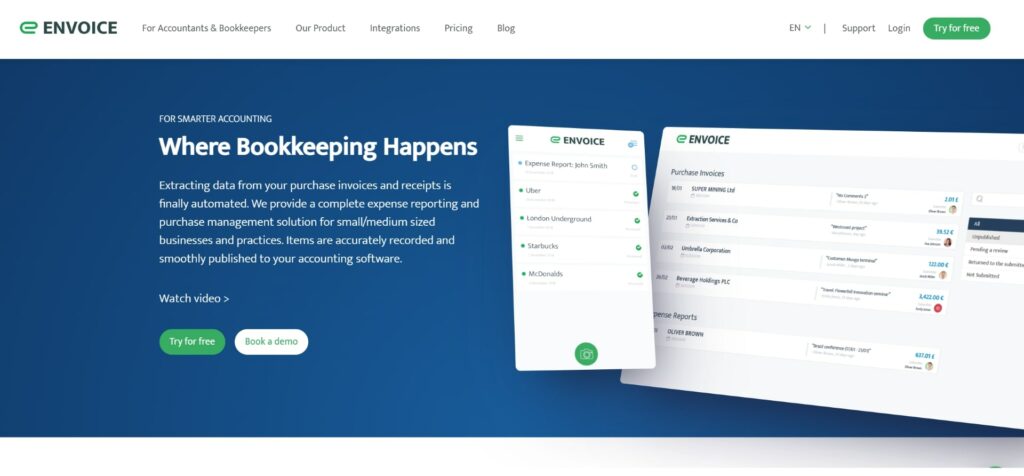 Envoice.eu
Overview & Features
Envoice is an innovative invoice processing software that offers a robust suite of features and capabilities to help streamline and automate your accounts receivable process. With Envoice, you can quickly convert paper invoice data into digital documents, which can then be sent directly to the relevant department for processing.
Envoice also provides powerful tools for managing your vendors, tracking payments, and creating customized reports in real time.
Envoice features comprehensive security protocols, including secure data storage, two-factor authentication, end-to-end encryption, and more. Whether you're looking for an all-in-one accounts payable solution or need some extra help organizing and processing invoice data, Envoice is one of the best accounting tools on the market in 2023.
Pricing
Envoice offers a variety of pricing plans to meet your needs. Their standard plan is designed for small businesses. It has some basic features, including invoice scanning, payment tracking, invoicing templates, custom reporting, and more, all for a low monthly fee of $5.40. 
For larger organizations, their business plan provides access to advanced features such as unlimited storage space, automated vendor payments, batch processing, and customized integrations for $10.70 monthly.
Envoice offers extra services, such as data extraction and creating, sending, and auto-publishing invoices, that you can use for no additional monthly fee but at a low cost of $0.22 per document.
No matter how big or small your organization is or how complex your accounts receivable process is, Envoice is scalable, secure, and compliant with industry standards, making it suitable for both small and large-scale projects.
2. Kofax
Overview & Features
With Kofax, businesses can quickly digitize documents, automate manual processes, create custom integrations, and streamline the customer journey. Kofax offers a variety of products and services to help organizations manage their operations more effectively and efficiently. Kofax has been a trusted partner for many businesses looking to increase productivity and reduce costs.
Pricing
Their standard packages cover basic features such as document scanning and automated data processing, while their premium plans provide access to advanced features. 
Additionally, Kofax has several add-on services, such as managed services and customer engagement solutions, that can be purchased separately.
3. Docsumo
Overview & Features
By leveraging advanced AI learning algorithms, Docsumo can quickly and accurately extract structured and unstructured data from documents and eliminate manual data entry processes. Docsumo provides an end-to-end solution for document processing needs, from automation of onboarding processes to invoice capture.
Pricing
They provide a custom pricing model with different plans to suit all businesses. Their starter plan costs $500 a month and is suitable for small teams who need basic document processing capabilities. In contrast, their professional plan offers more advanced features, such as bulk data extraction and workflow integration.
4. Nanonets
Overview & Features
With its user-friendly interface, you can quickly create deep learning models for image recognition, object detection, and more without any coding knowledge. Nanonets also provides APIs to integrate the machine learning models into your existing applications easily.
Finally, its visual dashboard allows you to monitor the accuracy of your models while also enabling you to track metrics such as training time and model size. With its comprehensive features, Nanonets is an ideal solution for anyone looking to build powerful AI-based applications.
Pricing
Nanonets offers a monthly fee of $499 or a per document fee of $.01
5. Rossum
Overview & Features
Rossum is an AI platform that enables users to quickly extract data from documents of any type, providing accurate and efficient results. It uses artificial intelligence algorithms to automatically read and understand documents, allowing businesses to save time and money by eliminating the need for manual data entry.
Additionally, Rossum offers advanced features such as audit log tracking and document comparison, allowing businesses to ensure the accuracy of their processes.
Pricing
Offers a variety of pricing plans ranging from free trials to enterprise-level solutions. Their pricing depends on two factors – the volume of documents you are receiving and the specific mix of features you are interested in. You need to fill in a request form to discuss pricing.
6. Hyperscience
Overview & Features
This cloud-based invoice processing automation platform enables organizations to reduce manual data entry tasks and speed up document processing. It uses machine learning to accurately capture, validate, and extract data from any document, allowing businesses to gain valuable real-time insights.
Pricing
Hyperscience offers a range of pricing plans to fit businesses of any size. The most basic plan starts at $500/month and includes up to 1 million documents processed per month,
7. Google Document AI
Overview & Features
Google Document AI is a suite of machine learning tools designed to help organizations intelligently manage documents. It enables users to find, extract, and automatically classify information from large quantities of documents in real-time. With Google Document AI, users can quickly identify meaningful patterns and relationships between documents, scan invoices,  automate tedious tasks such as tagging and clustering documents, and gain valuable insights into their data.
The platform also has powerful features such as encryption for sensitive data, secure document processing and sharing, and connecting with other Google Cloud services.
Pricing
Google Document AI offers flexible pricing plans to meet the needs of all organizations. The price is $1.50 per 1,000 pages, with additional charges for storage and processing documents. Enterprise-level customers may qualify for custom pricing, including discounts on certain services.
8. Amazon Textract
Overview & Features
Amazon Textract is a cloud-based machine learning service that enables organizations to quickly and accurately extract data from documents. It automatically identifies form fields, text, and tables in documents such as PDF documents, scanned documents, and images.
It also supports complex layouts such as invoice data, contracts, and claim forms. Amazon Textract uses Optical Character Recognition (OCR) to detect characters in input images and transform them into machine-readable text.
Pricing
Amazon Textract offers pay-as-you-go pricing with no upfront costs. The service is billed based on the number of documents processed, with quantities ranging from a few thousand per month to millions. Additional charges for data extraction, translations, custom machine-learning models, and other services may apply. Discounts are available for long-term commitments or high-volume usage.
9. Xtracta
Overview & Features
With Xtracta, you can easily create accurate digital records for quick retrieval and analysis. The software is designed for scalability, allowing it to grow with your business as needed. In addition, Xtracta provides real-time insights through its integrated analytics suite, giving you a powerful insight into your operations and enabling you to make better decisions quickly.
Pricing
Prices vary depending on features and the type of document you need to scan. Additionally, Xtracta offers discounts for volume orders and a free trial period so you can test the software before committing to a purchase.
10. Docparser
Overview & Features
Docparser is packed with features that make extracting data from digital documents easy. It supports all major document types, including PDF, Word Docs, and more, and can accurately recognize and extract data fields from even the most complex invoice document. 
It also offers powerful automation tools for the bulk processing of data and an API for custom integration. Finally, Docparser provides an intuitive dashboard to review extracted data and monitor extraction results.
Pricing
Docparser offers a range of pricing plans to fit different budgets and business needs. Its basic plan starts at $49 per month, with discounts available for larger organizations needing more advanced features. The Professional plan includes additional features, such as custom output formats and API access, and is available for $99 per month.
Factors to Consider When Choosing an Invoice Scanning Solution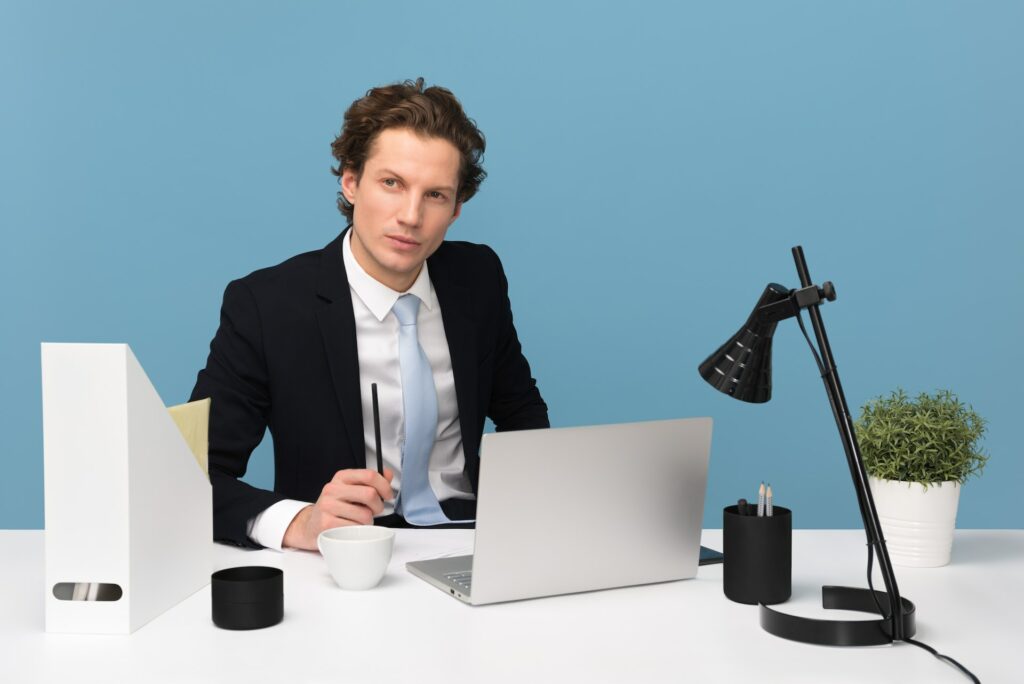 Pexels
When evaluating the different accounting solutions available, it's important to consider all the factors that will impact the success of your implementation. Here are some business factors to consider when choosing invoice processing software:
Establishing Goals & Objectives
Before choosing invoice scanning software, it's essential to consider your organization's needs, such as accuracy, speed, scalability, cost-efficiency, and data security.
Before making a decision, you should determine what specific problems you are trying to solve with the software. Are you looking to automate manual data entry? Do you need to improve your organization's accounts payable process? By identifying your specific needs and pain points, you can narrow down your options and select software that aligns with your business objectives.
You should also consider how the successful implementation of a chosen solution could benefit other areas of the organization. Understanding what immediate improvements can be made and outlining future needs will ensure that any investment is focused on achieving optimal results. Establishing clear goals and objectives should be given priority when selecting an invoice scanning solution for your business.
Aligning Solutions to Business Needs
When selecting a vendor and product, it's important to take into account whether or not the solution will efficiently support existing business processes and serve as an enhancement to any areas that could benefit from improvement. Understanding what type of functionality is required is key to determining exceptional performance.
Additionally, consider if the software can be integrated with other applications, such as customer relationship management (CRM) and enterprise resource planning (ERP) systems. Ensuring that any implementation meets current and future needs should be prioritized when evaluating solutions. Aligning a solution with existing processes and optimizing operations based on need can help ensure that you make the best long-term choice for your business. [3]
Evaluating Existing Systems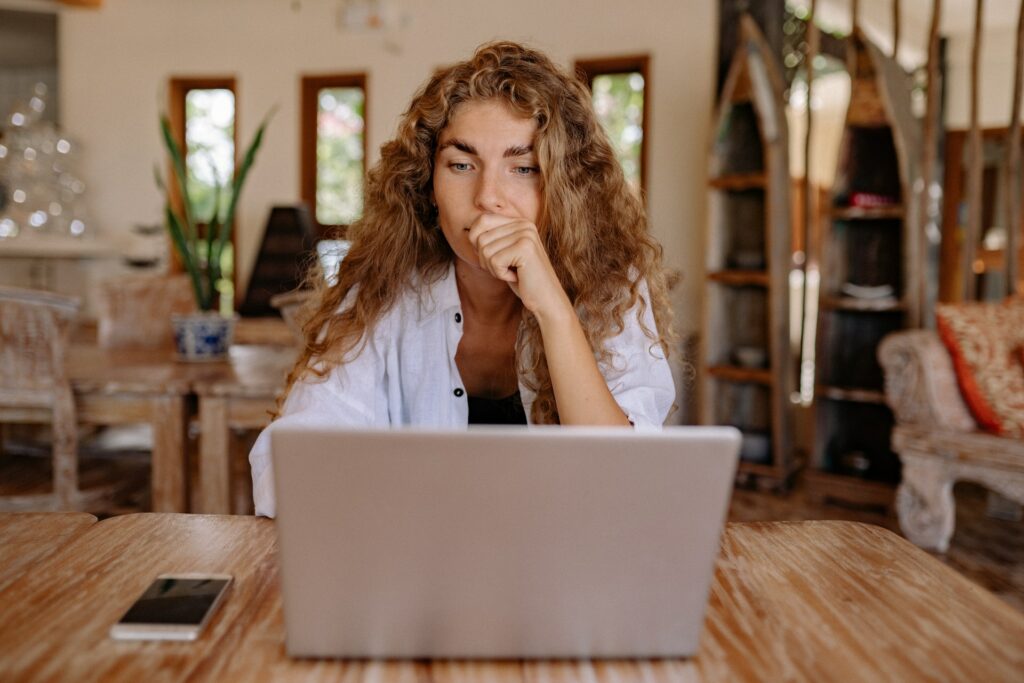 Pexels
An assessment should be conducted on the existing setup to determine how well it meets your needs. This evaluation should include any current limitations that require improvement and whether system enhancements are required. Additionally, if certain features are lacking from your current systems, evaluate potential solutions to see if they have the necessary features and compatibility to meet the need.
Finally, identify areas where a gap exists between your current setup and what could be offered by different solutions for improved operations. Evaluating the current condition of your system is important when choosing an invoice scanning solution for your business.
Check for Long-Term Sustainability
This means examining if each solution can support frequent use and provide necessary updates along with software development. Additionally, consider whether or not customer service will be available for any issues or questions.
A good solution should also have a digital library of resources to help users navigate complex tasks or troubleshoot problems they may encounter while using the system. Checking for long-term sustainability with an invoice scanning solution can help ensure that you find the right fit for your business needs now and into the future.
Takeaway
Finding the best invoice scanning solution for your business in 2023 starts with properly evaluating all relevant factors and research. Consider prioritizing powerful integrations, verifying long-term sustainability, and testing different proofs of concept to find what works best for you.
Check reviews and ratings from trusted sources if you need help narrowing down your list of possible software solutions. If you want to learn more about how automated invoice processing software can help you, reach out to us today, and we can walk you through our solutions.
Article Sources:
1 – https://www.investopedia.com
2 – https://gdpr.eu/
STAY ALWAYS TUNED
Subscribe to newsletter
STAY ALWAYS TUNED
Still not sure?
Don't spend time on manual work
Streamline processes
Automate your invoice flow
Integrate with the tools you rely on every day
Request demo