Accounts Payable
Best AP Automation Software for Small Business
February 14, 2023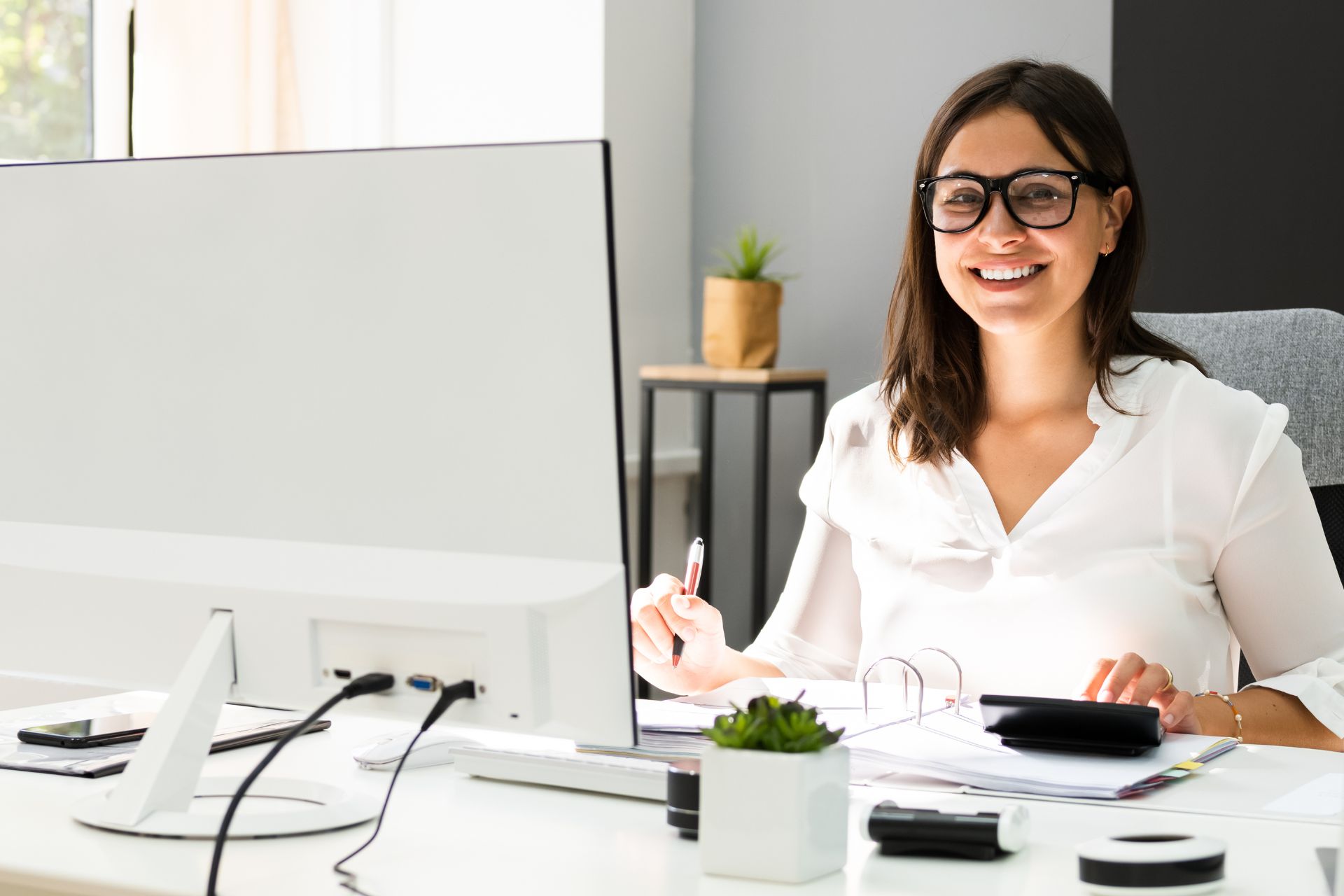 Photo Credit: Andrey Popov by Canva
As the trend towards automation continues, small businesses are strategically choosing which processes to automate that will significantly impact their operations, particularly in the financial aspect.
Automating accounts payable is a highly attractive option for streamlining accounting processes, as 85% of business leaders have expressed interest in incorporating intelligent automation into this workflow.
Small businesses can benefit from faster, more accurate invoice processing, improved cash flow management, and strengthened vendor relationships by automating accounts payable. [1]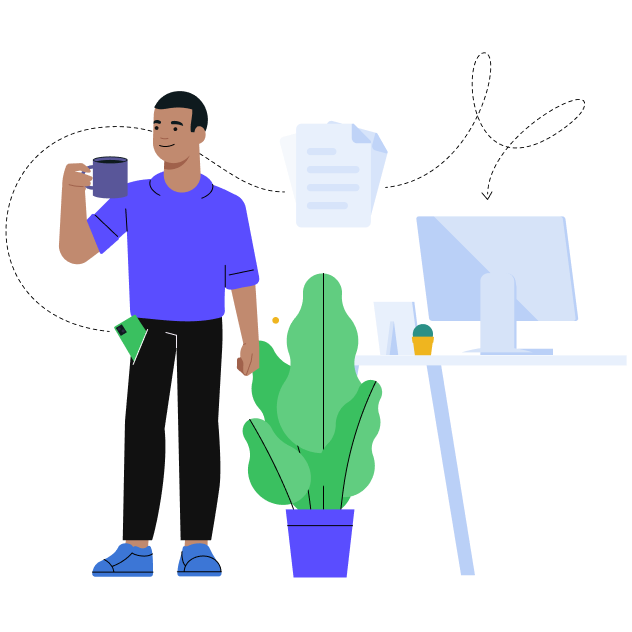 How to eliminate repetitive bookkeeping tasks?
Book a demo
and we will show you how
Choosing an AP automation software can be challenging, given the many options available. So we've rounded up some of the best accounts payable automation software to help you get started on your search.
But before diving into the list, let's take a quick overview of the benefits that these solutions can bring to small businesses.
Benefits of AP Automation Software
One of the most significant advantages of using accounts payable solutions is their ability to automate manual data entry. By eliminating many manual stages of invoice processing, such as data entry, PO matching, and approval routing, businesses can save time and money while ensuring that the payments to be processed are accurate and consistent with other relevant documents.
Another benefit of using AP automation software is improved visibility into the accounts payable workflow. Automated systems provide detailed reports on invoices, payments, approvals, and other aspects of the process so businesses can track progress in real-time. This helps organizations quickly identify potential issues and take corrective action if necessary. [2]
The Best Accounts Payable Software for Small Businesses in 2023
#1 Envoice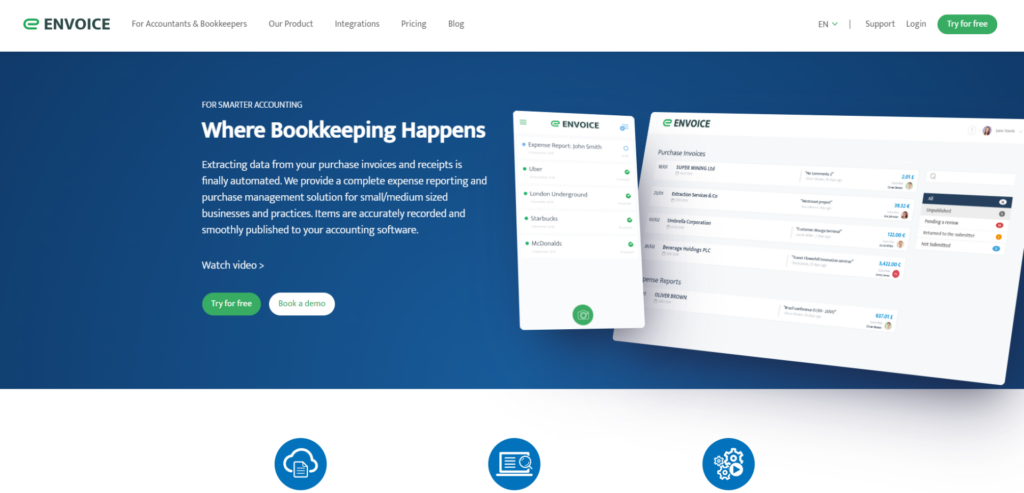 Source: envoice.eu
Envoice is an innovative account payable automation software designed to help small businesses streamline their AP processes and save time and money.
Its user interface is intuitive and customizable, allowing users to set up workflows that match their business needs. Plus, the software also has ERP integration with top accounting software such as Quickbooks Online, Xero, Microsoft Business Central, and more. [3]
Envoice also has personalized coaching and support services that can get you one-on-one guidance from experienced professionals who can help you optimize your business processes. They will provide tailored advice on how to use the software best to maximize efficiency and profitability.
All these features make Envoice an invaluable resource for any business looking to optimize its accounts payable workflow. They also have an app on Google Play for Android users so that you can manage your AP from anywhere, anytime.
Main Features:
Smart Record: 
This lets you easily view all your payables in one dashboard. It also helps automate recurring accounts payable activities that make managing your finances easier and staying on top of any discrepancies or late payments.
Smart Extract:
Any image or document can be instantly scanned to extract the relevant information as this feature uses intelligent optical character recognition (OCR) to efficiently and accurately extract key information.
This makes it possible for small businesses to process their payment on time and close their books more quickly and accurately since it eliminates human data entry, reduces transaction errors, and ensures the accuracy of all financial transactions.
Approval Workflow:
This feature can help businesses automate the process of approving invoices. By creating a series of steps based on the company's policies, businesses can quickly and easily review and approve invoices without manually checking each one.
Additionally, this feature can provide automatic notifications and reminders when an invoice is routed to a specific person for approval. This helps prevent invoices from becoming stuck with one person and ensures a smooth and efficient approval process.
Expense Reporting:
This provides detailed reports on expenses based on expense details, expense categories, etc., which can drive efficiency, provide valuable financial insights into spending patterns, and help businesses make informed decisions.
Furthermore, users can attach photos of receipts and invoices to transactions to check the relevant document at a glance.
Price:
There are two paid plans available: Essential ($5.35/month) and Business ($10.39/month)
#2 Stampli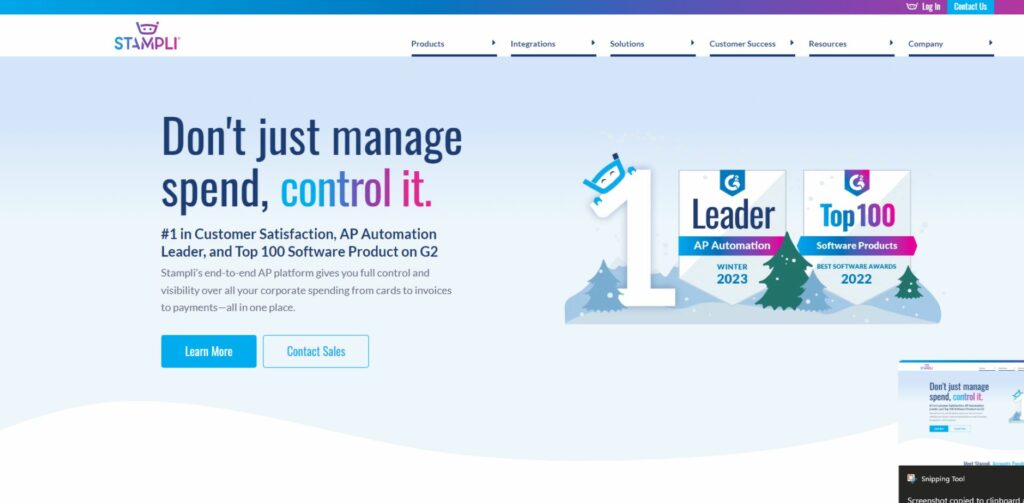 Source: stampli.com
A cloud-based account payable and invoice management solution that provides businesses with the tools they need to streamline their AP process. With Stampli, users can easily manage corporate spending, from cards to invoices to payments, all in one place.
The platform offers communication and collaboration tools for vendors, customers, and internal teams and complete visibility over all corporate spending. 
Additionally, Stampli provides users with end-to-end AP automation capabilities that give them complete control of the invoice lifecycle. With Stampli's powerful features, small businesses can easily manage their accounts payable process and ensure accurate payments are made on time.
Main Features
Stampli Expenses:
This is a cloud-based platform for automating expenses that aids in streamlining the cost management process for enterprises. It offers features like corporate card solutions and does away with the necessity for manual, labor-intensive procedures like using spreadsheets.
Remote Access:
This enables remote employees to process and approve invoices at any time, location, or device. Additionally, Stampli provides capabilities like automated data entry and smart AP processing to lessen the amount of manual work needed for remote accounts payable processes.
Stampli Direct Pay:
This is a B2B payments service that makes ACH and check payments faster and easier to reconcile. Small businesses can use this to automate payment runs and gain access to all relevant details and supporting documents for seamless payment approvals.
Price:
Users can choose from various plans based on the number of invoices they need to process each month and any additional features they may require.
Pros and Cons
Pros: 
Stampli offers robust invoice coding and tracking capabilities, allowing users to quickly code and track payments in real-time. It also integrates with other software solutions, allowing businesses to incorporate Stampli into their existing systems easily.
Cons: 
Trustradius.com reviews have long stated that ACH payments take longer to process, which can be a very lengthy process at times, with vendors inquiring when the funds will be received. Furthermore, the trial period restricts access to the software's functions, making it difficult to comprehend its capabilities fully.
#3 Bill.com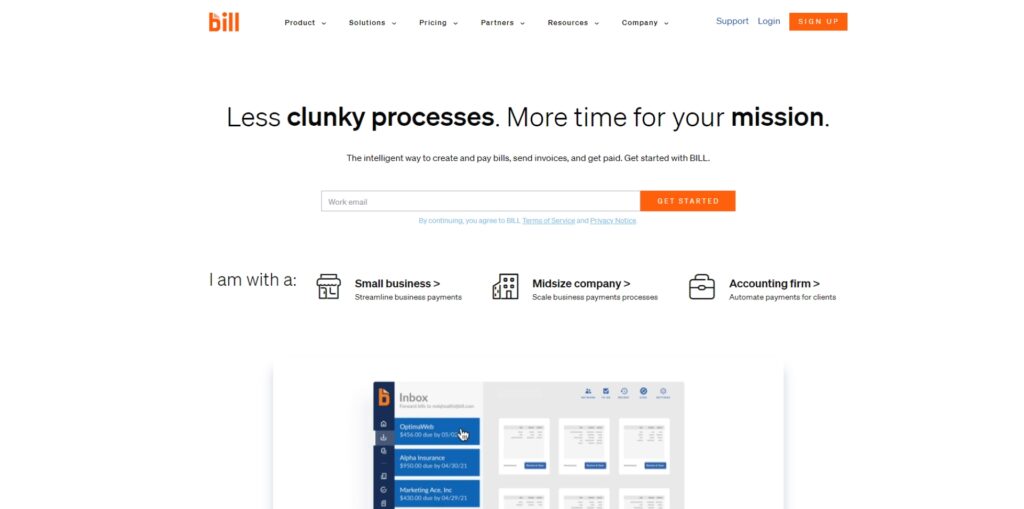 Source: bill.com
Bill digitizes and automates small and medium-sized businesses' back-office financial processes. It provides digital business payment solutions like accounts payable and receivable that can seamlessly integrate with Xero accounting software.
It also extensively uses artificial intelligence (AI) to facilitate domestic and international payments. It also covers all aspects of accounts payable, such as bill and expense tracking, cash flow management, etc.
Main Features
Data Capture:
It enables users to quickly and easily upload documents such as invoices and bills into the system. This reduces the need for data entry, saving time and money while increasing accuracy and efficiency. Data capture also helps to reduce errors because it extracts vital information from documents and populates it into the appropriate fields automatically.
Approval Workflows:
This allows small businesses to control which bills are approved, allowing them to maintain separation of duties and reduce potential fraud. The Approver Role will enable users to quickly and efficiently review and approve invoices and vendor credits.
Payments:
Small businesses can use this feature to pay bills quickly, receive payments, and manage invoices. It includes domestic and international bill tracking with estimated delivery times, an audit trail from sent to received for peace of mind, and bill payment voiding when necessary.
Price:
Plans start at $79 per user per month, with additional features available for an extra cost. For larger businesses, custom plans can be tailored to meet specific requirements.
Pros and Cons
Pros: 
It provides users with a centralized hub for managing their payments, invoices, account receivables, and accounts payables. It also supports multiple currencies, making managing international payments and transactions easier.
Cons: 
The company has been criticized for providing poor customer service and technical support. Furthermore, some users have complained that the software is difficult to use and navigate. Moreover, the pricing structure of Bill can be confusing and expensive for small businesses.
#4 Nanonets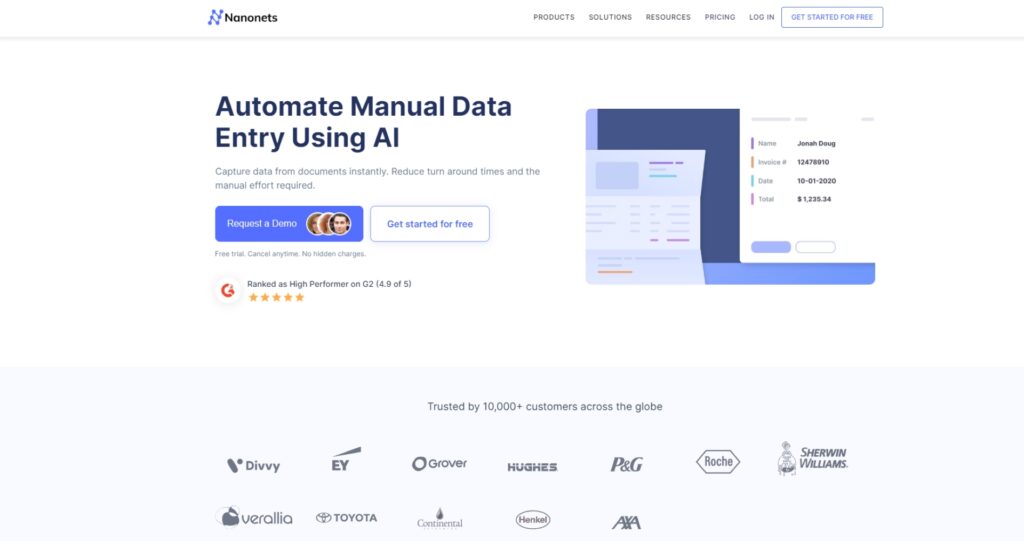 Source: nanonets.com
Nanonets is an AI platform that enables businesses to digitize documents by leveraging deep learning capabilities. It extracts relevant information from unstructured text and documents using advanced OCR and deep learning, allowing users to quickly and accurately capture invoices electronically.

In addition, Nanonets provide self-learning OCR capabilities that can be trained for specific use cases. It also offers headquarters locations and products that save time by instantly capturing and structuring the correct data from documents. Small businesses can use AP software to digitize documents quickly and accurately.
Main Features
Emails Bills Fetch:
This is a powerful tool for automating bill data capture. It enables users to collect and forward emailed bills, process invoices, and track accounts receivable to their Nanonets Inbox. This makes it simple to reconcile accounts payable and accurately match balances and SKUs.
Furthermore, the Email Parser from Nanonets can be used to extract relevant invoice data from emails and send it to Excel, Google Sheets, ERPs, or other systems.
Reconcile Invoices:
It enables users to collect or forward emailed bills, invoices, and receipts to their Nanonets Inbox and reconcile invoices with 2, 3, and 4-way matching, making it easy to manage bank statements or identify and balance deviations in the accounts payable department.
Price:
The pricing starts at $0 for limited features and goes up to $499/model/month for the Pro plan. Additionally, Nanonets charges $0.1 per page and $0.01 per field per page.
Pros and Cons
Pros:
It's easy for beginners to get started, as it offers an excellent user experience from start to finish. It also allows businesses to leverage deep learning capabilities to digitize documents quickly and accurately.
Cons: 
Since the software relies on AI technology, accuracy can be an issue, and manual intervention may be required to ensure accuracy. Finally, the platform may not be able to handle complex documents with multiple layers.
#5 Beanworks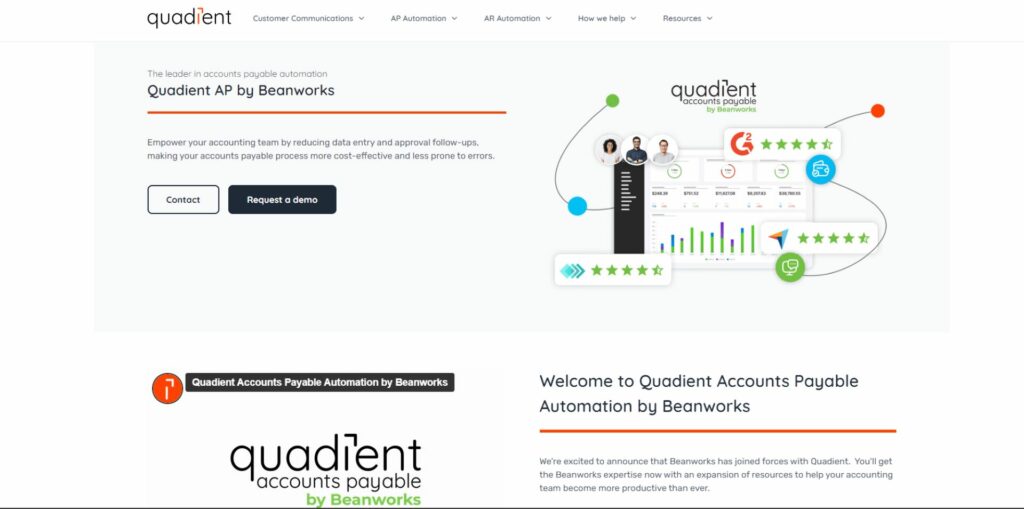 Source: quadient.com
Beanworks is an account payable automation platform that assists AP teams in moving from invoice to payment as quickly as possible. It is a cloud-hosted solution that eliminates most data entry associated with processing bills by utilizing automatic data capture and AI-powered data entry.
Their interface is intended to be user-friendly and straightforward to use. It provides a comprehensive system overview so that users can quickly become acquainted with the platform. A handy ROI calculator is also available to help you get a handle on your savings.
Main Features
Invoice Capture:
This allows small businesses to quickly and accurately capture invoices' header and line item data. Furthermore, invoices sent to the capture email address should appear on the Create tab within a few minutes.
Approval Routing:
Users can create customizable approval channels based on their company's needs. This allows for more efficient invoice automation and approval routing and greater transparency throughout the process.
It also includes lists that allow users to add additional invoice routing criteria. System administrators can also configure approval channels to route invoices to the appropriate users.
Vendor Management:
Small businesses can use this feature to keep an up-to-date list of all their authorized vendors and high-quality vendor data. This includes important vendor information like contact information, bank accounts, and shipping terms.
Price:
They have a subscription-based pricing structure with different rates depending on how many invoices you plan to process each month. They also offer a free trial period for users to test the platform and determine if it is a good fit for their business.
Pros and Cons
Pros:
It provides an excellent audit trail and the ability to track invoices. Beanworks also makes month-end and auditing easier, giving employees more time to focus on higher-value tasks.
Cons: 
The most notable downside of their software is that there is no definite pricing structure. 
Furthermore, following their recent update, the PDF file size that  Beanworks are capable of are much smaller, which can be inconvenient for users. Some functionalities like locking dates as input and finding sync errors can also be difficult to do, according to some reviews on Trustpilot.
#6 Melio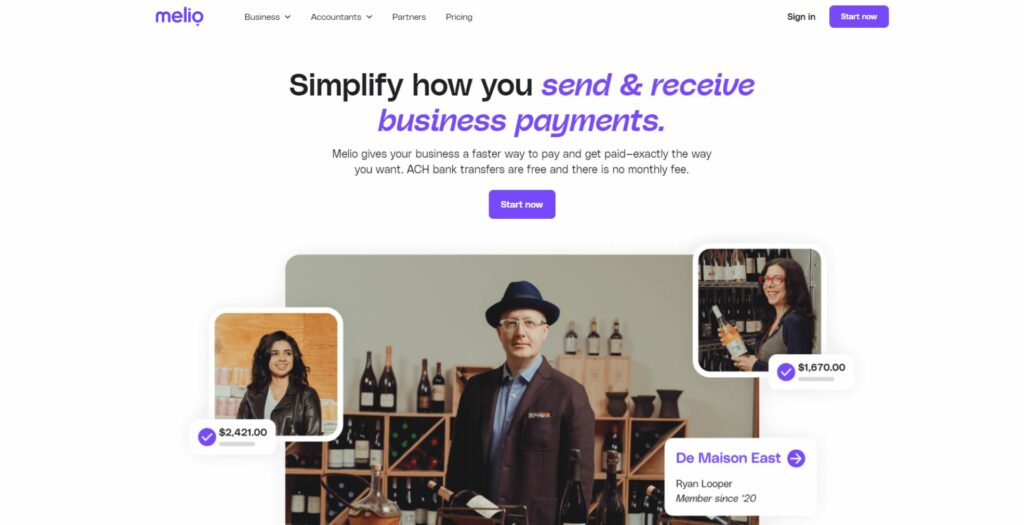 Source: meliopayments.com
Melio is a web-based accounts payable software designed to simplify paying bills online. It offers an automated payment system that allows businesses to pay their bills via bank transfers, debit cards, or credit cards. Melio also supports vendors who only accept check payments.
The software is tailored for accountants, bookkeepers, and small business owners. It maximizes cash flow and minimizes busy work by allowing users to pay vendor bills using a bank transfer or debit card for free, even if their vendor doesn't accept electronic payments.
Main Features
Pay By Card:
This is a great feature for small business owners who need to pay vendors and suppliers quickly and easily. With Melio, you can pay any vendor using a debit card or bank transfer for free if the receiving party accepts checks.
Team Management:
This enables you to choose which and how many clients each team member will manage, assign roles to team members, and gain financial transparency and complete control over your finances with just a few clicks. With Melio Team Management, businesses can ensure that their teams are organized efficiently and effectively.
Invoice Capture:
This makes it easy to take a photo or upload a file, manually enter the details, and connect with your accounting software. You can also set up automatic payment reminders for customers, schedule payments in advance, and customize your invoice templates.
Price:
It has a simple pricing structure with no monthly subscription fees. International bank transfers, on the other hand, cost $20, and credit card and debit card payments made through the software incur a 2.9% fee.
Pros and Cons
Pros:
One of the best things about Melio is that it is free. Aside from the fees for payments made within the software, automated accounts payable tasks do not require a monthly subscription fee, making it the best option for small businesses with little budget to spare for software.
Cons: 
The downside of Melio is that it does not offer the same level of customization as other solutions.
Additionally, Melio does not have a mobile app, so users who need to access their accounts on the go may be disappointed. Furthermore, according to reviews from TrustRadius, Melio's customer service can sometimes be slow and unresponsive.
Embracing Automation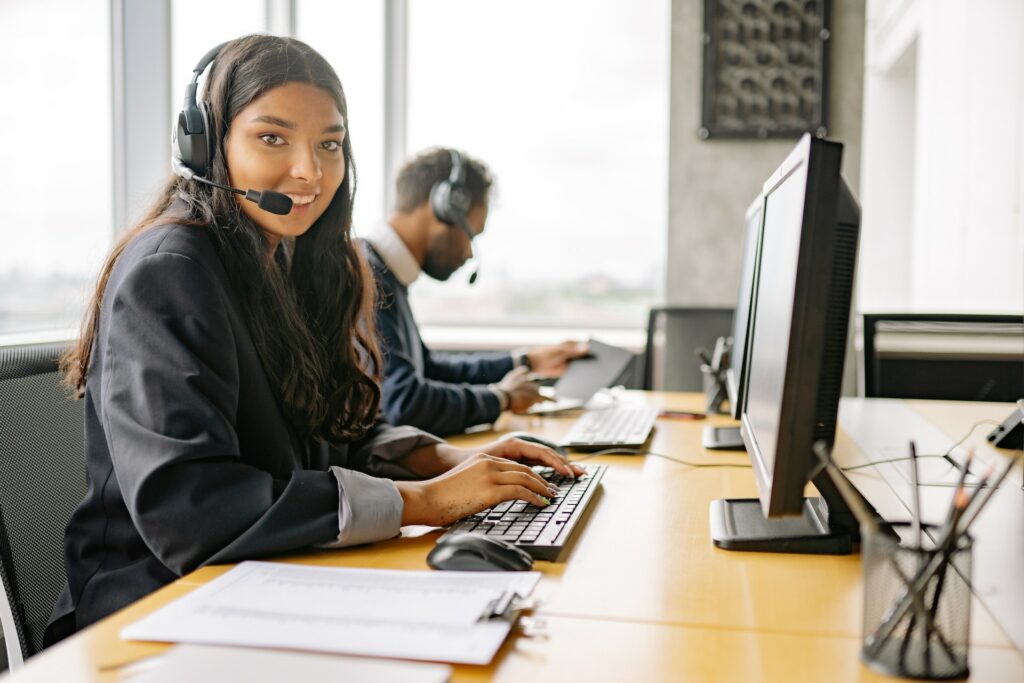 Source: pexels.com
Choosing the right accounts payable automation software is a big decision, and it's something that should not be taken lightly. When you do your due diligence, make sure to evaluate the right criteria for your business, so you'll be able to find the solution that's right for you.
If you want to ensure that your investment will pay off in dollars and cents—as well as time savings—it's important to consider scheduling demos or trials with potential solutions so that you can better understand how they work and ensure they meet your expectations.
Transform your AP process with the power of automation
Don't let manual processes limit what you can accomplish. Our technology and team of experts take care of the complex tasks so that you can focus on growing your business. 
Experience the ease of AP automation for yourself. Contact the Envoice team to schedule a free demo now.

Sources:
1 – https://www.kofax.com/-/media/files/reports/en/kofax-2022-intelligent-automation-benchmark-study.pdf
2 – https://www.investopedia.com/terms/a/accountspayable.asp

3 – https://quickbooks.intuit.com

STAY ALWAYS TUNED
Subscribe to newsletter
STAY ALWAYS TUNED
Still not sure?
Don't spend time on manual work
Streamline processes
Automate your invoice flow
Integrate with the tools you rely on every day
Request demo