Paperless Solutions
Paperless Accounting – Why and How to Do It?
June 15, 2022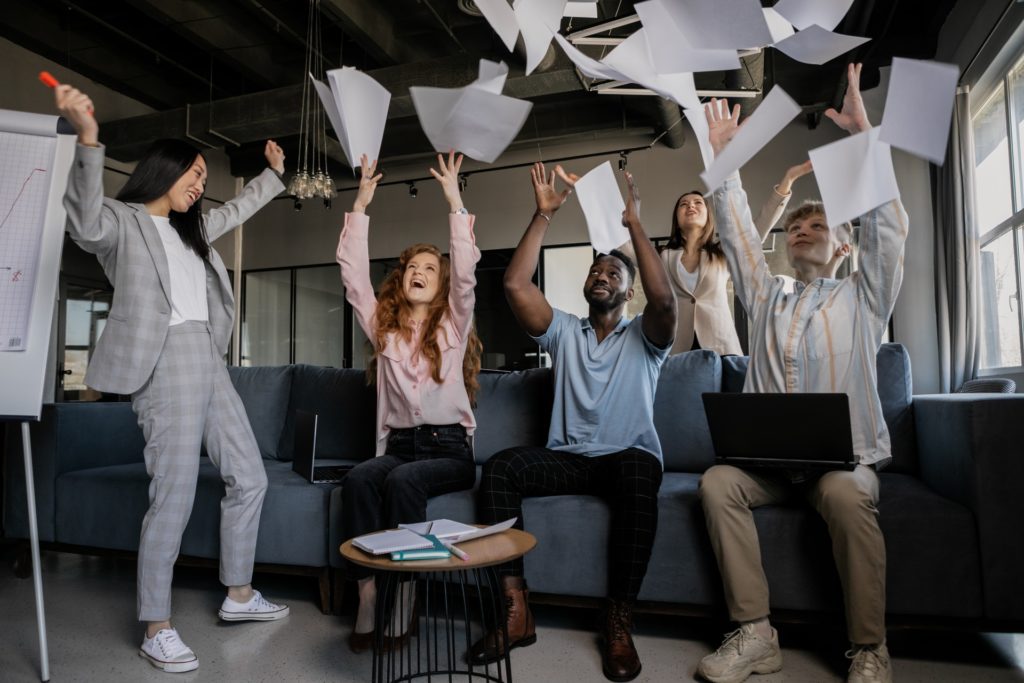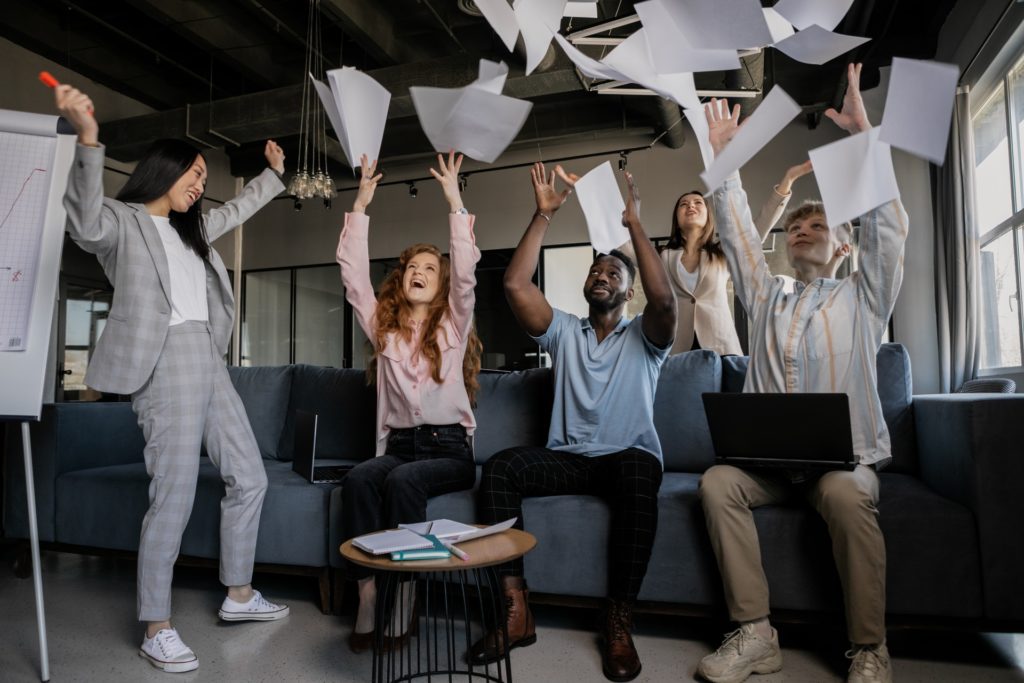 Pexels
Income statements, balance sheets, and administrative paperwork – accounting companies use a lot of documents.
But do they necessarily have to be printed? The short answer is no.
In fact, most CPAs and accounting firms that embrace the digital work environment later report they are glad they did. You, too, can implement measures to gradually go paperless until you reach your goals.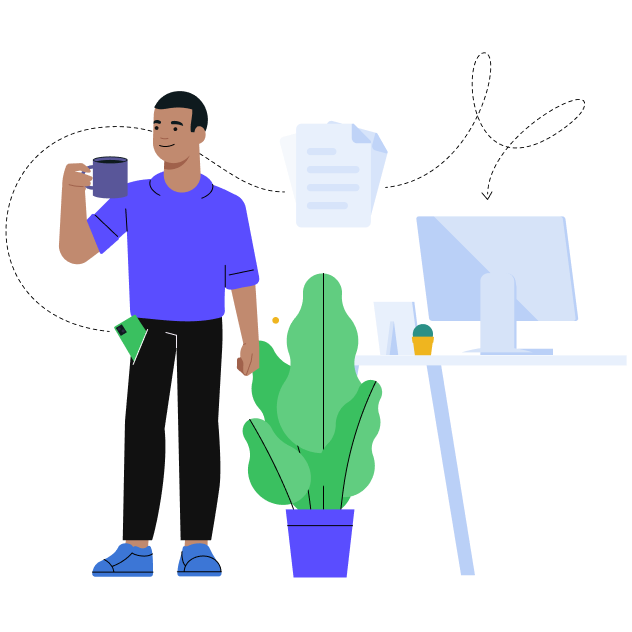 How to eliminate repetitive bookkeeping tasks?
Book a demo
and we will show you how
Here, we will share with you the top reasons why you should go paperless in accounting and how to do it in just four easy steps.
Let's get started.
Top 7 Reasons to Go Paperless in Accounting
1. Boost Productivity
It's hard to find the one document you need when it's buried under a pile of paperwork.
But a digital document archive with a convenient search function allows you to effortlessly locate what you need in a fraction of the time.
And an electronic filing system not only saves time but also helps you avoid a lot of unnecessary frustration and stress.
2. Stronger Security
The use of cloud storage for accounting documents is more secure than keeping sensitive information in paper files.
Compared to paper files, digital documents are protected by numerous layers of security and can be encrypted.
But that's not all.
Access to information can even be restricted to only trusted file users, so there's less risk of being lost due to theft or fire.
3. Save Storage Space
If you think of a single piece of paper, you may think it doesn't take much office space. However, it won't be long before you've accumulated thousands of pages.
After years of operation, your accounting firm will have accumulated hundreds of boxes and files. Dedicating precious office space to papers is costly and may prevent you from taking on more employees.
However, with cloud storage, you can store and share digital files through a centralized document management system (DMS).
By adopting an electronic record management system, you can remove the filing cabinets from your office and use the space for more productive purposes, such as revenue-generating employees.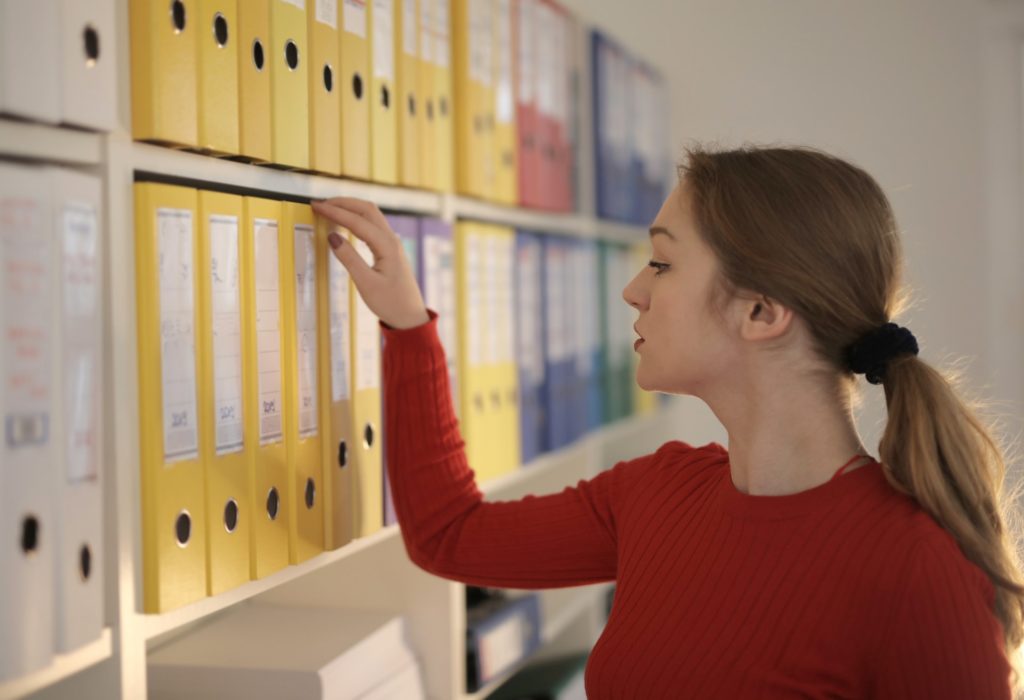 Pexels
4. Improve Organization
Going paperless in accounting can improve your firm's image in multiple ways. After all, office clutter creates an unfavorable impression on visitors and clients.
Going paperless signals to prospective and current clients that your firm cares about the environment, is forward-thinking, and is technologically advanced.
Additionally, reducing the amount of paperwork in drawers and on top of tables helps employees stay organized and focused. As a result, they make a better impression on clients.
5. Save Money
The costs of printers, ink, paper, and even storage can be high, especially for a small firm.
McKinsey reported that employees spend an average of 1.8 hours every working day or 9.3 hours per week searching for and gathering information. (1)
And if you're still not convinced of the value of going paperless, it has been estimated that the US spends $460 billion (yes, billion!) to manage paper-driven information overload. (2)
That's a whole lot of time and money wasted on old-school technology.
Here are other indirect supply costs that a paperless accounting firm can eliminate:
Filing cabinets
Bindings (paperclips, staples, etc.)
Printers and ink
Pencils, pens, and writing instruments
Tape, glue, and scissors
6. Eliminate File Duplicates
Going paperless eliminates having duplicate copies of documents after updating.
When there are countless versions of the same document, it becomes difficult for you to zero in on the right one. And recording or using the incorrect document could lead to costly errors.
An electronic storage system lets you quickly track changes and delete any unnecessary documents.
7. Benefit the Environment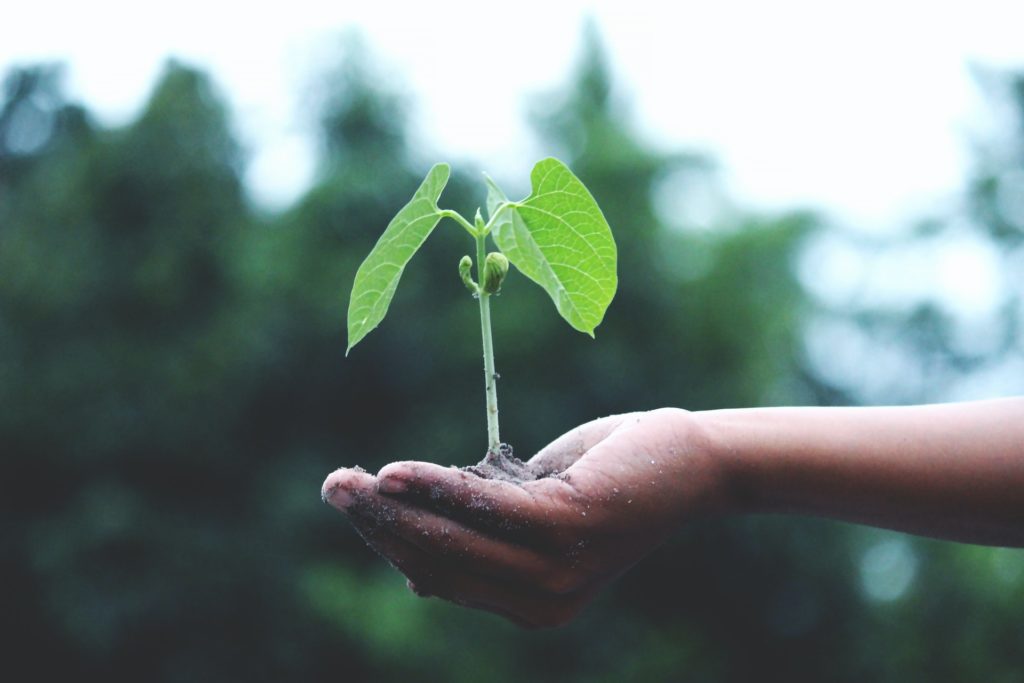 Pexels
Going paperless is an environmentally sound decision. That's because the average office worker in the US uses about 10,000 sheets of paper per year. (3)
By reducing paper usage, accounting firms will therefore have a direct impact on reducing their carbon footprint.
Do your part in saving the environment by automatically scanning data from your receipts and invoices. Check out Envoice's intelligent data extraction here.
How to Go Paperless in 6 easy steps
1. Start Small
Going paperless in one go may not be feasible unless your office is small. It will be more realistic to make the transition gradually.
A smart strategy to go paperless in accounting is to find a specific paper-heavy process and define the solutions or services needed to migrate that single process to a paperless one. You can then expand, tackling one business process at a time.
If a paper-based process isn't coming to mind, here are some tips on where you can begin:
Which paper documents can we eliminate?
Internal documents – Share internal files without printing them. You can access files stored on a shared drive, such as Google Docs, or use other systems for collaborating and/or sharing documents.
Large files – If your firm often shares large files, investing in a file transfer system may be helpful. Dropbox is a popular option for quickly distributing reports and creating group folders. Microsoft Office 365 provides a variety of similar reporting alternatives and reporting modification features with varying degrees of access for modifying vs. viewing reports.
Billing statements – Save paper, envelopes, postage, and man-hours by using automation software. Envoice's tool, for instance, automates extracting data from your purchase invoices and receipts.
Faxed and scanned documents – Many firms still depend on faxing or scanning documents, even when they're already surrounded by digital solutions. Use an app to take a photo of the document instead and email it through.
Meeting documents – For handouts during presentations and meetings, some apps and tools provide users remote access to project digital documents, scanned documents, or other files onto the screens of networked computers via smartphones or other computers.
2. Promote a Paperless Culture 
Company leaders need to set an example in promoting a paperless culture in their offices.
For instance, they can encourage the use of electronic documents, receive paperless billing statements, make use of document management systems, scan existing paperwork, and encourage teams to use collaboration tools, like Slack or Microsoft Teams, for communication rather than traditional reports and printing memos.
Of course, some of your long-term or short-term processes may still require paper at some point. So, for those outliers, ask for suggestions on how you can minimize the use of paper or remind the team of the importance of recycling.
3. Invest in the Right Tools
Carefully choose the right tools or software that meet the specific needs of your business.
Would you want to have paperless financial statements? If yes, you can invest in document automation software, a scanner app with image-to-text recognition that allows your team to quickly search documents using only keywords, or an expense management and approval accounting system.
4. Use electronic invoicing in your paperless accounting office
One of the best pieces of accounting software you should invest in is an effective invoicing system.
Avoid wasting time and money collecting what's owed to you because of poor invoice payment terms. These tools will give you a consistent invoice template, so there's no need to prepare each invoice from scratch.
And by sending invoices digitally, there's also no need to buy postage, envelopes, or paper. You can simply invoice customers via email or use an app with an invoicing feature.
Your clients or customers will also receive electronic bills faster than traditional mailed invoices. As a result, you might get paid sooner.
Aside from investing in the right tools, it would help if you also chose the right season or time to start moving files to a digital document system. For example, attempting to go digital during a busy tax season will likely lead to problems and leave staff overwhelmed by the additional work.
5. Training your employees to use the new accounting software
The better you train your employees to use the latest software, the easier it will be for them to find the new data they need. And the more likely they will be to embrace the change.
So, help them get to the grips of the new accounting workflows or systems and you will soon see great results!
6. Overcome Resistance to Change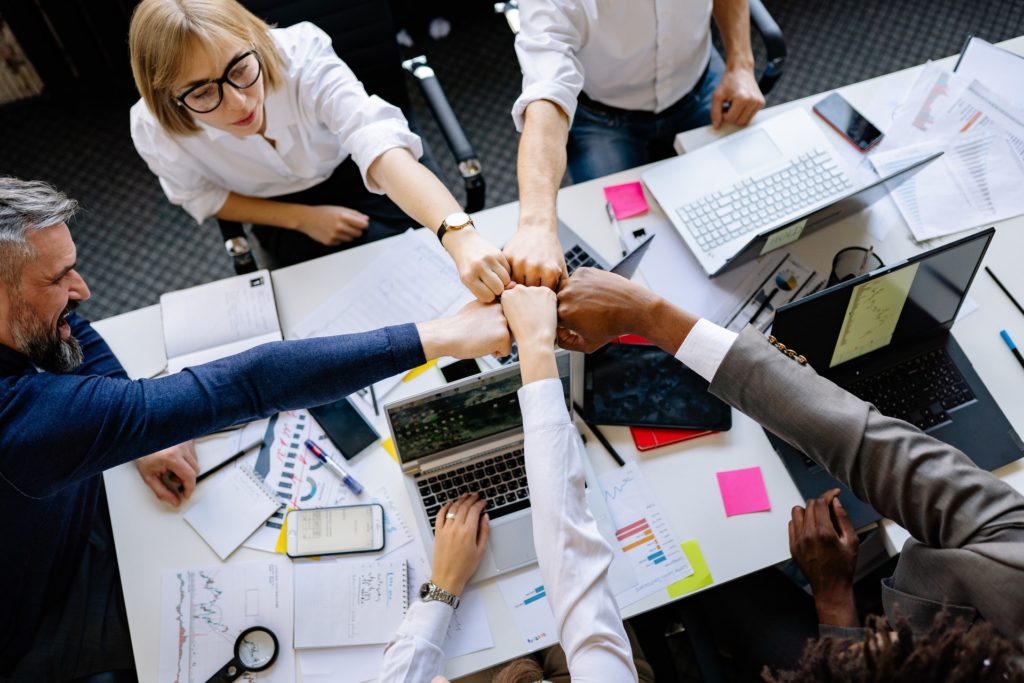 Pexels
Transitioning to a paperless accounting office from a traditional one does not happen overnight.
That's why your company should approach the process one at a time and be ready to overcome resistance to change. Be prepared that someone in your firm may say, "But this is how we've always done it."
Here are ways you can overcome this resistance aside from making paper use inconvenient:
Educate suppliers – Many people think that their suppliers may not be able to send them digital documents. However, if the documents they are sending to you are generated by a system, it's more likely that they can. So, ask them if they can send you a digital or PDF version. After all, the majority of an accounting firm's documents are often from suppliers.
Listen and communicate more to clients and employees – People find comfort in what they're used to or know. That is why you should take the time to listen and communicate well with your clients and employees if you truly want to go paperless.   This fundamental shift in your business is not something you do alone; you need your staff and clients on board. Building their confidence by listening to their concerns and allowing them to make suggestions on how they feel is the best way to go paperless.
Reward employees – Why not make the process of going paperless fun by rewarding employees who are quick to jump onboard? For example, ask a group of your employees to ditch traditional notebooks and use phones or laptops instead. An excellent note-taking app would be Evernote. If they are quick to embrace the change, reward them with an afternoon off or an office lunch.
Appoint someone to lead the change – Find someone within your organization who will see the change through. He or she will be your steward who helps ensure everyone inside and outside the company stays on board with the process of changing towards a paperless environment.
A Few Tips to Help with Accounting Software Selection
If you're still undecided on what's the right app to suit your business needs, we suggest you ask yourself these questions:
How will the tool scale with my business needs? E.g., "Currently, our accounting firm is making one process paperless. However, eventually, the whole office will be paperless. Will the application support thousands of paper documents on a daily or monthly basis?"
Do they have excellent technical support?
What do existing users say about the app?
Does the software replace or improve an existing process?
Make Your Accounting Firm Paper-Free
Going paperless in accounting makes a big difference in efficiency, waste reduction, and your organization as a whole. The process may be daunting initially, but it will be worth it in the long run.
By following the tips and steps outlined above, you can control your accounting firm's document overload and get started to become a more efficient company.
Are you planning to go paperless? Let us help you make the best accounting software choice. Call us at +372 664 5463 or visit Envoice.eu today.
Article Sources:
STAY ALWAYS TUNED
Subscribe to newsletter
STAY ALWAYS TUNED
Still not sure?
Don't spend time on manual work
Streamline processes
Automate your invoice flow
Integrate with the tools you rely on every day
Request demo