Accounting Automation Software
Best OCR Software for Accounts Payable and Invoice Processing
April 12, 2023
Today's technology allows businesses to skip manual data entry when encoding invoice data. Aside from being cost-effective, using reliable accounting software also reduces the time to process your finances. (1) 
Optical character recognition (OCR) also promotes more efficient invoice processing and eases your accounts payable process. With OCR technology, paper invoices and hours correcting data entry errors will be reduced.  But how will you know what OCR software best fits your business?
Don't worry; we've got you covered. 
In this article, we've compiled the best OCR software for accounts payable and invoice processing needs. Let's get started!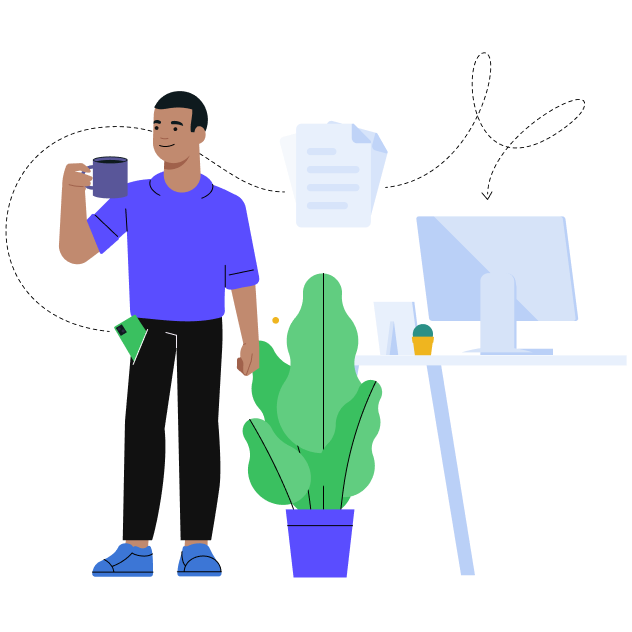 How to eliminate repetitive bookkeeping tasks?
Book a demo
and we will show you how
#1 Envoice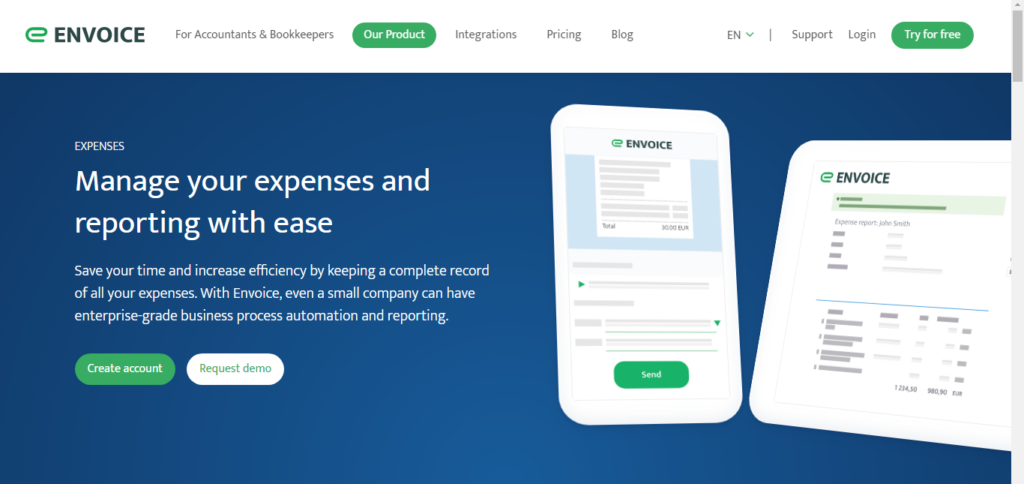 Envoice is our most-recommended OCR software because of its pricing and features.
Main Features
99.9% line item accuracy:

OCR intelligence not only uses digital files and paperless storage

(2)

, but also smoothly publishes and provides insights for recurring tasks so you can have time for more valuable work.

Fully-automated receipt and invoice process:

Envoice recognizes vendor invoices being processed, for approval or overdue that Envoice can swiftly take care of, all in one place.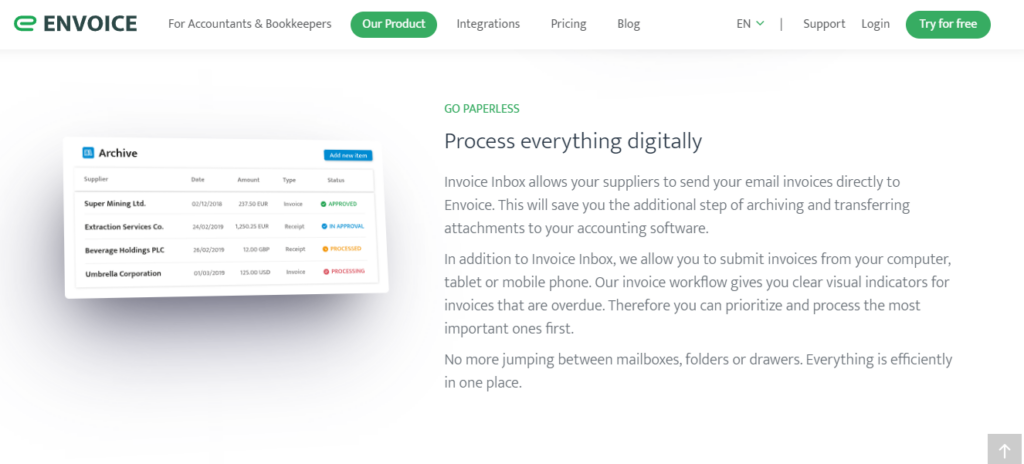 Take control of your workflows:

With Envoice, you can review and approve your expenses to improve your purchase and expenditure management.

Flawless integrations:

No need to transfer from your existing workflows with Envoice because it connects with Xero, Quickbooks, and other accounting systems.

Complete expense solution:

For your accounts payable, Invoice OCR software conveniently automates scanned documents with corresponding purchase orders and reduces manual processes. 
Price
Envoice offers a 14-day free trial with no credit card needed. Two paid plans are available:
Envoice Essential Plan:

€5/month

Envoice Business Plan:

€10/month
Extras: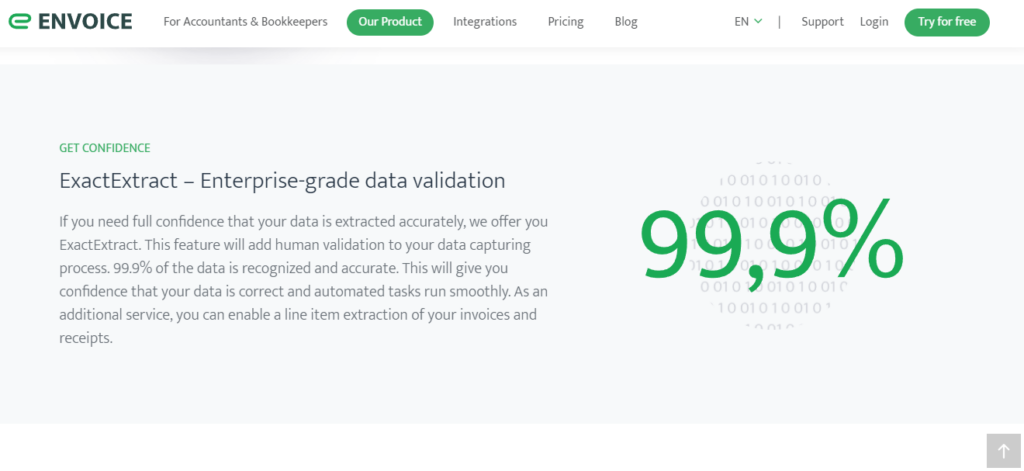 ExactExtract:

+€0.20 per extracted document and €0.02 per invoice line extraction

Invoicing:

No extra charge
Claim To Fame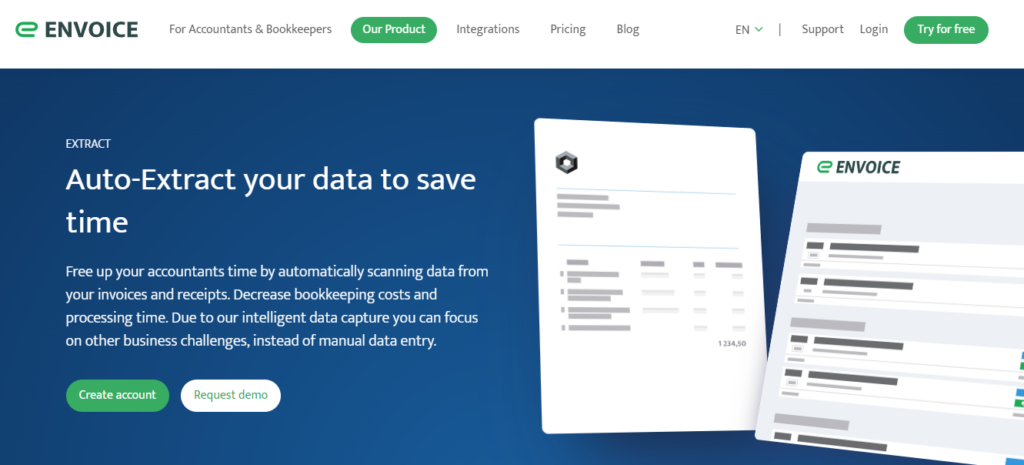 Eliminate errors in data extraction with Envoice SmartExtract. Save time encoding key data and increase the productivity of your accounts payable teams. The ExactExtract feature offers 99.9% accuracy so you can extract data and process invoices with precision.
Pros and Cons of Envoice
Pros: Simplifies your AP process and eliminates time-consuming processes and manual entry discrepancies. The accounts payable department can easily approve uploaded digital receipts and store copies for handy audit trails.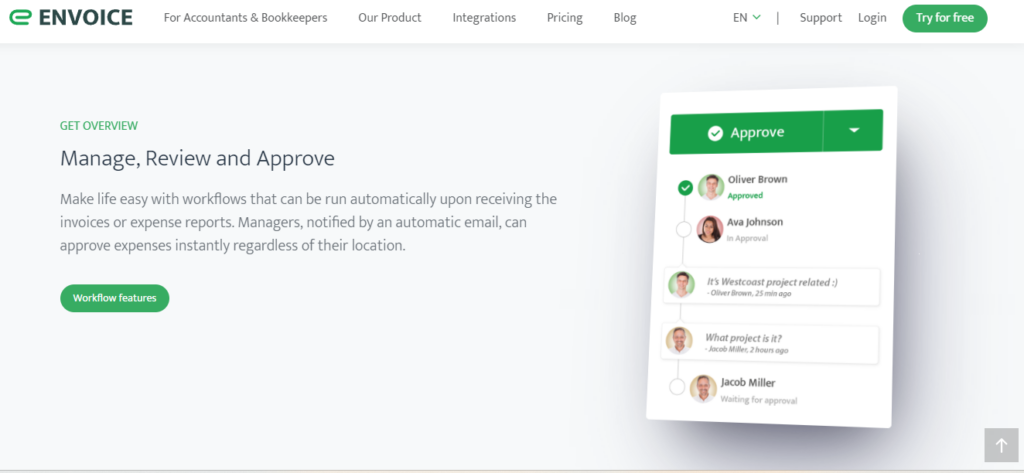 Cons: A user had difficulty locating a setting but with the help of customer support, the concern was immediately addressed. 
Suitable for … both physical and online businesses can use Envoice, designed for freelancers, small, and growing businesses.
#2 Kofax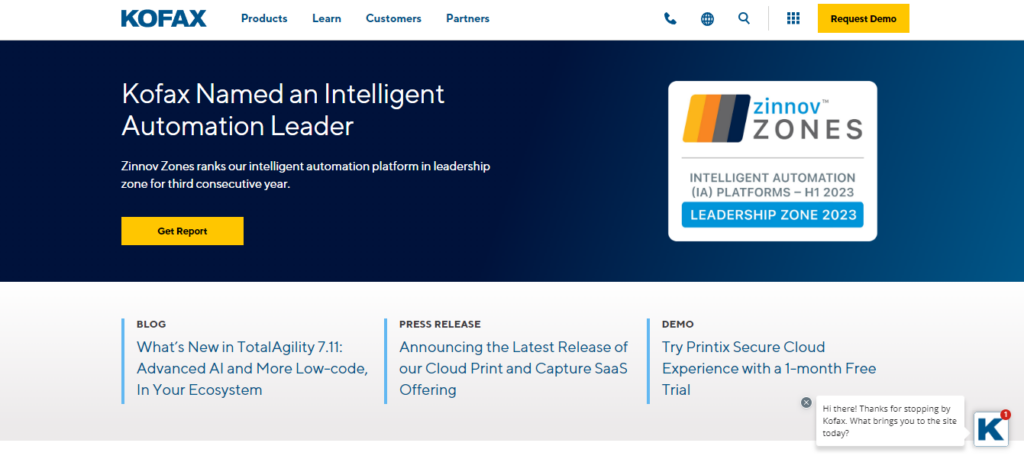 Kofax is a software solution for your invoices and accounts payable automation. It improves the AP process by taking both unstructured and structured data and transforming it into accurate information recognizable by your accounting system. 
Main Features
Here are some of the features Kofax offers:
Invoice processing automation:

Captures, validates, and approves invoices in the cloud

Cost-effective data capture:

OCR technology helps

Kofax AP Essentials

to encode invoices, whether in paper or in digital format, sent immediately and securely to reduce errors

Ease of access:

Suppliers can easily access their transactions' details without the need for assistance from the AP team.
Price
Kofax AP Essentials has a free trial and 3 paid plans available:
Basic:

$41/month for basic invoice capture
Premium:

$62/month with extra features like line item capture and PO pairing
Enterprise:

(Contact sales for pricing details) with more features like GL coding and AP approval workflows
Claim To Fame
Process invoices automatically with Kofax Invoice Portal as it converts format and delivers them to the supplier or buyer in their preferred formats. You can also categorize both e-invoices and non-PO invoices to the correct department for sorting and validation. 
Pros and Cons of Kofax
Pros:

Can capture and enhance images from multiple sources
Cons:

Few configuration tools are available so customization is still lacking. Users also noted Kofax integration is slow and can still be improved.
Suitable for … Individuals and small businesses
#3 ABBYY FlexiCapture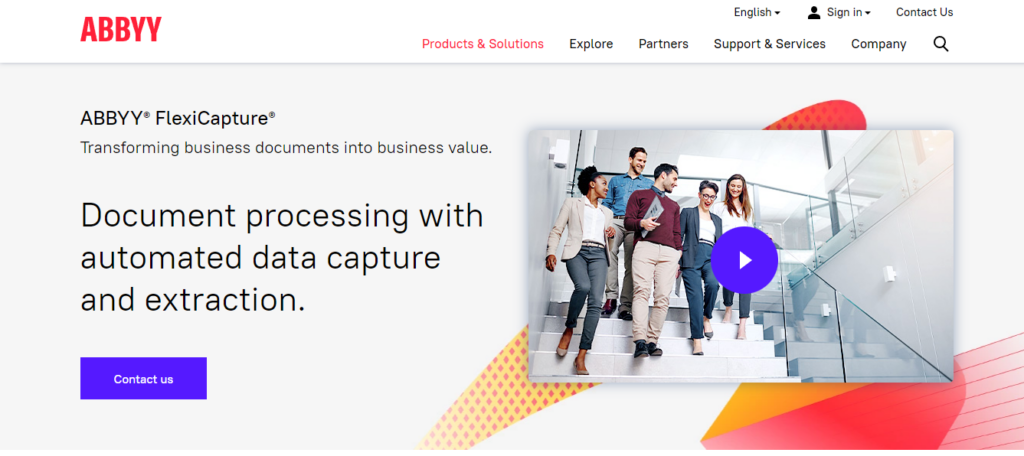 ABBY FlexiCapture is an OCR platform that enables you to capture, process, and validate invoices and upgrade your accounts payable team. It documents the images, extracts fields according to categories, and sends them for approval. You can easily store hard copies, export, or archive them depending on your business needs.   
Main Features
Auto-learning systems:

Continuous machine-learning capabilities with user feedback to improve accuracy in OCR systems 

Advance document detection:

ABBYY's high-level recognition classifies documents, texts, and even images through semantic text analysis

(3)

, document layout, and appearance. 

Accessible anywhere:

You can use any type of browser to monitor transactions on your phone, desktop, or laptop.
Price
You can enjoy ABBYY FlexiCapture with these plans based on the number of pages you need:
$29.99/month: 500 pages

$99.99/month: 2,000 pages

$199.99/month: 5,000 pages

$299.99/month: 10,000 pages
Claim To Fame
Scalable enhancements can be done on captured data to meet required needs whether you need fast invoice information in minutes, or working on thousands of document backlogs in a day.
Pros and Cons of ABBYY FlexiCapture
Pros:

Uploading samples of routine documents can easily be analyzed by machine-learning technology to classify future incoming invoices
Cons:

Too complex yet delivers sluggish output, especially for unstructured data. Some users experienced that updates are too heavy that it even requires software reinstallation.
Suitable for … SMBs and enterprises of all sizes.
#4 Nanonets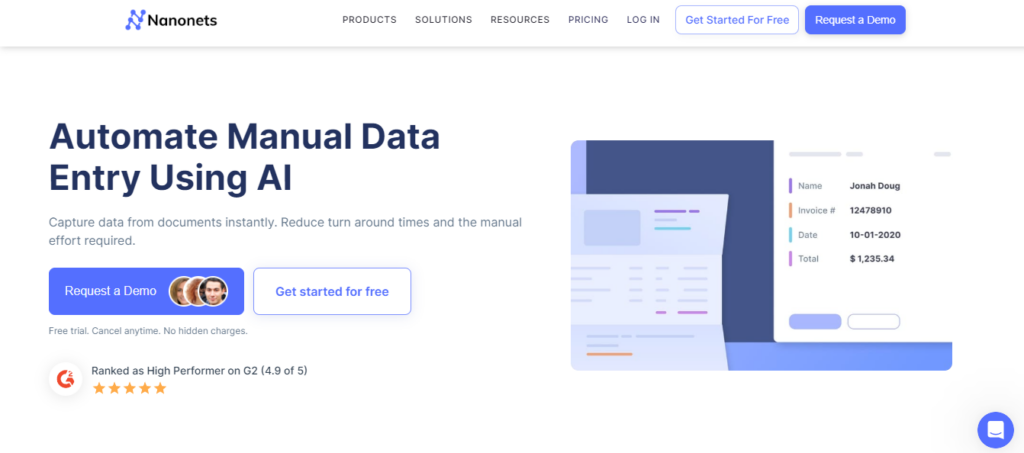 Nanonets is an accounts payable OCR software that caters to your invoice processing needs. It automates manual data entry with the use of optical character recognition that makes it easy for your accounts payable team to simplify their process.
Main Features
Users love the following features that Nanonets offers:
Automatic email invoices, receipts, and bills:

This OCR software collects, forwards, and updates you using your email for real-time syncing and AP automation.

Matches your data with your balances:

Checks your purchase order information and verifies them with recognized expenses and SKUs.

No setup required:

Sync with accounting systems, project management tools, and databases without any template and additional configurations needed.
Price
Starter Plan:

This plan allows you to sign up for free with a limit of 100 pages and only a few fields available. Response time is also slower than the Pro Plan.

Pro Plan:

$0.1/page, starts at $499/month up to 5,000 pages and $0.1/page overage charge. It has a faster response time with up to 20 fields available. You can add collaborators from your team with its free 7-day trial.
Enterprise Plan:

(Contact sales for pricing details)
Claim To Fame
Nanonets let you capture only the fields that are meaningful to you. You can customize what key fields to extract and upload, and customize settings to add new ones in the future. It can capture data from unstructured and semi-structured documents with ease.
Pros and Cons of Nanonets
Pros:

Great customer support services. They also assign a dedicated account manager for Enterprise Plan.

Cons:

Its Table Capture feature can be improved as well as the ability to handle a very high volume of documents for extraction.
Suitable for … Enterprises, small and midsize businesses. 
#5 Rossum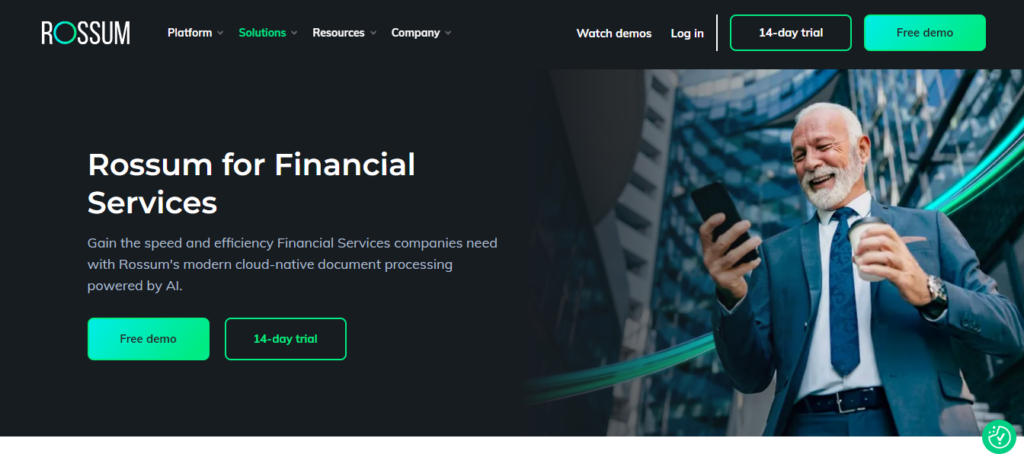 A cloud-native OCR software for processing your documents, Rossum eliminates the need for manual data entry with its AI-powered automating technology. It streamlines your AP and invoicing processes, payments, and POs by capturing and validating data cost-effectively. 
Main Features
Rossum offers a variety of features including:
Reduced manual intervention:

With the use of artificial intelligence, Rossum's AI OCR does not require any template which saves you from additional manual work

High data accuracy rate:

It offers 96% average accuracy for captured data across various formats and channel

Spam filters:

Detects duplicates, extra data, and other unnecessary documents that enter your system and queue vital information to the right receiver
Price
Rossum comes with a 14-day free trial and then you may send an inquiry for the pricing plans suitable for your department, industry, volume, and type of usage.
Claim To Fame
Layout changes usually cause OCR software systems to break down which Rossum takes pride in achieving. This improves data extraction, minimizes the need for human IT intervention, and produces shorter turnaround times for your accounts payable processing.
Pros and Cons of Rossum
Pros:

Cost-saving because it does not need any physical servers onsite. Intuitive user interface and customizable to fit your needs.

Cons:

Difficulty in reading Excel documents and repeated tasks are ignored by AI. Users also need to code complex structures and a few features are still in Beta. 
Suitable for … Enterprises.
Conclusion
When choosing an OCR software to handle your accounts payable and invoicing needs, you must identify processing volume, and budget. Your workflow structure and existing tech systems are also factors for consideration when choosing your software.
Why should you choose ENVOICE?
Envoice supports businesses in search of efficiency in capturing accounts payable and invoice data without the massive processing costs.
You free up your payable team's time with Envoice as it smartly extracts data and keeps a full record of your expenses. It also helps you run automated workflows where you can manage, review, and approve extracted information with just a few clicks.
Conveniently upload new expenses and create reports through the Envoice mobile app. Acquired information directly syncs to your accounting system, enhancing financial transparency, operations efficiency, and making well-informed business decisions. 
Automate your accounts payable and invoice processing with the best OCR software, Envoice. Ready to get started? Request a demo or get in touch with us today!
Footnotes:
STAY ALWAYS TUNED
Subscribe to newsletter
STAY ALWAYS TUNED
Still not sure?
Don't spend time on manual work
Streamline processes
Automate your invoice flow
Integrate with the tools you rely on every day
Request demo